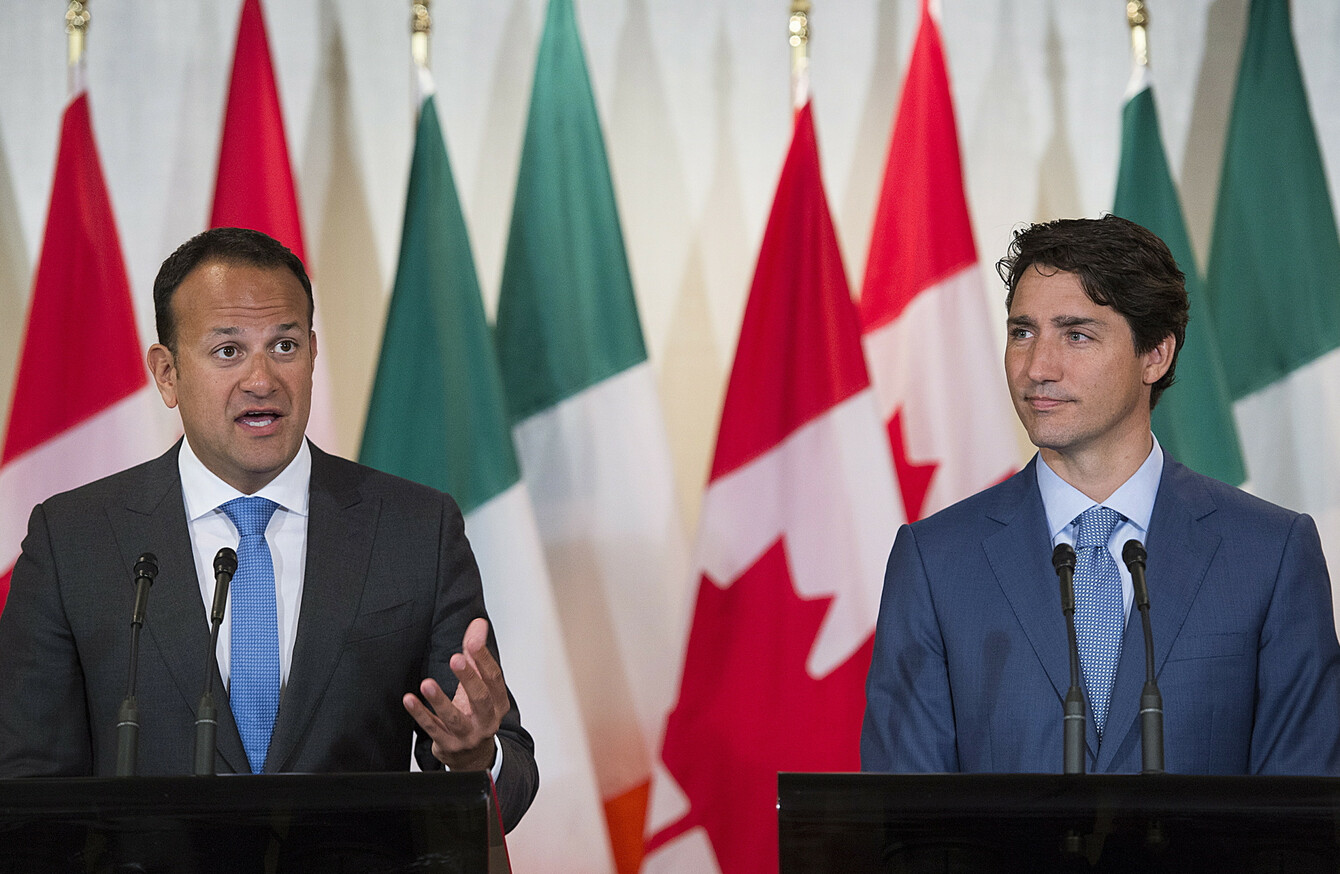 Taoiseach Leo Varadkar and Canadian Prime Minister Justin Trudeau during Montreal news conference.
Image: Graham Hughes via PA Images
Taoiseach Leo Varadkar and Canadian Prime Minister Justin Trudeau during Montreal news conference.
Image: Graham Hughes via PA Images
TAOISEACH LEO VARADKAR today announced government plans to double Ireland's global footprint by 2025 – but the plan won't be published until the end of the year.
Varadkar made his remarks in a speech to an Enterprise Ireland Business Breakfast in Toronto.
This marks the second day of a three-day official visit to Canada, where Varadkar is carrying out a number of engagements focused on growing trade and tourism opportunities between Ireland and Canada.
Announcing the plans, Varadkar said that the move "means new and augmented diplomatic missions and as well as significantly increased resources for our investment, tourism, cultural and food agencies overseas".
The government will approve the specifics of what Ireland's doubled presence overseas will look like in 2025 later this year, according to Varadkar.
The new plan, Ireland's Global Footprint 2025, will aim to attract greater investment in Ireland, boost tourism and trade, build stronger links with our diaspora and increase cultural exchange.
Canada's investment in Ireland is estimated today at $14 billion.
International presence 
Yesterday, Varadkar marched alongside his Canadian counterpart Justin Trudeau in the Montreal Pride Parade.
Before the parade, the two leaders held a bilateral covering a wide range of topics from EU-Canada trade deal CETA, along with Brexit, abortion and health issues.
Varadkar also spoke of CETA and Brexit during this morning's breakfast speech, outlining that he wishes to "increase our international presence".
"Foreign Direct Investment from Canada to Ireland has been buoyant in recent years and at the end of 2016, IDA Ireland had 28 Canadian companies in its client portfolio, employing over 3,100 people in Ireland," he said this morning.
"We plan to grow this inward investment significantly in the years to come. Our efforts will undoubtedly be helped further by the entry into force of CETA."
CETA, the EU-Canada Comprehensive Economic Trade Agreement, comes into effect on a provisional basis from this day next month.
#Open journalism No news is bad news Support The Journal

Your contributions will help us continue to deliver the stories that are important to you

Support us now
He said that over 98% of tariff barriers to trade between Canada and the EU, including Ireland, will be removed.
"This will help unlock the enormous untapped potential for greater trade and investment between Ireland and Canada," Varadkar said.
'Greatest political challenges in a generation'
Varadkar noted that Ireland today faces "undoubtedly the greatest set of political and economic challenges in a generation", as a result of Brexit.
Speaking ahead of the visit, Varadkar said, in the context of Brexit, it is "more important than ever" that the Irish government "seeks to expand our markets overseas and strengthen our relationships with major trading partners".
As well as meeting political and business leaders, the Taoiseach is due to meet members of the Irish community in both cities and representatives of immigrant support services.
Later today, Varadkar will attend a Tourism Ireland launch and a reception with the Irish community.