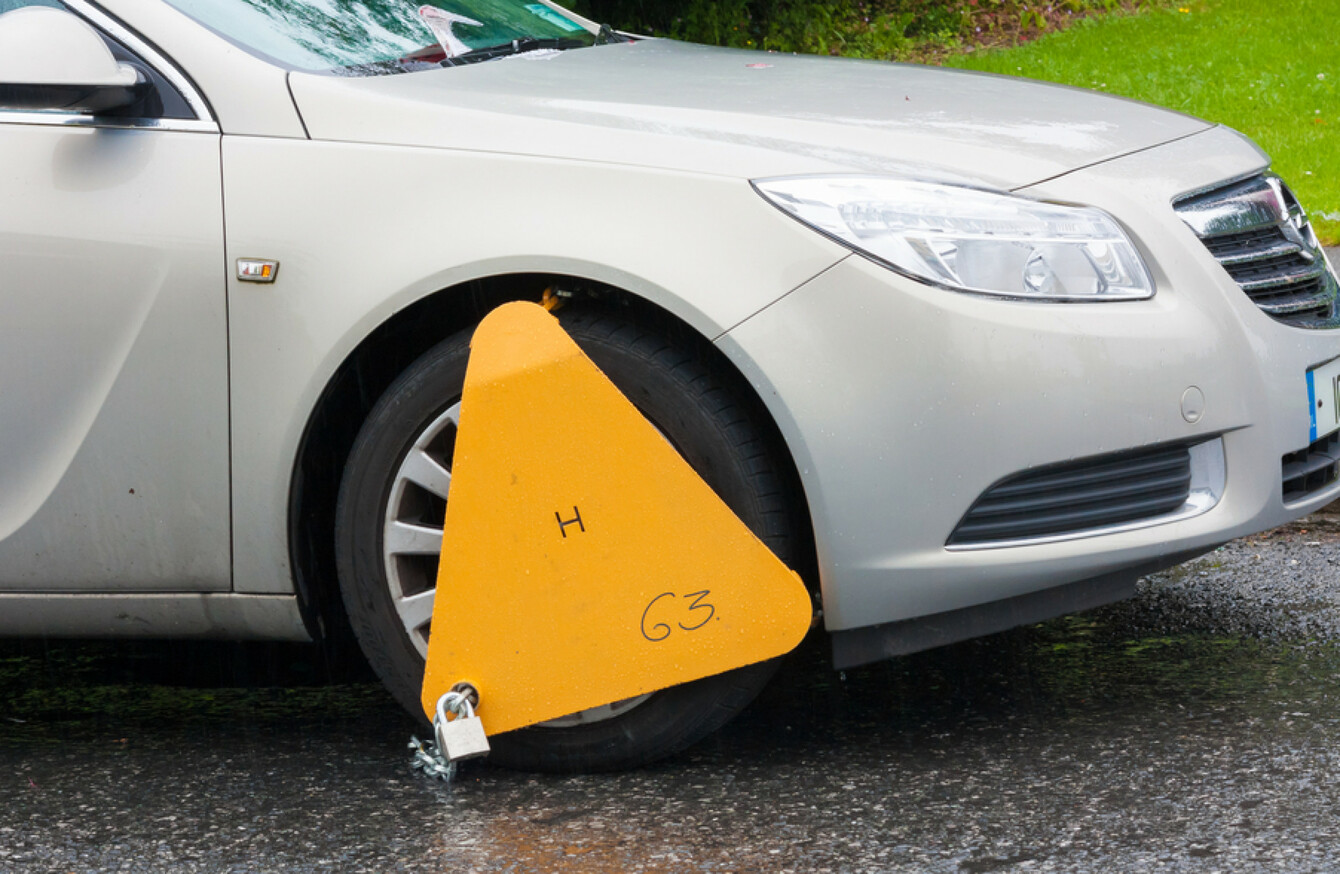 Image: Shutterstock/Semmick Photo
Image: Shutterstock/Semmick Photo
PARKING ILLEGALLY IS tempting if you live somewhere with no car space, or just can't find a spot to park on a busy day.
Beware though, as clampers and parking wardens will waste no time in letting you know if you've set your car down in the wrong spot. You may be issued with a ticket or your vehicle may get clamped for a number of reasons. These include:
Causing a hazard or obstruction with your vehicle, e.g. on a clearway.
Parking illegally, e.g. on a double yellow line.
Leaving your car in a space after the Pay-and-Display ticket (max 3 hours) has expired
So what should you do if your vehicle does clamped – and what are your rights when it comes to appealing?
First up, the practical stuff…
1. How much you'll pay 
The release fee for a vehicle clamp must not exceed €125. This is inclusive of all taxes (including VAT, if applicable), levies and charges. If you get clamped by Dublin City Council, for example, the release fee is €80. 
2. Paying the release fee
You must be given at least two payment options. Usually these will be two of the following: pay by cash, pay by card (debit or credit) or pay by an NTA-approved voucher.
If you are clamped by the Dublin City Council, for example, payment can be made by card over the phone, via a de-clamp voucher or online at www.dsps.ie. A de-clamp voucher can be purchased in many newsagents across Dublin. 
The phone number you ring to pay the clamp fee must be charged at local call rates (if contacted from a fixed line in Ireland), and you must not be charged an additional fee for making the payment over the phone or by card.
3. How long you'll have to wait
The clamping operator has a duty to remove the clamp no later than two hours following receipt of your payment.
What if I think I have been wrongly clamped?
1. Paid parking grace period
If you park your car where you have to pay for parking, you have a grace period of ten minutes to pay the parking fee before you are clamped. So, for example, if you have to run to a shop to get change to pay for the parking you have ten minutes to do so and put the parking ticket on the vehicle.
If you have paid the parking fee, you have ten minutes from the time your parking runs out to get back to your vehicle. A clamp may not be fixed to the vehicle during these grace periods.
However, if your vehicle is unlawfully parked in a clamping area where no paid parking operates, there is no grace period and it can be fitted with a clamp as soon as the clamping operator spots the violation. So, if you just park illegally on a road, your vehicle can be clamped straight away. 
2. Appealing the clamping
If you think you have been wrongly clamped for whatever reason, you can appeal against the clamping decision, but only after you pay the release fee. You must submit the appeal in writing or by email to the parking controller within 60 days from the time your vehicle was first clamped. More details about the appeal procedure can be found here.
You can include documentation with your appeal that you think will help your case. So, if you think you have been unfairly clamped get some witness statements, photographs or video of the vehicle and parking signage before removing your car.
You can also include parking tickets or receipts, doctor's certificates, maps, plans etc. But make sure to send photocopies only, not the originals.
3. The most common reasons for appeal
You can appeal your clamping release fee if:
You believe the clamping of your vehicle occurred outside the time-period of restricted parking.
You believe the location where you parked was not within a restricted parking zone.
Your parking ticket was not seen by the clamping operator.
You can also appeal or make a complaint against the following:
The conduct, behaviour and identification of clamping operators.
Unnecessary delay on the part of parking controllers or clamping operators in responding to complaints or other communication from members of the public.
The identification of vehicles used by clamping operators (including logos, stickers and advertisement on such vehicles).
4. If your appeal is successful…
…The clamp release fee will be refunded directly to the card used to pay the de-clamp fee or by cheque.
5. If your appeal is unsuccessful…
…You have 30 days from receipt of the decision to further appeal to the National Transport Authority.
Want to make sure you don't miss out on anything going on in the world of motors? Like us on Facebook and follow us on Twitter for the latest updates.