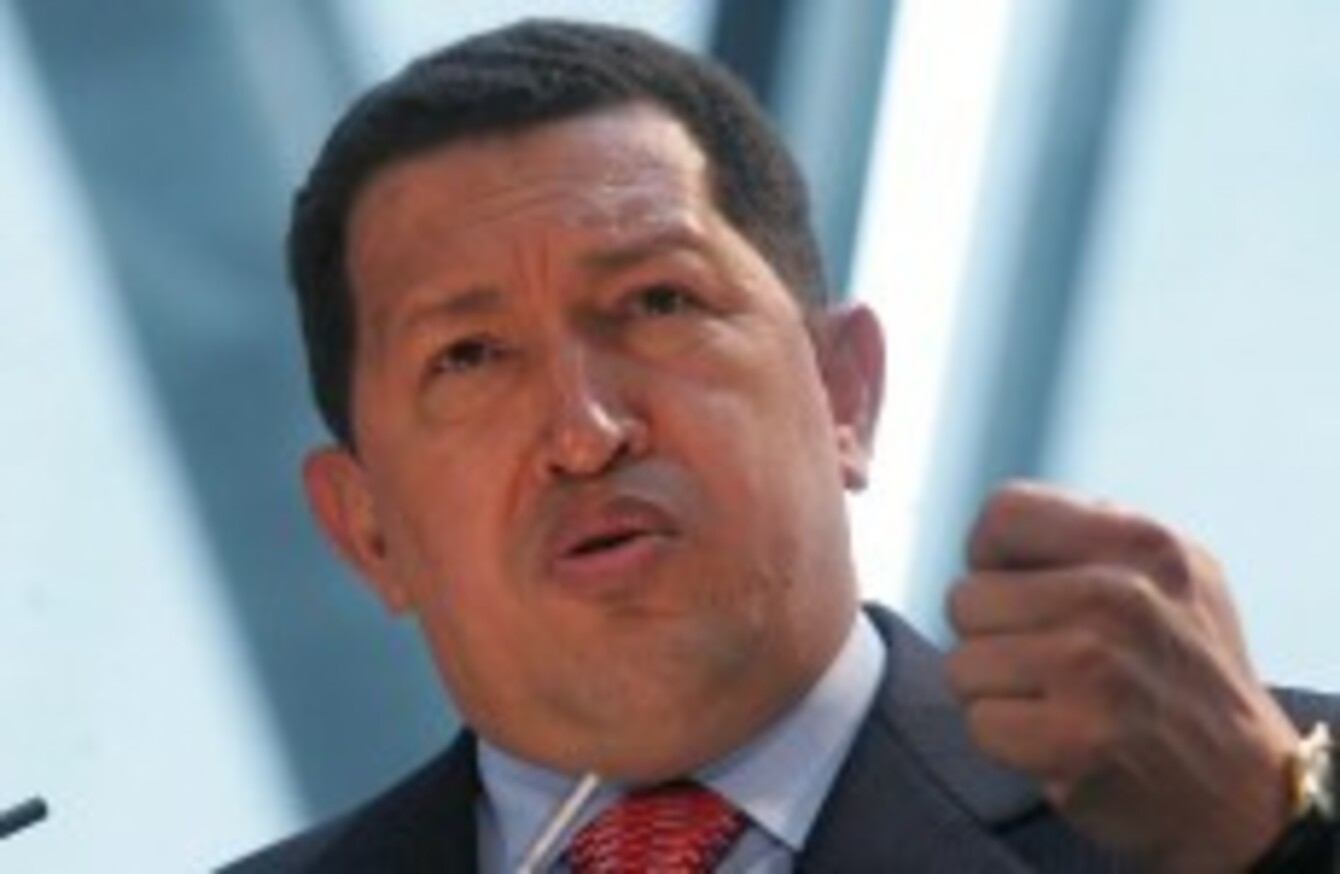 Hugo Chavez (File photo)
Image: Lindsey Parnaby/PA Wire/Press Association Images
Hugo Chavez (File photo)
Image: Lindsey Parnaby/PA Wire/Press Association Images
VENEZUELA HAS BEEN plunged into uncertainty after the death of President Hugo Chavez, who dominated the oil-rich country for 14 years and came to embody a resurgent Latin American left.
Vice President Nicolas Maduro, who struggled to hold back tears as he announced his mentor's passing, said armed forces and police had been deployed "to accompany and protect our people and guarantee the peace."
Venezuela, still deeply divided after an acrimonious election in October, declared a week of national mourning, and a senior minister said a new vote would be called within what are sure to be 30 tense days.
Foreign Minister Elias Jaua said 58-year-old Chavez's hand-picked successor Maduro would take over as interim leader pending the next election, declaring: "It is the mandate that comandante President Hugo Chavez gave us."
Hundreds of Chavez supporters crowded in front of the military hospital where he died after a long struggle with cancer, weeping and chanting "We are all Chavez!" and "Chavez lives!" as soldiers guarded the gate.
"He was our father, our liberator. Nobody expected such a tough blow from destiny," said Carlos Perez, a municipal worker holding a photo of a young Chavez in paratrooper uniform.
"We must continue building the revolution with Maduro, who will be the next president," he said.
Venezuela's closest ally, communist Cuba, declared its own mourning period for a leader who helped prop up the island's economy with cheap fuel and cash transfers, and dubbed Chavez a "true son" of revolutionary icon Fidel Castro.
An Argentine supporter of Venezuela's President Hugo Chavez holds up a t-shirt with an image of him during a demonstration in Buenos Aires, Argentina (AP Photo/Natacha Pisarenko)
'Fallen martyr'
But US President Barack Obama – often a target of Chavez's anti-American scorn – was circumspect, pledging the United States would support the "Venezuelan people" and describing Chavez's passing as a "challenging time."
"As Venezuela begins a new chapter in its history, the United States remains committed to policies that promote democratic principles, the rule of law, and respect for human rights," Obama said in a short statement.
Shortly before Chavez's death was announced, Maduro expelled two US military attaches and accused Venezuela's enemies of somehow afflicting the firebrand leftist with the cancer that eventually killed him.
Chavez was showered with tributes from Latin American leaders, not just his allies but also figures like Brazil's Dilma Rousseff, who hailed him as a "great Latin American" and a "friend of the Brazilian people."
Russia, China and Iran also paid tribute to Chavez, who had cultivated close ties with bugbears of the West as a way of thumbing his nose at Washington.
Iranian President Mahmoud Ahmadinejad said Chavez had fallen "martyr" to a "suspect illness," while hailing his close ally for "serving the people of Venezuela and defending human and revolutionary values."
Chavez's body will be taken to a military academy, where he will lie in state until a memorial service with foreign leaders on Friday.
Soldiers lowered the Venezuelan flag to half-staff at the military hospital, where senior figures in Chavez's 14-year-old administration gathered before the cameras of state television as Maduro broke the news.
"Long live Chavez!" the officials shouted at the end of his announcement.
Defense Minister Diego Molero, surrounded by top military officers, said the armed forces would defend the constitution and respect Chavez's wishes.
Chavez had checked into the hospital on February 18 for a course of chemotherapy after spending two months in Cuba, where in December he had undergone his fourth round of cancer surgery since June 2011.
Candles, flowers and traditional Russian bottle of vodka, placed next to an image of Venzuela's late President Hugo Chavez outside the Venezuela's embassy in Moscow (AP Photo/Misha Japaridze)
'Time for peace'
The once ubiquitous presence on state television and radio disappeared from public view after he was flown to Cuba on December 10, an unprecedented absence that fueled wave after wave of rumors.
Senior officials had sent mixed signals about the president's health for weeks, while the opposition repeatedly accused the government of lying about his condition.
A new election could offer another shot at the presidency to Henrique Capriles, the opposition leader who lost to Chavez in October but insisted Tuesday that the two men were "adversaries, but never enemies."
#Open journalism No news is bad news Support The Journal

Your contributions will help us continue to deliver the stories that are important to you

Support us now
"This is not the time for differences. This is the time for unity, the time for peace," Capriles said.
Luis Vicente Leon, director of the polling group Datanalisis, said the government will likely want to hold elections as early as possible "to take advantage electorally of the emotion generated by the president's death."
Chavez will be mourned by many of the country's once-neglected poor, who revered the self-styled revolutionary for using the country's oil riches to fund popular housing, health, food and education programs.
And like-minded Latin American leaders like Cuba's Raul Castro, Ecuador's Rafael Correa and Bolivia's Evo Morales lost a close friend who used his diplomatic muscle and cheap oil to shore up their rule.
World oil prices rose over the uncertainty following his death.
Chavez died five months after winning re-election, overcoming public frustration over a rising murder rate, regular blackouts and soaring inflation.
The opposition had accused Chavez of misusing public funds for his campaign and dominating the airwaves while forcing government workers to attend rallies through intimidation.
He missed his swearing-in for a new six-year term on January 10, but the Supreme Court approved an indefinite delay. Beginning with his first election win in 1998, Chavez had worked to consolidate his power and make his revolution "irreversible."
But his policies drove a wedge into Venezuelan society, alienating the wealthy with expropriations while wooing the poor with social handouts.