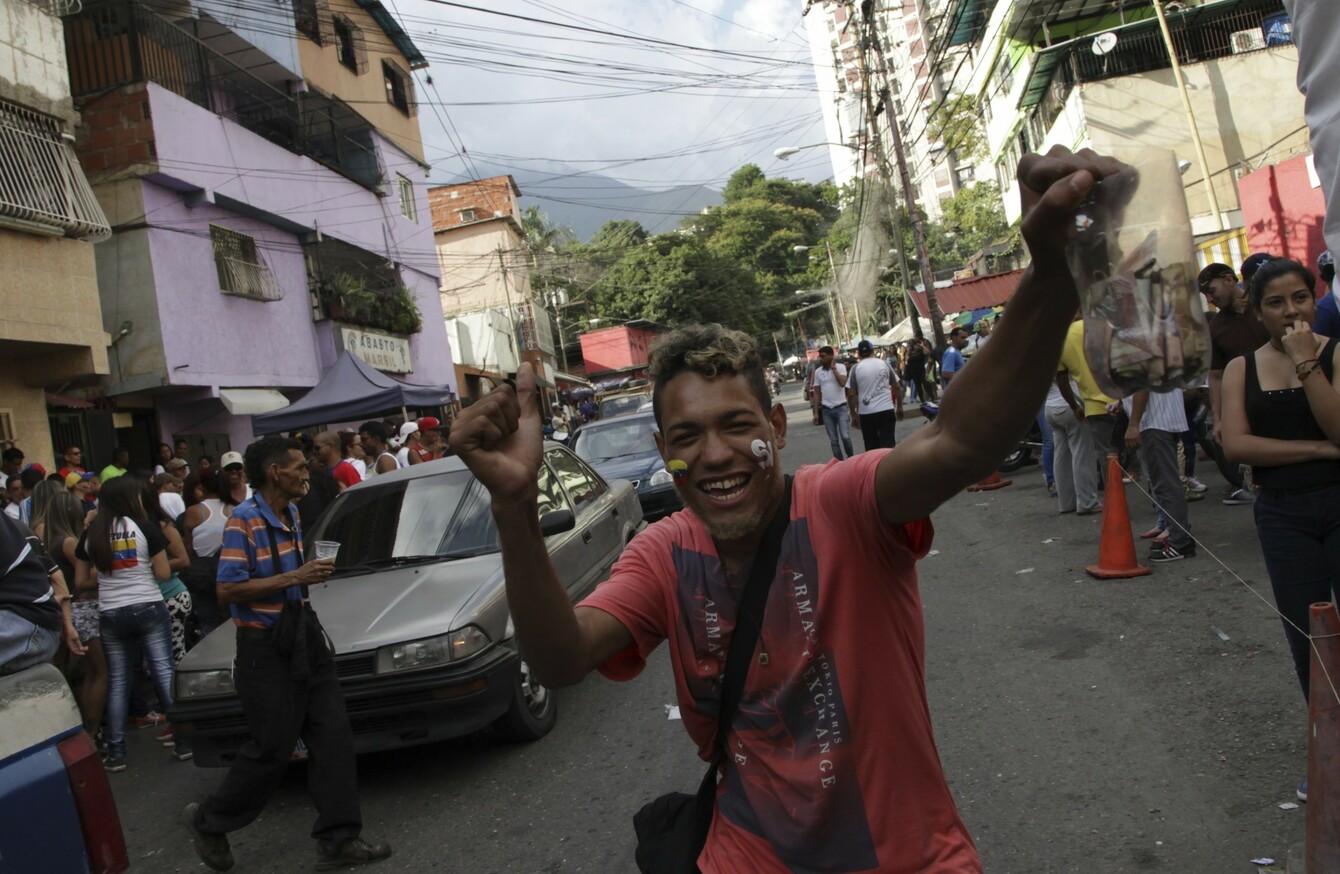 Opposition members dance outside of a poll station during a symbolic referendum in Caracas.
Image: AP Photo/Jesus Hernandez
Opposition members dance outside of a poll station during a symbolic referendum in Caracas.
Image: AP Photo/Jesus Hernandez
VENEZUELA'S OPPOSITION VOTED en masse yesterday, including in Dublin, against President Nicolas Maduro and his plan to rewrite the constitution, hoping to use this success to demand a change of government after nearly four months of violent protests.
Deadly violence returned as a 61-year-old woman was killed and three other people wounded when gunmen on motorcycles opened fire on people lined up to vote in Catia, a working-class neighbourhood in the capital, prosecutors said.
Nearly 7.2 million Venezuelans – lower than the projected 10.5 million out of 19 million possible voters – cast ballots in the symbolic election against Maduro, university guarantors said with 95% of votes counted.
Venezuela "sent a clear message to the national executive and the world," announced Central University of Venezuela president Cecilia Garcia Arocha, noting that 6,492,381 voted in the country and 693,789 abroad.
Garcia said final results would be released today.
"We do not want to be Cuba, we do not want to be a country without freedom," said Julio Borges, leader of the opposition-controlled parliament.
"Today, Venezuela said yes to a dignified country, a democratic country, a country where people do not have to go because they have no future. The mandate the people have given us is clear."
The woman's death brought to 96 the number of people who have died in nearly four months of protests and political agitation in Venezuela's streets.
The opposition blamed the attack on "paramilitary groups" linked to the government.
The central question before voters concerned Maduro's intention to hold an election on July 30 to choose 545 members of a citizens' body called the "Constituent Assembly" that would redo the constitution.
A dry run of that election was also held Sunday, to detract from the opposition vote which the government branded "illegal."
Maduro told the opposition to "not go crazy" with the results of its vote, though the head of the national electoral council told the opposition that the result would have "no legal consequence."
Government 'is falling'
Meanwhile, Venezuelan Foreign Minister Samuel Moncada said on VTV government television that he was declaring former Mexican president Vicente Fox persona non grata and banning him from the country for conspiring to instigate violence and foreign intervention. Moncada did not provide evidence to back his claims.
Fox, who left Venezuela late Sunday, had traveled to the country with several other Latin American ex-leaders in a show of support for the opposition's referendum.
The Mexican government, critical of Maduro, called for the results of the opposition consultation to lead to a "negotiated solution" to help "restore" democracy.
Ordinary Venezuelans blaming food and medicine shortages on Maduro's policies, however, seized on the vote as a way of telling the president to leave office.
People took to Caracas' streets after the vote shouting "this government is falling" as motorists honked their horns in celebration.
During balloting, one voter, 49-year-old Tibisay Mendez, told AFP that Maduro and his officials "only want to hold on to power — We are voting to get them out."
Many wore white and the colours of the national flag as they cast their votes.
Government supporters — and public workers worried about keeping their jobs — stayed away.
Several Latin American countries and the Catholic Church have criticised Maduro's move to redraft the constitution.