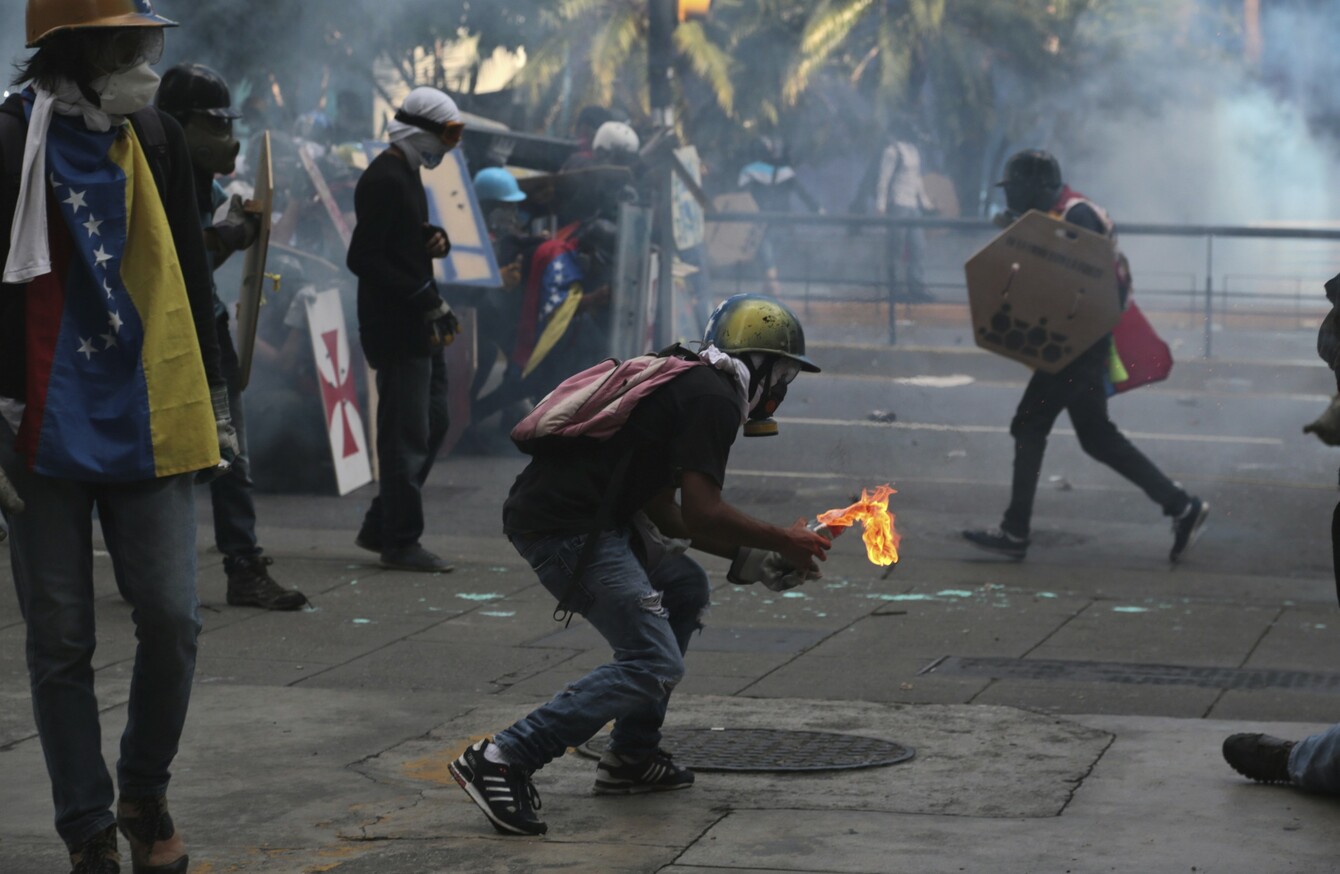 Image: Fernando Llano/PA Images
Image: Fernando Llano/PA Images
A MAN WAS set alight last week during an anti-government protest in Venezuela. On the same day, an opposition activist was shot dead in the capital, bringing the death toll of recent protests in Caracas to 48.
Socialist President Nicolas Maduro is fighting off efforts to oust him as Venezuela – once a booming oil exporting nation – struggles with shortages of food and medicine.
Venezuela is split into two social groups. Chavistas is the name given to supporters of the socialist policies of the late President Hugo Chavez. Then there are those who hope to see an end to the United Socialist Party's (PSUV) 18-year reign.
When the socialist leader died in 2013, fellow PSUV member Nicolas Maduro was elected president with a promise to continue pushing Chavez's policies.
Protests have been building in Caracas for months. Protesters are demanding President Maduro step down, which would trigger an election. However, Maduro is resisting the opposition and is adamant to continue Chavez's revolution.
TheJournal.ie recently spoke to a Venezuelan student living in Dublin who is at risk of dropping out of university after his government cut off access to his funds.
Ivan Chafardeth is now left in a similar situation to many Venezuelans around the world – afraid to return home but with few viable options available to him.
"It's like living in a nightmare"
Chafardeth came to Ireland to study English in 2011 after he finished high school in Caracas. In 2014, he was accepted into DCU to study Computer Applications.
Venezuela is suffering an economic crisis, along with the social uprising. Due to this, Venezuelans are not permitted to take money out of the country without first submitting a request to the government to do so.
Once the request is accepted, the government will deposit the currency they need into their bank account and, from there, the money must be paid back to the government in the country's currency – bolívar.
"I paid my first and second year like that. I paid €15,000 a year because my request was accepted and my grandmother paid it back at home in Caracas," he told TheJournal.ie.
Venezuelan students studying abroad use this system to pay their university fees. However, over the past year, the government has been canceling these requests without notice.
"There was so much corruption that they just can't afford to let that much out of the country. The worst part, the part that annoys me, is that they never told us that it was going to be cancelled," Chafardeth said.
The government approved Chafardeth's request for his first two years of study in Ireland. However, now in his third year and with another year to go, Chafardeth has been left in the dark as to whether he will receive the money for next year.
"If I go into their website, the section for the request has been cancelled. I can't even submit a request anymore. I have no idea if I'm going to get my money for next year," he said.
It's more than likely I won't because I was supposed to get the grant approved in September last year and it's already nearly June and I haven't gotten it.
If Chafardeth doesn't receive his money soon, he fears he will have no choice but to drop out of university here and return to Caracas.
"My grandmother made such an effort for me to come here and spent all her money so I could have a better life," he said.
Here, I could work and try help my family in the future. Now, I'm just going to go back home to nothing. I'll just be another burden on them.
"This has made me feel like I'm nothing. I've been living in Ireland for six years and it's like I haven't been here at all because those six years count for nothing. I won't be able to stay and apply for a citizenship here and that makes me really sad because I've made a life here," he said.
"I have friends here now and just the idea of having to go back is like living in a nightmare."
Chafardeth, like many other Venezuelans around the world, is terrified to return home because of the constant violence on the streets. Day after day, protests in the capital worsen as President Maduro refuses to step down.
Last week, chaos erupted in the Venezuelan capital during another round of protests against the socialist government with buildings set afire and tear gas canisters lobbed back and forth.
The unrest is taking a mounting toll on residents as opponents vows to step up near-daily demonstrations and Maduro shows no intention of conceding to their demands.
#Open journalism No news is bad news Support The Journal

Your contributions will help us continue to deliver the stories that are important to you

Support us now
At least 46 people have been killed so far, including a national guardsman and a police officer.
Life in Caracas
Between the mismanagement of the country's economy and the steep fall in oil prices, the government has a severe cash flow issue. Because of this, a goods shortage is at crisis level as the country dives deeper into chaos.
A lack of money has led to food shortages. Oftentimes, basic food supplies don't get delivered to stores and when they do, they're scarce. Venezuelans are left with no choice but to queue from the early hours of the morning before stores open in an attempt to get to the supplies before they run out.
Speaking about life back home, Chafardeth explained that his family are often in line for basic food supplies for as long as 13 hours. Sometimes they return without getting what they need.
"We've never been rich but we were middle class. We could go to the supermarket and buy whatever we wanted to. We could fill up two trolleys with no problem. It's something that makes me really sad. To think that my grandmother has to queue all day just to buy chicken is just horrible," he said.
It's really scary to think I might have to move back. I've worked so hard and to see my dreams just fade away is just awful.
"People will kill you over anything. The crime is so terrible. Travelling on the buses is impossible because they will take stuff from you all the time. People would kill you for a phone or shoes. You need to be so paranoid on the streets."
"Everything in this world is about privilege and where you were born," he said.
"It doesn't matter whether you're an incredible person, a good person, if you weren't born in the right country you're nothing and that makes me so sad."
The DCU student advice centre is currently working to help Chafardeth stay in university next year. However, for now, he lives in the unknown.