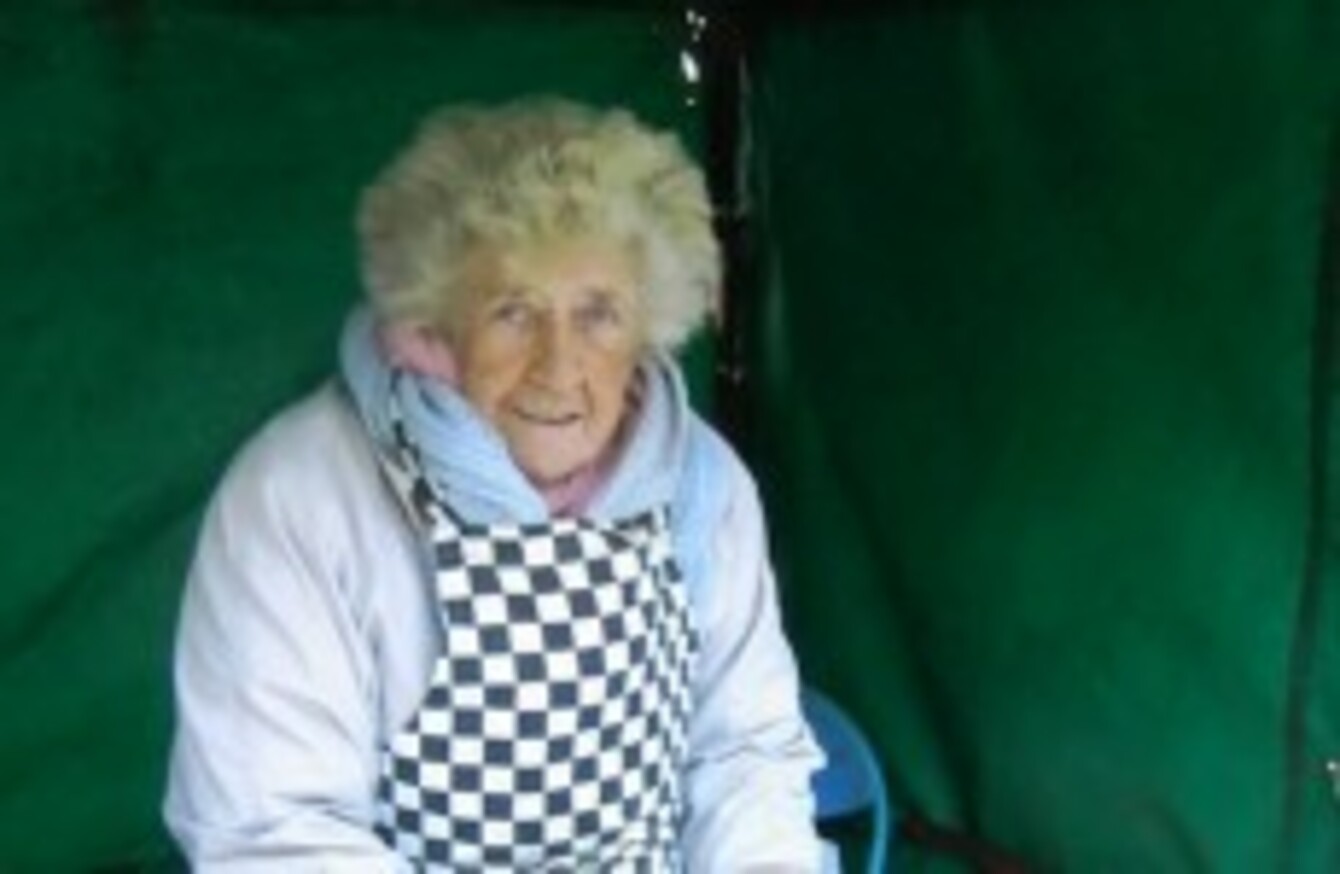 Image: Michael Merrigan/Andrew Gerard Ball
Image: Michael Merrigan/Andrew Gerard Ball
SHE WAS THERE in rain, hail or shine. Vera Breslin, the fish lady of Dun Laoghaire, is being remembered today after her sad passing yesterday.
Hundreds of people have taken to Facebook to share their memory of Vera, with many saying she stood on Convent Road for as long as they could remember.
Dublin characters 
Like many of the iconic people that have passed, such as the dancing lady of O'Connell Street, Mary Dunne, people have fond memories they want to share, whether they knew her personally or not.
"She was the last of the street vendors in Dun Laoghaire," explained local Independent Councillor Michael Merrigan.
Vera's family have lived in the town for generations. Vera, whose family all have connections to the sea, began selling fish on Dun Laoghaire streets many years ago, and even when the council moved to eradicate street sellers, she fought her position and maintained her stall for many years.
Town icon 
"I suppose like many towns around Ireland, like Dublin city, who had the likes of Bang Bang, these people are like living street furniture in a local area. This person, Vera, was iconic on the streets of Dun Laoghaire. I don't think there was one tourist that passed her by without getting a picture with her," said Merrigan.
Close to 1,000 people, from near and far, have liked posts on the local Facebook page, with many sharing their own memories of Vera:
We will miss her having her coffee with us and always telling me to get her 5 sugars. RIP Vera. An end of era.
RIP Vera, she was some woman, part of Dun Laoighaire history
Legend…RIP Vera..Dun Laoghaire has lost one of its greatest icons.. she served us well for so many years, a true lady, so proud to have known her… she will be missed by all…
RIP Vera, my next trip home will be missing one shinning light. So glad you got to see that we all remembered you from many corners of the world. You were always a ray of sunshine on a cloudy day, and manys a dinner plate was dressed by the best fish in town!
Some of my earliest memories of Dun Laoghaire include the fish stall, the amazement of the variety of fish that caught kids imaginations and your smile. Always smiling. A true Dun Laoghaire legend.
"It wasn't just a fish stand, it was a news stand too, as everyone passing would stop to hear the local news from her. In that way, she was like the Moore Street seller of Dun Laoghaire to the locals," Merrigan added, stating that she was a great icon in the town, and with her passing, marks the end of an era for the local community.
Facebook memories 
Just this summer, a old photo of Vera was posted on the local Facebook page, attracting many comments from people. As Vera was not an avid Facebook user, all the comments were printed off and presented to her. In this video, she is asked how she feels being famous.
The removal will take place on Saturday to St. Michael's Church, Dún Laoghaire, arriving at 9.45am for 10am. Funeral Mass followed by burial will take place in Dean's Grange Cemetery.