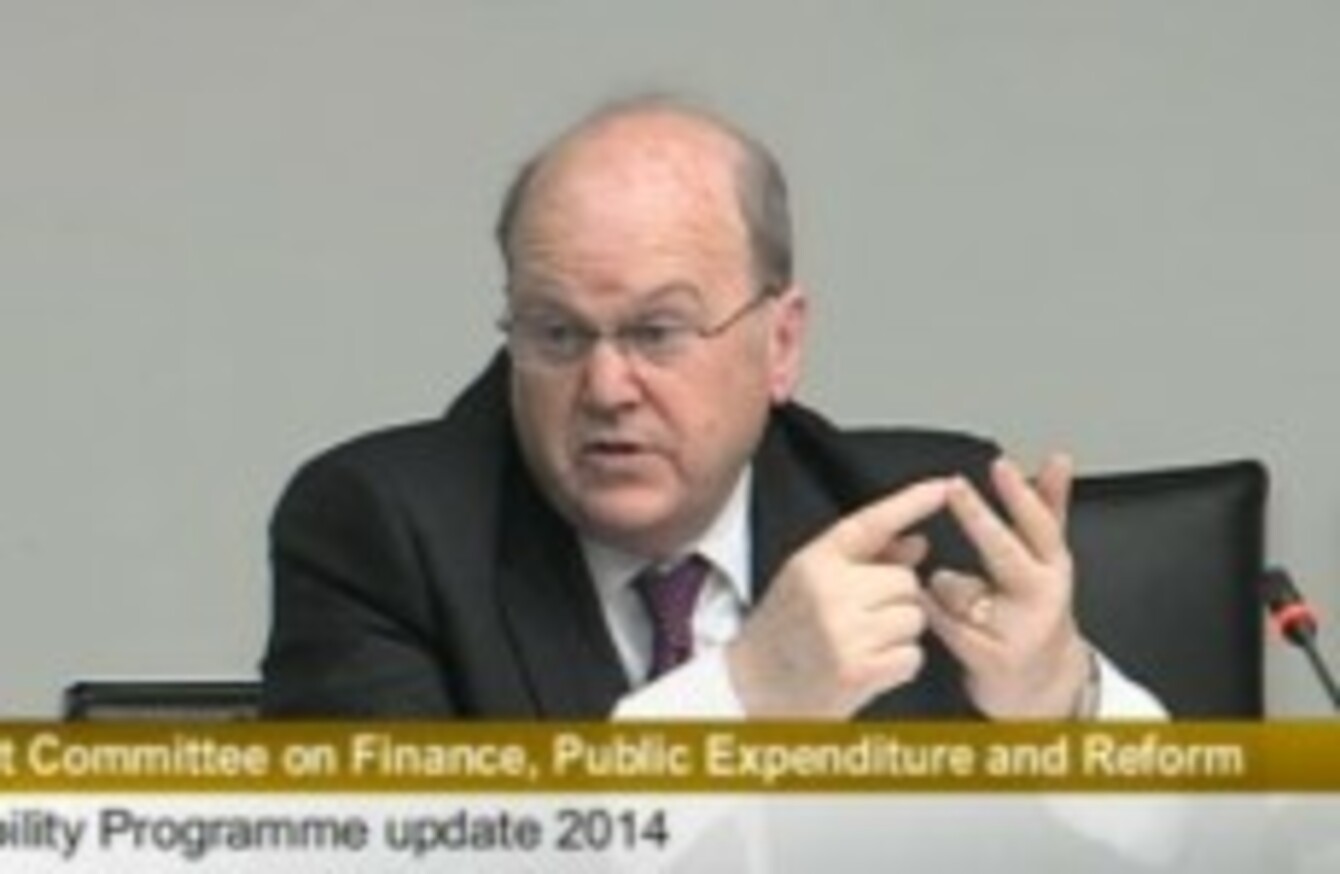 Image: Screengrab/Oireachtas.ie
Image: Screengrab/Oireachtas.ie
FINANCE MINISTER MICHAEL Noonan has said the "patent cliff" that saw a number of well-known pharmaceutical brands go off-patent last year was one of the main reasons for a distortion in GDP.
The economy shrank by 0.3 per cent in 2013 — in spite of a predicted growth of 1.3 per cent made in March of last year.
Noonan was asked about this year's predicted GDP rise of 2.1 per cent for 2014 as he answered questions from the Oireachtas Finance Committee on the Government's latest Stability Programme Update this evening.
Answering a question from Fianna Fáil's Michael McGrath, who had asked how confident the Department could be about the the accuracy of the forecast, Noonan said the patent cliff had caused "a distortion" to last year's figures.
The Finance Minister said that the fact that drugs like Lipitor and Viagra had gone off-patent had been a major factor.
"As they go off patent, they continue to produce them and the same number of people are employed in the pharmaceutical industry," Noonan said.
 That has given us a distortion and that's the best explanation I can give you.
Adjustment
The stability update, announced earlier this evening, says the government should be able to hit its deficit reduction target, but only if it sticks with the €2 billion adjustment planned for Budget 2015.
The document will be submitted to the European Commission by the end of the month.
Noonan was also asked what this evening's announcement would mean for middle-income taxpayers, after a number of Cabinet members raised the prospect of Income Tax cuts in recent months.
He repeated his promise to widen income tax bands as soon as it can be afforded, in order to take people out of the higher tax bracket.
"One of the aspects of the tax code which is most un-jobs friendly at the moment is that people on relatively small incomes have to go on the high rate of tax," Noonan said.
I'm saying that my next move in relation to tax is to address that.If I don't have some resources what I can do will be very small, but I'm pledged to doing something.
"If there's a lot of movement then that's where I'll have the emphasis in the Budget," the Minister said, adding "that's not inconsistent with the correction we have to make".
If it happens that there's a big surge in tax receipts as the year goes by, or there's a big fall in expenditure because a lot of extra people go back to work then we'll welcome that and we'll take it into account when we approach the Budget.
The SPU announced today also projects that unemployment will fall to 11.5 per cent this year from its current level of 11.8 per cent — predicated on the assumption that the labour force will continue to expand.
The general government gross debt was revised upwards by two per cent.