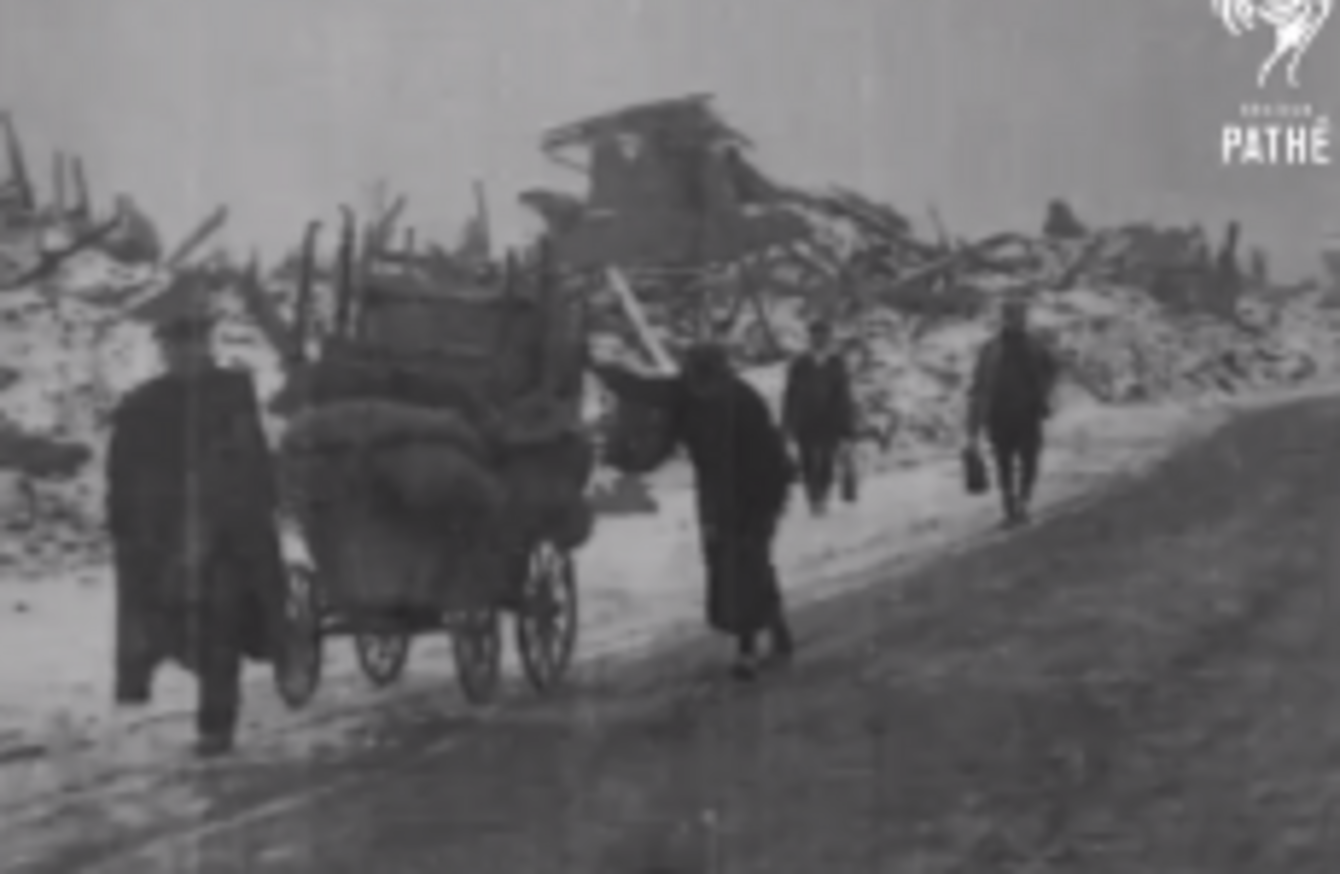 Image: British Pathé
Image: British Pathé
EARLIER THIS WEEK, British Pathé released its entire archive of videos to YouTube.
That is about 3,500 hours of content on 85,000 videos.
Among the clips of World War II, various sporting events, Titanic interviews and other momentous occasions, there are images of the world's smallest hippos, actresses taking screen tests and 'pretty Dublin weddings'.
There is also a significant collection from Dublin and Ireland through the 20th century. One puzzling video – entitled Irish Revolution? (1916-1922) caught TheJournal.ie's attention. Why the question mark after Revolution?
Filed as Éire (Republic of Ireland, Southern Ireland), the short film made for the USA purports to show soldiers walking through ditches or trenches during the 1916-1922 War of Independence.
The original description reads:
Soldiers walk through ditch or trenches. Collapsed bridge. Man and woman push a small cart piled with possessions up road; total destruction all round and snow on the ground. This may be Cork; which the Royal Irish Constabulary (Black & Tans) burnt. Pan over snow-covered ruins – completely desolate landscape; looks like a real battle site.
However, British Pathé has added its own note, stating that the explanation at the time of filing may be "incorrect".
"Trench warfare was not a feature of the Irish Revolution, and no Irish town suffered this level of destruction. Any ideas?" it asks.
Over to you…
Source: British Pathé/YouTube
(This is Part 2 for the film. Archivists explained that Part 1 is currently missing).
A separate clip, from Dublin in the aftermath of the Easter Rebellion 98 years ago, shows destroyed (but more recognisable) landmarks.
Source: British Pathé/YouTube