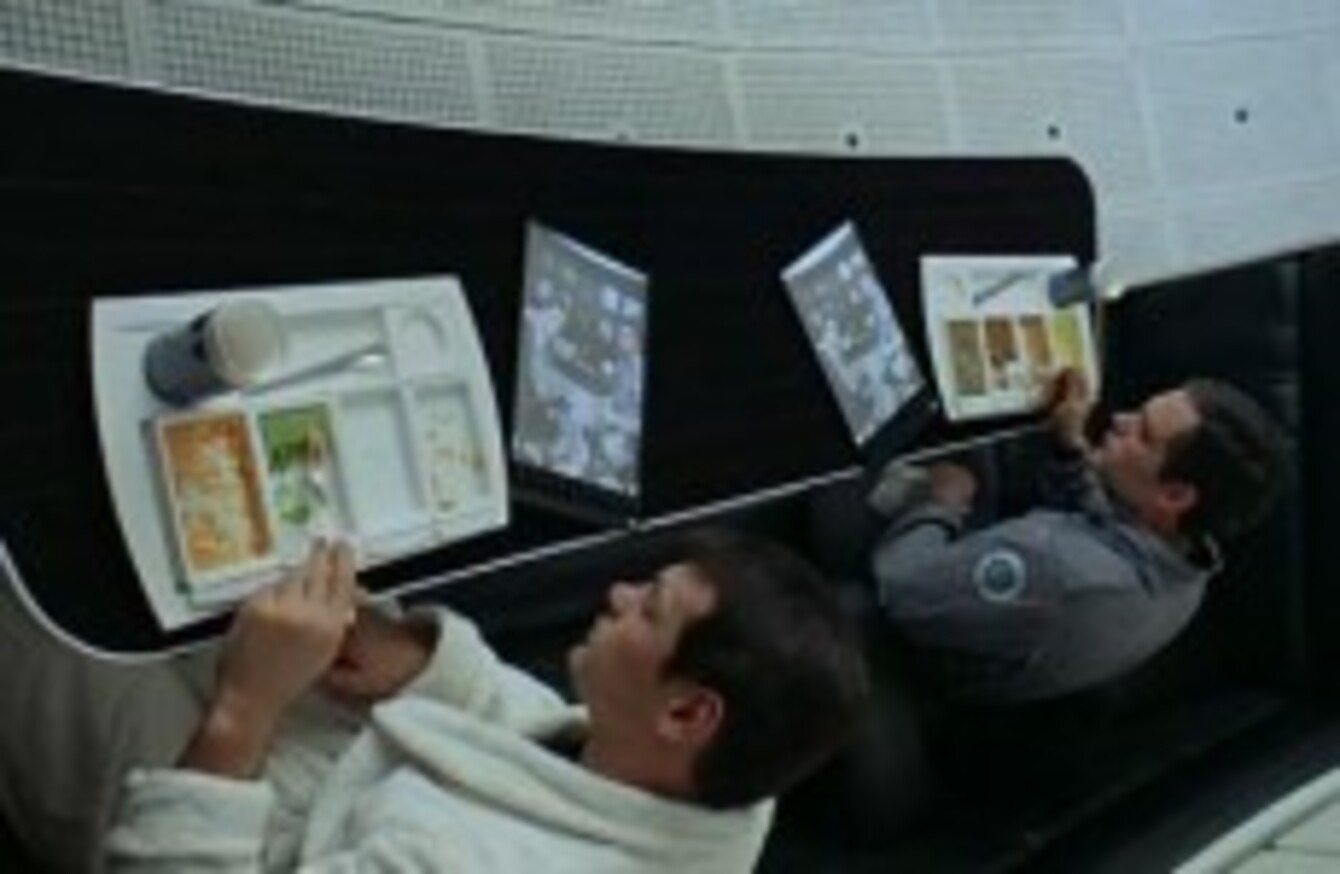 Computer tablets similar to the iPad being used in 2001: A Space Odyssey.
Image: still from 2001: A Space Odyssey via Youtube.com
Computer tablets similar to the iPad being used in 2001: A Space Odyssey.
Image: still from 2001: A Space Odyssey via Youtube.com
THIS WEEK, WE received a sneak glimpse of the futuristic body armour from the remake… sorry, "reboot" of 1987 futuristic blockbuster Robocop.
The original movie was set in 2015 and introduced the notion that we can soon expect to be policed by cyborgs. That hasn't come to pass (yet) although the financial ruin of 2015 Detroit, where its action played out, isn't hard to imagine.
It wouldn't be the first movie to try to predict the future. These ones were all set in a year that has now passed – but what of their fictions have come true?
Exploding supernovas
This year, according to 2012: Supernova (released three years ago), "a star in a nearby galaxy becomes unstable and goes supernova".
What really happened: An Irish amateur astronomer discovered his second supernova in just two years. He "nearly fell off (his) chair". No harm done.
via asyluminternational/Youtube
Computer companies making lots of money
Of course, the predictable angle to go for in the Jean Claude van Damme vehicle Time Cop (1994) is the fact that time travel had become a reality by its setting of 2004. Ho-hum. We're more interested in the fact that the film predicted "computer chip" companies would become so profitable they could fund someone's presidential campaign if they wanted to. Computers. We can't see how they'll ever take off…
via comicfilmexpert/youtube
Getting on the Titanic will still be a bad idea
Spoiler: You can guess from the title Titanic II that this 2010 film won't end well. The movie was, naturally, set in 2012 on the anniversary of the original sinking of the Titanic. You ask: in reality, who would want to recreate the voyage of the doomed White Star liner? As it turns out, a Titanic memorial cruise aboard the MS Balmoral did sell out earlier this year. It didn't sink – but a passenger did suffer a cardiac incident on board. (He later recovered).
via asyluminternational/Youtube
Oil supplies running out
The Mad Max series of films were about as dystopian as you could get but the reason for the collapse of civil society is not unimaginable: oil supplies running out. The first installment – Mad Max – was released in 1979 and set in 1984. While the complete disintegration of law and order hasn't happened, the discussion of peak oil production is always a point of concern – and high price fluctuations a reality.
via Trailers/Playground
Watching videos on a computer tablet
Naturally we can't leave out Stanley Kubrick's 2001: A Space Odyssey. While the 1968 release is clearly ambitious in terms of extra-terrestrial encounters and the idea of human outposts on the moon by the turn of the millennium, it did depict some advances that must have seemed "far out" for the 1960s. Intelligent computer systems like HAL 9000 of the film, which learn by experience, are the focus of intense research and optimism in the scientific community. As for the iPad-like tablets on the Discovery…
#Open journalism No news is bad news Support The Journal

Your contributions will help us continue to deliver the stories that are important to you

Support us now
via kasper933/Youtube
Big Brother will be watching?
The George Orwell novel 1984 is pretty bleak and the film starring John Hurt – released in time for 1984 – was no less grim. The subheadings on the trailer might give you pause for thought: "An uncompromising vision of the future… A nation at war… Where terrorism is exploited by the State… Where media is controlled… A total surveillance society… And every citizen is property of the State." A bit harsh to interpret literally but at the very least, reality television can be seen to take some of the themes to heart.
via MisterMaxHeadroom/Youtube
One for the road… War in Europe
The Kevin Costner-directed movie The Postman (1997) was set in 2013. So what should we expect next year? An apocalypse precipitated by war in Europe and the release of nuclear weapons. Surely we can come to some arrangement on the euro, folks…
via theparallaxreview/Youtube