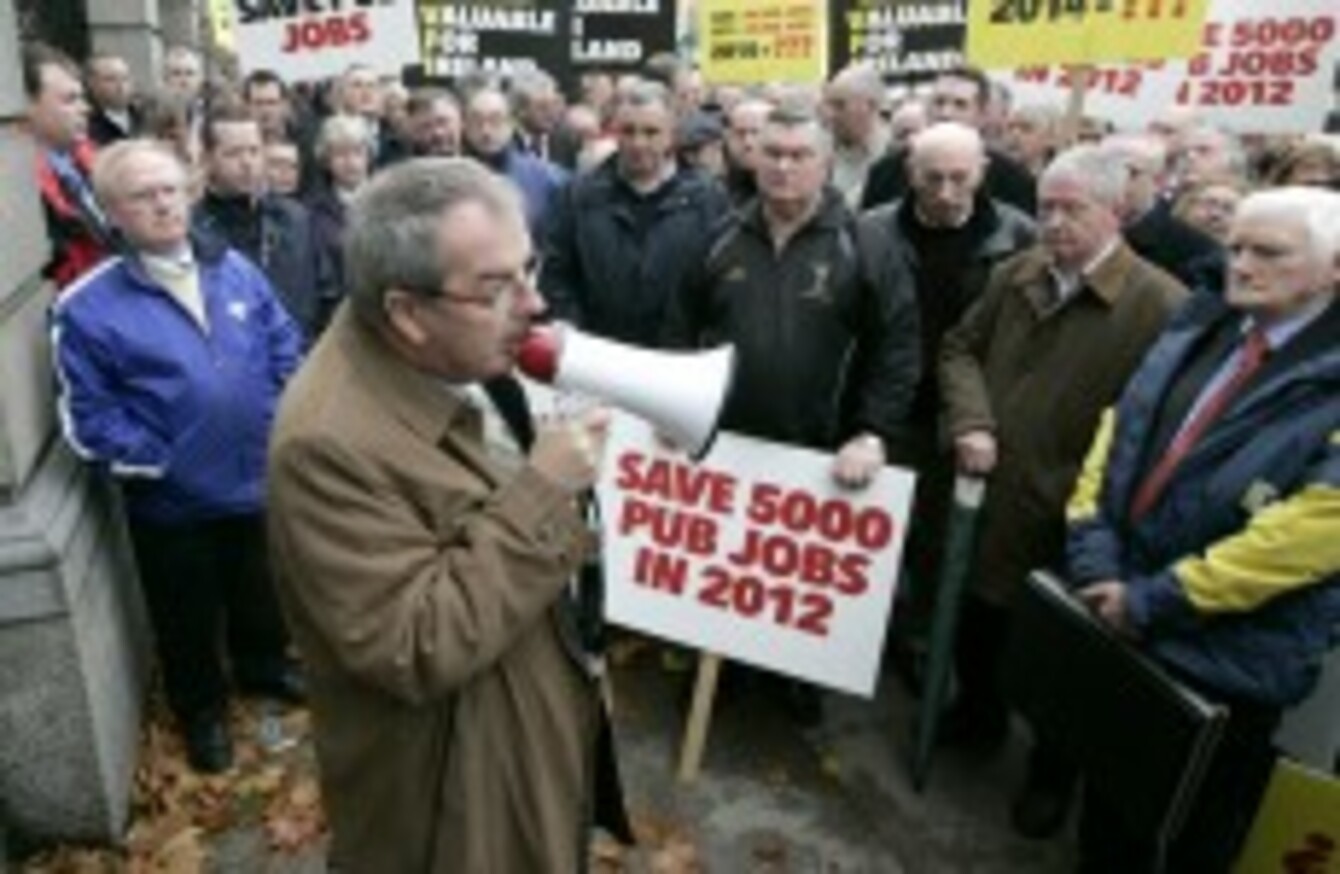 Cribben at a publicans' protest outside the Dáil in 2011.
Image: Mark Stedman/Photocall Ireland
Cribben at a publicans' protest outside the Dáil in 2011.
Image: Mark Stedman/Photocall Ireland
THE CEO OF a representative body for publicans has said he does not think TDs should be able to drink in Leinster House.
In an interview with TheJournal.ie, Padraig Cribben of the Vintners Federation of Ireland (VFI) said that "the reality for all of us is that you don't drink when you're working".
"I think the same norm should apply – its an example thing really," he said. "I'm not sure that it's the best environment for it, it's fine if work is over but if you're still working I don't think you should be drinking."
Cribbin said he does not believe the Ireland has a "major problem" with alcohol but that there is an issue with binge-drinking," particularly with the younger generation".
One of the issues is not so much the volume consumed but how it is consumed. It tends to be consumed in big gulps rather than small sips.
Pilot scheme
He asserted that the focus on teaching the perils of drinking to teenagers is not an effective deterrent as many of them have already decided to drink.
The body has recently announced plans for a pilot scheme in Cork and Kerry to promote "mature drinking" for young adults.
"This is a pilot project only and it's about creating scenarios where those in the 18-20 age bracket are drinking with an older sibling, parent or older friend in an controlled environment," he said.
Why? Number one, to address some of the problems that are there, and number two, and we make no bones about it, it may help them to understand the more attractive elements of a pub rather than drinking on their own or in uncontrolled and in a lot of cases uncomfortable environments.
Cribben also said that the affordability of alcohol is a  big problem, particularly the deals offered in supermarkets which mean "you can buy alcohol cheaper than you can buy water".