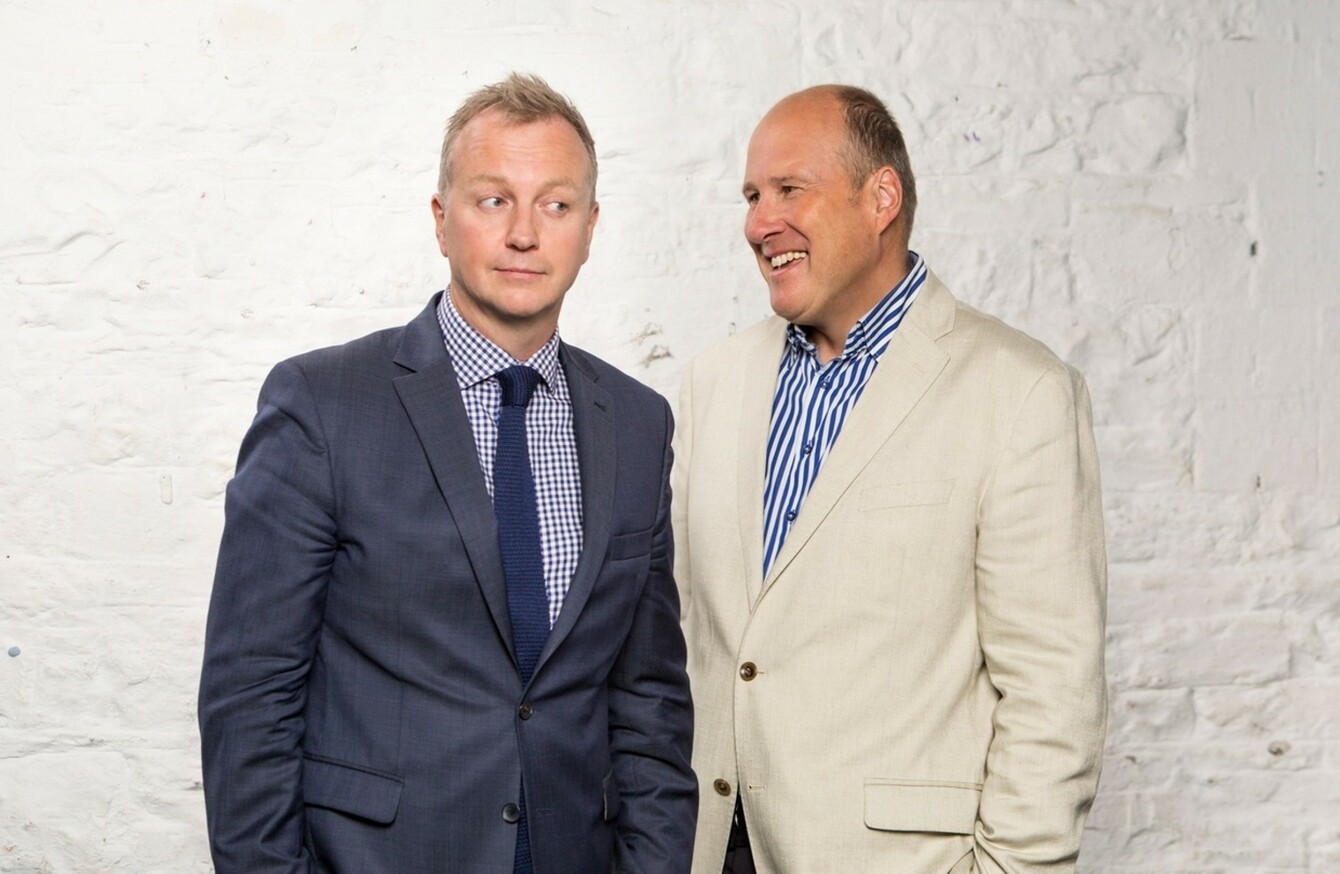 Matt Cooper and Ivan Yates are returning as hosts of The Tonight Show.
Image: VMT
Matt Cooper and Ivan Yates are returning as hosts of The Tonight Show.
Image: VMT
Updated Aug 28th 2019, 2:47 PM
A THRILLER WRITTEN by Derry Girls' creator Lisa McGee was among the shows unveiled at the launch of Virgin Media TV's autumn schedule today.
Set in Donegal, The Deceived centres on a young woman whose affair with a married man has fatal consequences.
VMTV described the programme as a "compelling, sinister narrative of lust, manipulation and betrayal" – quite the departure from the hit Channel 4 sitcom set in 1990s Northern Ireland.
Despite infidelity being a central theme of the show, McGee wrote the show with her husband Toby Beer shortly after they were married. She agrees it's quite different to her previous hit show. 
It's a dark psychological thriller about a young student at Cambridge who falls in love with an Irish lecture and kind of follows him to Donegal where a kind of tragic, suspicious death takes place and she starts doubting everything that she thought she knew about him.
Another new drama, Darklands, will focus on the world of organised crime and is set in Bray, Co Wicklow. 
The show follows a promising, young MMA fighter who gets pulled into the gangland world in an attempt to find out what happened to his brother who has gone missing. The six-part series was penned by Cardboard Gangsters writer Mark O'Connor.
O'Connor says that the setting of Bray was to give a unique look to the show.
We set in Bray to make it different to other gangland shows that might be in the inner city, so you have the scope with Ireland and the Wicklow hills and everything and you've got the big shots of the Sugarloaf, but that's mixed with the urban gitty stuff.
"That kind of came about from looking at Narcos in South America and using the location, and I think of the producers Ruth mentioned setting it there after watching the Katie (Taylor) documentary," he added.  
The schedule also features a range of sports programming, including the UEFA Champions League & UEFA Europa League, EURO 2020 Qualifiers, The Six Nations, and horse racing from Cheltenham and Aintree.
A new sports programme, Virgin Media Sport Tonight, will air on Mondays and Fridays on Virgin Media One.
Gogglebox and Love Island 
Ratings winners Gogglebox Ireland and Love Island, including a winter edition in South Africa, will also return.
Lucy Kennedy is back with another series of Living with Lucy, bringing viewers into the homes of Gráinne Seoige in South Africa and Barry Keoghan in Hollywood among others. 
A new non-fiction series called Inside The Guards will focus on the force's K District in Dublin, which comprises Blanchardstown, Finglas and Cabra.
The programme will feature detectives speaking about the impact of criminals in the area and shows some gruesome footage of the violent realities of drug-related crime.
Another show, Prison Breaks, will look at life behind bars and entrepreneurship "to see if criminal minds can be turned into business brains".
Meanwhile, comedian John Bishop will travel the country in John Bishop's Ireland. 
In terms of current affairs, The Tonight Show will return with hosts Matt Cooper and Ivan Yates, while Pat Kenny's Big Debate will also be back on our screens.
Other returning shows include Red Rock: The Finale, Who Wants to be a Millionaire, Coronation Street, Emmerdale, and Britain's Got Talent: The Champions .
Speaking at today's launch, Director of Content Bill Malone, said the broadcaster has made "significant investment in our people, studios and infrastructure, ensuring that we are ideally placed to connect with and grow our audience into the future, be it on TV or on demand". 
-  With reporting by Rónán Duffy