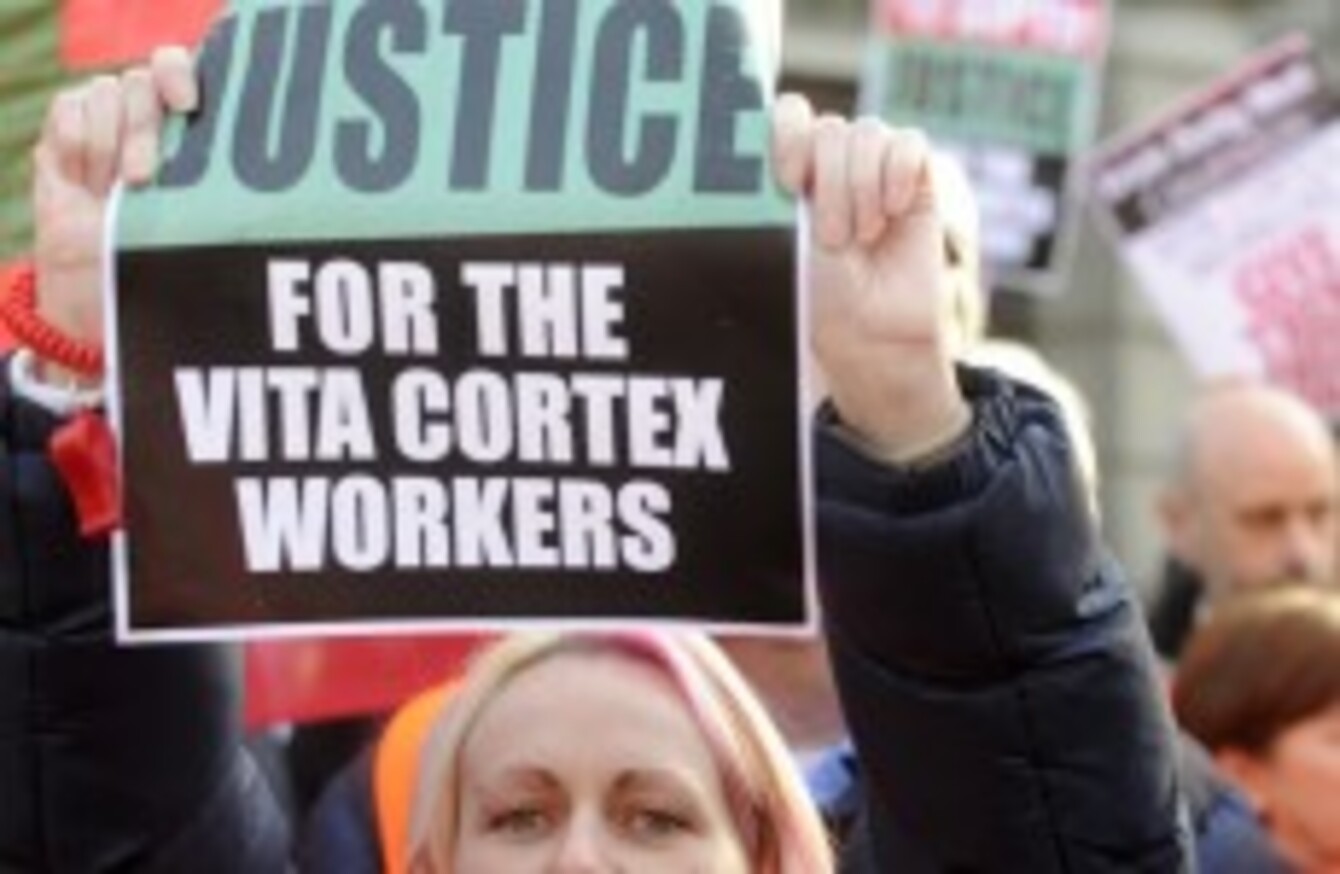 A protest rally in support of the workers in Dublin
Image: Laura Hutton/Photocall Ireland
A protest rally in support of the workers in Dublin
Image: Laura Hutton/Photocall Ireland
THE LONG-RUNNING protest at the Vita Cortex plant in Cork has ended after former employees voted this evening to agree a resolution with management.
Thirty-two workers at the closed plant have been staging a sit-in for 139 days over redundancy pay they say they are owed by management.
But after talks this evening at a Cork hotel, the workers accepted new proposals from Vita Cortex management. A statement from Siptu, which represents the workers, said the settlement would mean an "equitable conclusion" to the dispute.
A tweet from the protesters' account this evening read:
Earlier this evening, there had been speculation that management would make an offer to end the dispute.
Siptu division organiser Gerry McCormack said the new proposals "provide the basis for the full and final settlement" of the protest. He said the 32 former employees, who slept at the plant over Christmas and through the winter, would now be returning home.
The workers are very pleased that after four months campaigning to secure equitable and fair redundancy payments, which takes account of their long years of service at Vita Cortex, they can now return to their normal lives satisfied they achieved their objective.
Ann Egar, a Siptu organiser who has represented the workers since the beginning of the protest, hailed the "massive commitment and resolve" shown by the former employees.
Their protest has attracted international attention, with well-known figures from Noam Chomsky to Sir Alex Ferguson lending their support.
Siptu said the details of the settlement were "strictly confidential" between the former workers and management.