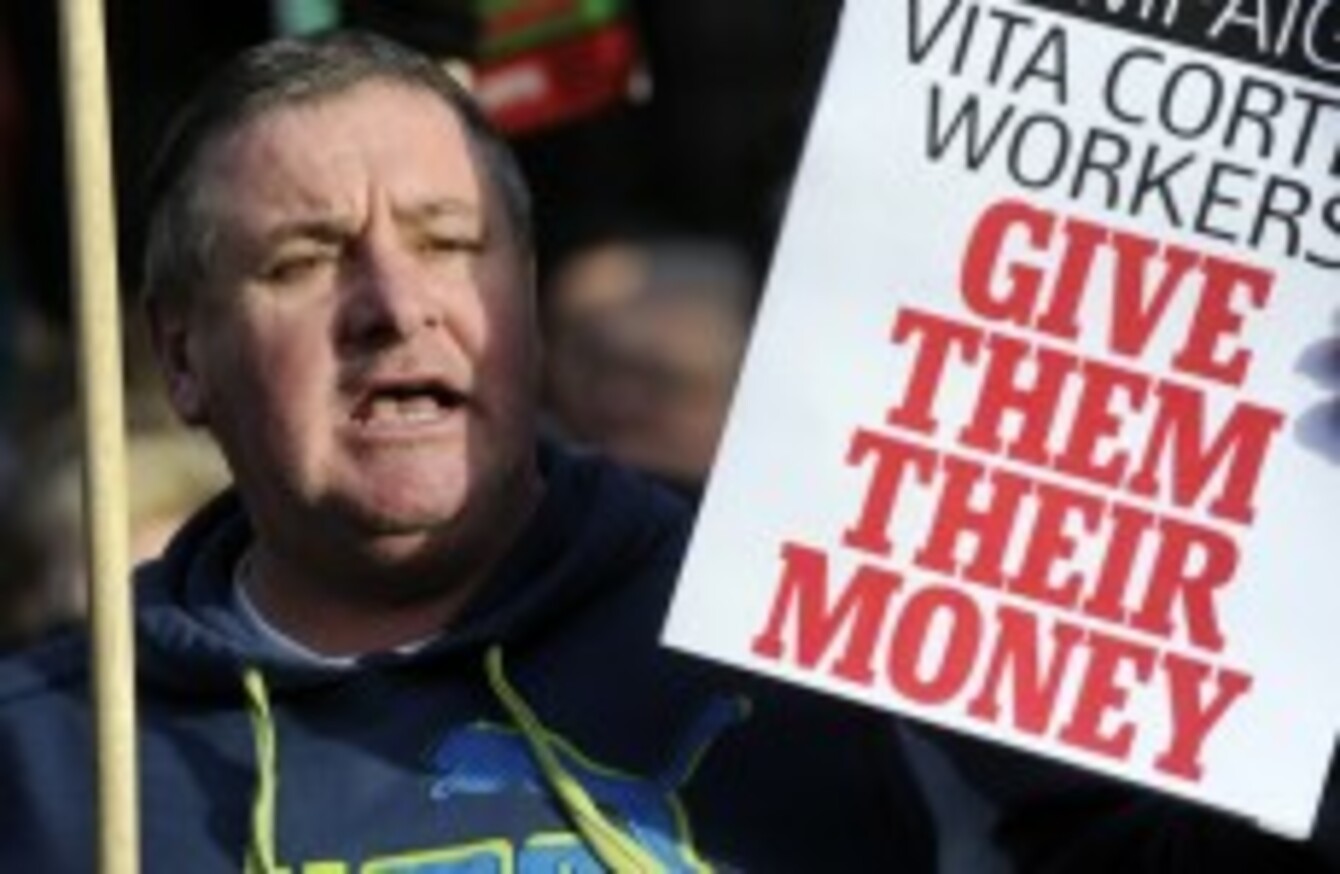 Pat Gorman from Cork shows his support for Vita Cortex workers at a public rally outside Leinster House in January
Image: Laura Hutton/Photocall Ireland
Pat Gorman from Cork shows his support for Vita Cortex workers at a public rally outside Leinster House in January
Image: Laura Hutton/Photocall Ireland
VITA CORTEX WORKERS are said to be hopeful this week that a new round of Labour Relation Commission talks will help bring an end to their factory sit-in.
The sit in has been taking place for 116 days so far. Darren O'Keeffe, coordinator of the online campaign in support of the workers, told TheJournal.ie that the mood at the factory has changed since the news came that Vita Cortex's owners are willing to meet with the LRC. This is the second time that the LRC has been involved in the dispute.
He said that having been in and around the factory in the last few days, there is a "contrast between the mood of the workers at this stage relative to day 100″. Two weeks ago, as the workers marked 100 days of the sit in and their continued quest to get the redundancy they say they are owned, O'Keeffe said he saw "despondency" and "definite frustration".
Now with the news that has come in that there has been positive progress and there is going to be channel for meaningful discussion, there is a sense of hope.
However, he noted that "though people are hopeful, they are also very cautious".
O'Keeffe became involved in the online campaign after finding out about the workers' story, and said that the outpouring of support seen on the Facebook page, Twitter and blog has been "amazing". This support, said O'Keeffe, has helped the workers.
A lot of the workers have commented the

Facebook campaign

is the thing that has kept it lit for them.
Messages have been pouring in from all over the world, including countries like Pakistan, Brazil and South Africa, said O'Keeffe. He said people have been expressing their support against "the injustice that is being perpetrated here against normal people" and noted that the support has come from people of "from all walks of life".
"A lot of credit has to go to the local business community," he added. "The sole trader community in particular have been unbelievable supportive. It's good to watch it, but the sad thing is there has been a need for the campaign. I can't wait for the day it ends."
The 32 ex-employees of Vita Cortex staging the sit in have been protesting to demand redundancy payments. So far, their campaign has drawn the support of people including Noam Chomsky, boxer Katie Taylor, actor Cillian Murphy and Manchester United manager Alex Ferguson.