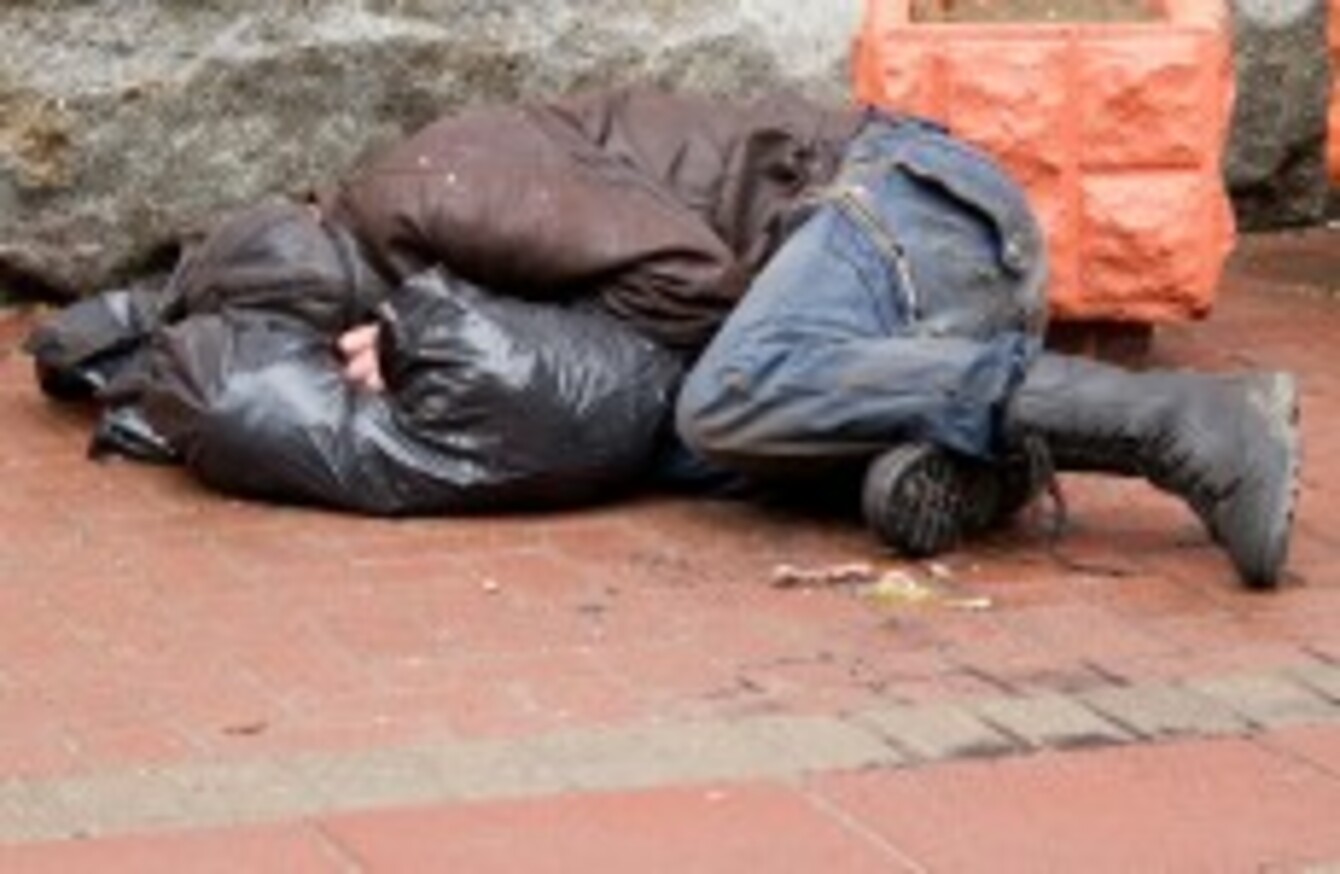 Image: homeless man via Shutterstock
Image: homeless man via Shutterstock
VOLUNTEERING WITH HOMELESS people can mean anything from having a chat over coffee to helping people with skills that you already have, such as cooking, giving classes – just being there.
Tina Hawkins has been a volunteer with Depaul for three years.
She volunteers in a wet hostel and also with a befriending service where she meets with people who now live in the community after moving on from hostel accommodation.
She described to TheJournal.ie how, "I go in to Sundial House on Monday evenings to help out during the dinner and to encourage service users to stay in the kitchen and finish their meal.
It's a long term wet hostel in Dublin for people with alcohol addiction and extended periods of street homelessness. It gives food and board to 30 men and women. Some people live there indefinitely.
"We'll chat about anything they want to talk about. Then I'd go into the social rooms and see if anybody wants to chat or even play board games.
"It's good because the volunteers bring the outside world into the hostel and relieve the tension that can build up when people are in a place together all day."
One service user said, "They are all nice people who make me feel good when I'm on a downer. They help to raise my spirits.
I look forward to them coming, they always treat me with dignity, kindness and as an equal.
Tina said, "It can be difficult to see that some people there may never leave – you have to learn just talking in the evenings and trying to be there is worth a lot."
Coffee and chat
Hawkins also described her work with the community befriending programme, which involves meeting with people who are now living in the community.
You're meeting with people who have been through the worst and come out the other side. I get to come out and meet these people, it's a great experience.
"We meet for a coffee and a chat and sometimes they might talk about something on their mind or they may need to talk about budgeting before it gets too much. I can then wave a red flag to Depaul if needed and they can help with the proper services."
One service user who has been a befriending participant for 3 years said:
I always look at befriending as a way of not being locked up in my own head.
"There's an enjoyment in meeting people, clearing all the problems of everyday life and going on adventures with your friends."
Speaking about her volunteering, Hawkins explained how, "Depaul is very flexible so I can fit my hours around my family life. It's a fantastic charity for anybody who is considering volunteering work."
How to get involved
Orla McAndrew is the volunteer coordinator with Depaul. She told TheJournal.ie, "We welcome volunteers from all walks of life and most part time volunteers give about 2-4 hours a week."
She explained how there's a range of volunteering opportunities within the organisation and that people interested in volunteering are advised to get in touch via the website at www.depaulireland.org.
Depaul will then send you out an information pack and an application form. People are then invited to an induction where they hear from volunteers about their experience before going forward to start training. There's also support meetings through the year.
McAndrews said that Depaul has had 169 new volunteers start so far this year and added that, "Our roles are based on the needs of the services so we create new ones all the time.
"Depaul projects include art, music, computer and cooking classes among many others. We also welcome any new skills or interests that people are interested in running."
One service user described how they felt when a volunteer came out on Christmas day:
She really put her heart and soul into it. She was like a ray of sunshine in the place. She really made a fuss of us.
Services near you
DePaul has services in Dublin, Belfast, Dungannon and Derry and supports 2,000 people every year.
However if you not based in these areas Focus Ireland and the Simon Community also offer positions for volunteers in many areas across the country.
Focus Ireland have offices in Dublin, Waterford, Limerick, Kilkenny, Cork and Sligo.
The Simon Community have services in Cork, Dublin, Dundalk, Galway, the Midlands, the Mid West, the North West and the South East.
Gaye is a project worker with Depaul, she said, "There's hope here. If they're in here we maybe can do something to help them to get towards whatever their dreams may be. Everybody needs a dream and needs a hope."