Broadcaster Claire Byrne promotes Volunteer Ireland last year.
Image: Laura Hutton/Photocall Ireland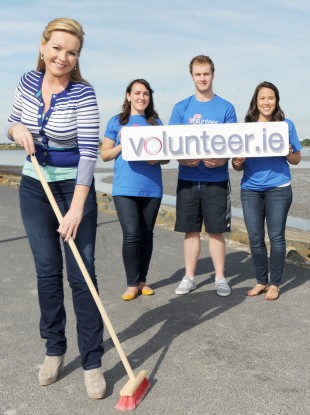 Broadcaster Claire Byrne promotes Volunteer Ireland last year.
Image: Laura Hutton/Photocall Ireland
THERE WAS A 16 per cent increase in the number of volunteers who signed up for Volunteer Ireland and local volunteer centres in 2012 with over 15,400 people giving up their time.
The national volunteer development agency said that in total around 465,550 hours were clocked up by volunteers who gave up their time to help others and those in their local community.
Volunteer Ireland CEO Yvonne McKenna explained one of the main reasons behind the increase: "We've seen the experience of more people wanting to volunteer since the recession, people have more time on their hands.
"People who are unemployed are looking to do something to keep them more active. It is very positive, it does show solidarity, a commitment to helping others. There's also a story in there about people helping themselves."
The most popular areas of interest for volunteers were in the sectors of arts, culture and media; health and disability; and youth and children.
McKenna said that Volunteer Ireland categorises all opportunities in terms of the cause, be it children, health or sports, and then what kind of activity a person wants to do related to the cause they pick.
Volunteer of the Year 2012 Jacqueline McAuley shares her experience:

YouTube: IrelandVolunteer
She said that though volunteer numbers rose during the economic boom the figures jumped more dramatically when the recession hit but McKenna is not concerned about the impact on volunteering if the economy picks up in the coming year.
"If we emerge from the recession very quickly there would be an impact on the number of people registering to volunteer but it really is a human instinct, I wouldn't see it as completely going away," she said.
Two-third of those who volunteered were female while 58 per cent of newly registered volunteers had never volunteered before.
Volunteers were also predominantly young with 35 per cent aged between 16 and 25.  Two-thirds of volunteers were aged under 35.
Volunteer Ireland has nearly 5,000 available volunteering roles on it national database and is encouraging people to get involved in 2013.
McKenna added: "It's a great opportunity at the beginning of the year to make a new year's resolution that is a positive thing to do. It can have a great effect on you but also on others.
"It can have a positive impact on the individual [who volunteers] and a positive impact on others and it's more better for society generally."