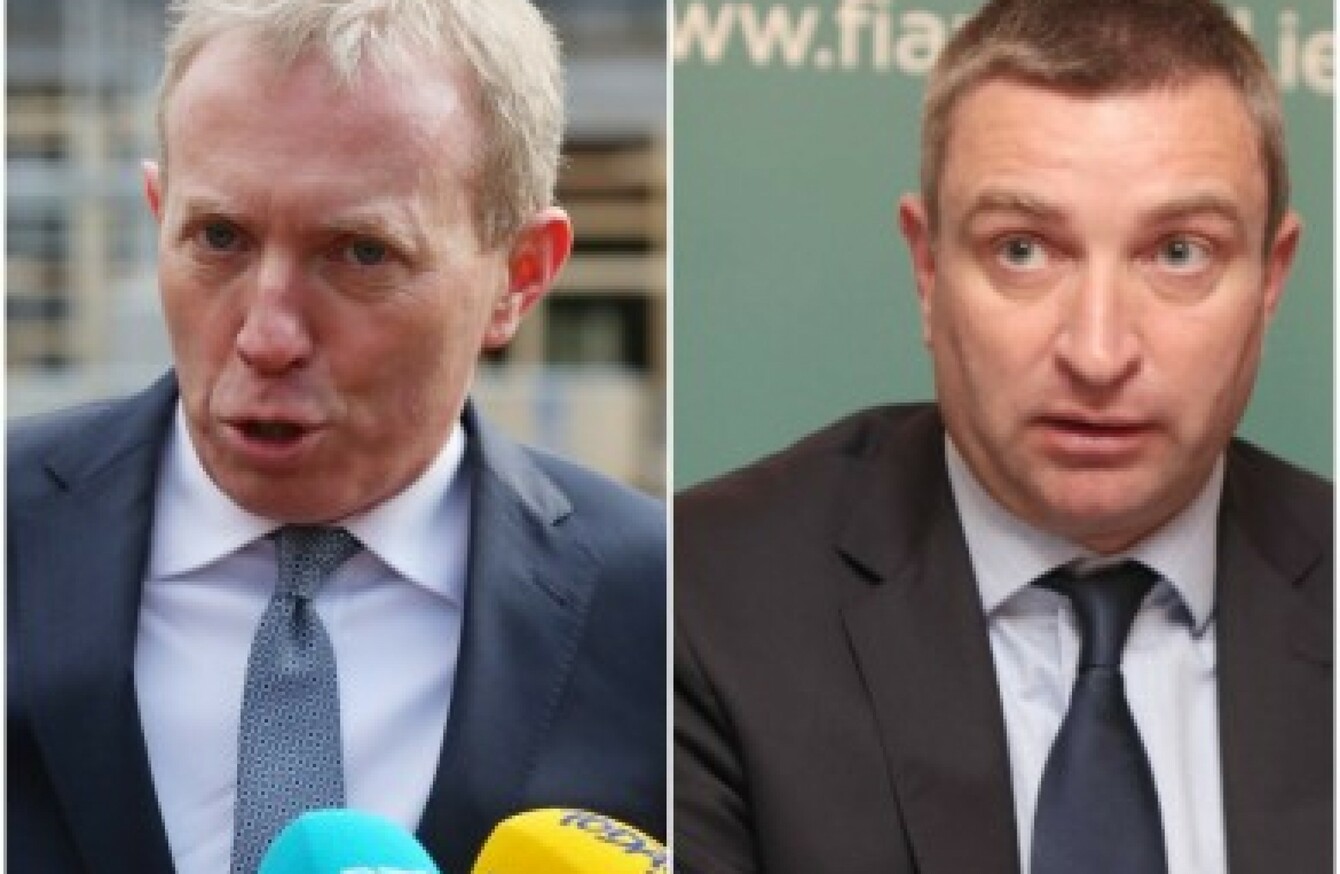 Fianna Fáil's Timmy Dooley and Niall Collins were at the centre of the scandal.
Image: RollingNews.ie
Fianna Fáil's Timmy Dooley and Niall Collins were at the centre of the scandal.
Image: RollingNews.ie
Updated Oct 24th 2019, 5:00 PM
FIANNA FÁIL TDs at the centre of the Votegate controversy have apologised in the Dáil Chamber this afternoon. 
Deputies Timmy Dooley and Niall Collins were suspended from their frontbench positions by party leader Micheál Martin while separate investigations were carried out both within the party and by the Dáil Committee on Procedure.
"I want to apologise to the House for the fact that when I spoke to Deputy Collins last Thursday, I gave him the impression that I would be in this Chamber during the voting block," Dooley said. 
"I did not ask Deputy Collins to vote for me, and I did not inform him that I was leaving the Chamber  I accept and regret that my conduct has led to a controversy that is unwelcome to this House and all its Members.  
"I should have been here for the voting block because it is one of the most important parts of our functions as TDs.  Members of this House will be aware that, in general, my attendance for votes is good.  If I had been here, as I am for virtually every Thursday's voting block, none of this would have happened."
Collins told the Dáil chamber this afternoon: " I sincerely apologise to you, a Cheann Comhairle, and to all Members of Dáil Éireann for my role in what happened."
"It would never be my intention to bring such negative undue attention to our work here.  We all understand the immense privilege it is to serve in this House. I also offer my sincere apologies to the people of Limerick and the wider public."
A report, published today by the committee called for an entire review of the voting system – but no sanctions or disciplinary action was recommended. 
The report, published today by the Dáil Committee on Procedure, called for greater "transparency and clarity" on electronic voting, but said that it would not be "legally appropriate" for the committee to demand sanctions against TDs. 
In a statement to the Dáil, Ceann Comhairle Seán Ó Fearghaíl said that the "controversy that has ensued following the voting one week ago has further eroded public confidence in how our national parliament conducts its business". 
"It is sobering to reflect on the voting irregularities that occurred last week and under no circumstances can they be allowed to happen again," he said.
It emerged last weekend that Niall Collins voted for fellow Fianna Fáil TD Timmy Dooley six times in one session while Dooley was outside the chamber on a phone call. 
A number of TDs have come forward in the last few days to say that another TD voted for them while they were in the chamber. Fianna Fáil's Brexit spokesperson Lisa Chambers also said that she mistakenly voted for deputy leader Dara Calleary.
On Sunday, Fianna Fáil leader Michéal Martin asked Dooley and Collins to step down temporarily from their positions on the party's frontbench.
Findings
The report sets out what Dooley and Collins told the committee in the course of its investigation. 
Questioned by Dáil clerk Peter Finnegan on whether he asked Collins to vote for him, Dooley denied this.
"No, I'm clear on that fact," he said. 
"I didn't give him any reason to have pressed my button. He assumed I was in the House. I've done it in the past," he said. 
Dooley was also asked if he had questioned Collins on why he had voted for him in the chamber. 
"No, I asked him what happened? His response was, 'I assumed you were in the chamber.' I'm paraphrasing here, they were the general words used. I was driving at the time so I didn't take notes," Dooley told the committee. 
During his meeting with the committee, Collins said he had voted for Dooley "as I assumed that he was up the back of the chamber on the phone". 
Finnegan asked Collins if "alarm bells" were ringing when Dooley did not return to his seat 18 to 20 minutes later. 
"No and it should have," Collins said.
Collins denied that Dooley had asked him to vote on his behalf. When asked why Dooley could be seen pointing to the voting machine, Collins told the committee that he had "no idea". 
"I was looking at his face and not his hands," he said. 
The report recommends a "wider review of the voting system should be undertaken to provide such assurance". It states that a wider report into voting systems will be submitted to the committee on 31 March next year. 
#Open journalism No news is bad news Support The Journal

Your contributions will help us continue to deliver the stories that are important to you

Support us now
It also recommends that the powers of the Dáil Committee on Procedure should be expanded to allow it to impose sanctions on TDs involved in deliberate voting irregularities.
The Committee on Members' Interests is already responsible for investigating the behaviour of TDs.  
When contacted by TheJournal.ie earlier this week, Dooley said he was not going to make any comment on the issue until the Ceann Comhairle finishes his report. Calls to Niall Collins to request comment on the events were not returned. 
The scandal has engulfed the Dáil, with all parties facing scrutiny on voting practices in recent days and prompting friction between Fianna Fáil and Fine Gael. 
Another complaint was made to the Dáil's ethics committee about the voting practices. The committee will meet today. 
There will be statements in the Dáil this afternoon on the report's conclusions. 
With reporting from Conor McCrave