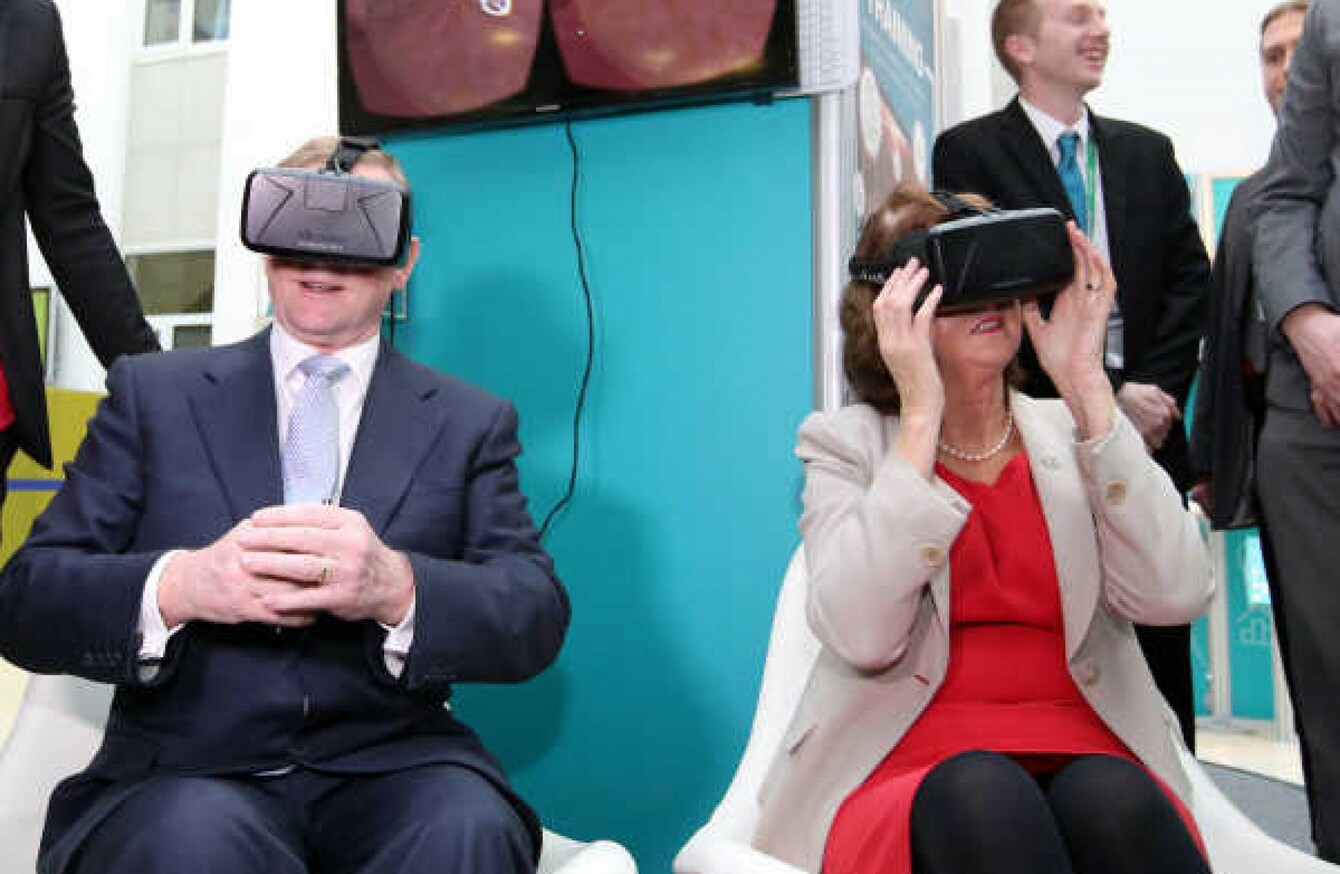 Image: Sam Boal/RollingNews.ie
Image: Sam Boal/RollingNews.ie
WE'VE BEEN A LONG time waiting for them to arrive but the first proper virtual reality (VR) headsets will begin arriving in the next few weeks.
The first consumer versions of Oculus Rift, now owned by Facebook, HTC Vive (done in partnership with online PC gaming marketplace Steam) and mobile offerings like Samsung's Gear VR will be shipped out soon.
Preparing for this are a number of Irish companies and startups working on their own VR experiences. To give some quick examples, there are plans to use it as a way of viewing homes, provide training for the defence forces for peacekeeping missions while others are looking at developing spatial audio for such experiences.
Blasting into space
One of the earlier Irish companies to start developing for VR was Immersive VR Education, a Waterford company whose first title Apollo 11 – based on the same NASA mission – will arrive on the Oculus store at launch.
Source: Immersive VREducation/YouTube
Its co-founder and CEO David Whelan was originally a web developer but after backing the original Oculus Rift – where it raised €2.2 million back in 2012 - and trying out the headset, he realised it was the industry he wanted to work in.
After attempting to develop his own VR applications without success, and setting up one of the first VR review sites, he put Apollo 11 on Kickstarter project this time last year where it raised €36,000. That gave it momentum and its work has been recognised, winning it a number of awards in the process.
But the amount of work that is required to create a fully-immersive world takes up a lot of time, especially when you're dealing with a historical event according to Whelan.
It is very challenging and it does take a lot of time. What we had to do was we had to get the original plans from NASA and make sure that every switch and dial was right. We read through hundreds of transcripts as well to make sure we got all the readouts exactly right as it's a virtual reality documentary.
While that's the most high-profile product – and it's working on another version based on the Titanic – the other main project they're working on are VR lectures.
Whelan describes the product as "powerpoint for VR" and sees it as a way for remote learning. Those presenting the lecture can introduce live props like dinosaurs or animals while those watching can use motion controls to interact if necessary.
It's highly ambitious but it and the Apollo 11 experience all tie into the same aim: to create a platform containing different experiences that wearers can learn from. And since it's factoring in Vive and PlayStation VR, the net is cast as wide as possible.
Our business tagline is 'learn through experience' and the best way to learn is from experience … and leave the students to do things themselves.
Improving mental health
Education isn't the only genre Irish companies are focusing on. Another area that's likely to grow is experiences surrounding wellbeing and mental health.
While there are more extensive studies needed before we discover just how effective it is, VR could end up playing a major role in helping those with depression and anxiety.
One startup that's focusing on this is Sligo-based MindMyths. Its founder Mark Roddy was another person who had a background in tech and became interested in VR once Facebook's acquisition of Oculus VR took place.
Founding the company in 2014 and currently the only Irish startup in the FICHe project, a European Commission-led initiative to develop health tech companies, his mindfulness service builds upon the concept of similar apps like HeadSpace or Calm and is currently being developed for the Gear VR.
In this case, MindMyths is used for both counselling, either an individual or group therapy session, and meditation by bringing the wearer to an isolated location like a lake. (these locations are captured using GoPros and stitched together to create a 360° video).
It completed its prototype back in November and has carried out trials in Slovenia – some of the team working on it are based there as well as in Sligo and Finland – but most importantly, it's capable of running on any VR platform.
"[The aim] is to get a standalone single user product onto the Oculus Rift by the end of the year," said Roddy. "That will allow you to learn some of the pre-recorded exercises and techniques and will bring you a variety of VR landscapes".
Yet testing something like this out isn't without its obstacles. Many people when they try out the upcoming VR experiences are impressed with them, but if you're looking for valuable feedback, eliminating the novelty factor is a must.
"Believe me, it's impossible to verbally communicate the experience and even with 2D to explain the experience," says Roddy. "There's the novelty of immersion itself which I'm conscious of…  but we have to cut through that and get back the value of [the trials]".
Source: Mind Myths/YouTube
'Dipping their toes in the water'
While price is an issue for many, one of the biggest stumbling blocks for VR adoption is something more mundane. It's incredibly difficult to explain the concept to a person who hasn't tried it out.
It's also easy to be sceptical considering how many times it was promised in the 80s and 90s, but things are a little different now. Granted, it's first-generation technology and the entry point is still high but similar to smartphones, the price and hardware requirements will become more accessible over time.
Both Whelan and Roddy offer their own theories as to why this is the case. For Whelan, he believes in a few years time, we'll look at the world before VR the same we look back at the 90s, but it's hard conveying just how good VR is to someone without them trying it out.
"All the VR companies so far have been really underselling the technology so setting lower expectations and overachieve and they've all been guilty of that," says Whelan.
"We're kinda stuck at the moment when describing virtual reality. It's like imagine everybody in the world just had radio. If I came on the radio and tried explaining what TV is, people would have an idea but until they see the TV, they don't really know what it is about".
VR is the very same thing and we see it when people try it out, they don't really understand what it is about. I've demoed with hundreds of people over the last couple of years and the first thing I'm asked [after using them] is 'are these headsets available?' and 'how much are they?'.
As for Roddy, he describes it as a "potential game changer" but is aware that the big players are going to tread carefully. While the industry is more positive towards it, its success is anything but guaranteed.
"The strong points that I see is it has the heavyweights like Facebook behind it… [but] if you read between the lines, Samsung with the current Gear VR, they're only dipping their toes in the water," he says.
"The industry is going to toe its way forward. That's what is going to happen here but it will be the test questions like 'is there an appetite for this technology?' and 'is it consumer ready?' [that will determine its success].