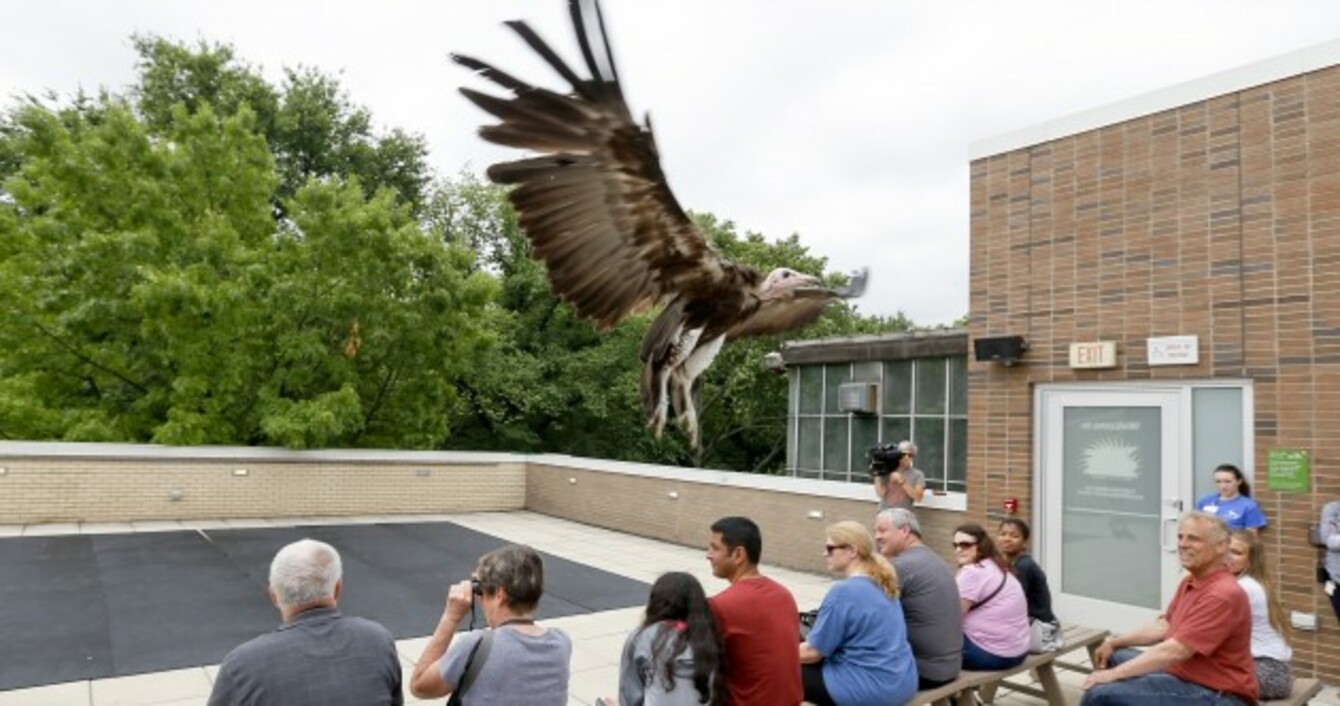 Image: Keith Srakocic
Image: Keith Srakocic
"YOU GET AN awful fright when you get a letter to say your mortgage has been bought by a vulture fund."
This customer of a well-known commercial bank operating in Ireland was told by letter in 2015 that their loans had been sold.
The term 'vulture fund' became politically toxic last year. Their impact on Ireland is even making headlines internationally.
The New York Times, highlighted the case of Tyrellstown, a development which had its loans bought by the giant investment bank Goldman Sachs in 2014.
Tenants of the west Dublin estate faced eviction after they received letters from a vulture fund telling them they would have to vacate their homes once their leases ran out.
Experts estimate about 50,000 mortgage holders are with vulture funds – about 15% of the market.
First of all, what is a vulture fund?
A vulture fund is an investment firm that often buys up property portfolios from banks.
They buy on the cheap and are looking to make a quick return. As reported in The Sunday Business Post this weekend, these firms are paying little or no tax.
During the recession, these firms bought both residential and commercial portfolios from the troubled banks. Included in these portfolios were thousands of mortgage holders who bought in the boom – every day people who found themselves mixed up in the financial crisis.
'They said they could no longer deal with us'
"One day, out of the blue, we got a letter from the bank to say that our loans had been sold to a vulture fund and that they could no longer deal with us. That's how it happened," said one person whose mortgage loans had been sold to a vulture fund in 2015.
It was a surprise to the couple. Owners of a small business, the couple have mortgages on a family home, a premises used for their business and an apartment – bought more than 15 years ago – which they rent out.
During the recession they fought hard to keep their staff of five to 10 in employment, paying PAYE, VAT etc, and have taken little or no salary over a 10-year period.
The couple were not in arrears with any of their mortgages; paid capital and interest on their family home, but did resort to paying interest-only for a number of years on the other properties, as per the terms of an agreement made with the bank.
Before the sale of their loans, they had tried to make contact with the bank to come to some sort of solution – a pathway to pay off the mortgages or sell the properties to repay the debt.
"When the crash happened, we acted immediately and contacted our bank to tell them we would struggle to continue paying the capital. This was at the same time Finance Minister Michael Noonan came out and said there were two types of people – those that can't pay and those that won't pay.
We said we wouldn't be the won't pay and would meet all commitments laid out in our loan agreements. We were never in arrears. Noonan also said vulture funds would only deal with those in arrears.
"In order to meet the payments and ensure we didn't enter into arrears, we used all our savings. We got rid of VHI health insurance, we cut way back, no additional day-to-day stuff, a very tight budget."
"We wrote to the bank saying we could pay X, Y, Z and the bank did not even respond to our proposal. We kept trying to make an appointment – we rang, we wrote letters – but no response," said the person who is now dealing with a vulture fund.
"In the back of my mind now, I think they always had a plan to sell our loans to the vulture fund, that's why there was a lack of response. There was no acknowledgement of our proposal."
Banks lack of response 
In all, it took over 18 months for the couple to get a response from the bank on their proposal and by that time, due to the fall in property prices, it was too late for any sale to make a decent return.
They only responded to our proposal after we called and demanded they come back to us.
"They turned the proposal down. They gave no reason."
After the back and forth with the bank, the letter landed in the hallway to say that their loans had been sold to a vulture fund.
With all properties now in negative equity, no sale all of properties would pay down the mortgages in full (meaning, even if all properties were sold tomorrow, the couple would have no family home, no where to live, no business premises and a substantial debt still hanging over their head, which they would still be liable for). The vulture fund called in the full amount on the loans, including interest.
"We called the bank and they said they couldn't deal with us anymore and to call this other firm."
Asking for Minister Michael Noonan's help 
The couple then wrote to Noonan in late 2015 asking for assistance, and enquiring if what was done to them was the correct way to treat people.
"You hear all the time that the loans being sold are in distress – but we were paying. Our family home was not in arrears at all and was due to be cleared."
The minister replied to tell the couple that borrowers' loans that are sold to vulture funds are now covered under the Consumer Protection Act 2015, stating that their rights remain the same as they were prior to the sale.
The letter stated the minister was "unable to intervene directly between a lender and borrower" and advised the couple to seek professional advice.
"That was all we got from him," said the homeowner.
The issue I have with the bank is they pushed it out as long as they could, they wouldn't deal with us and then they sold the loans for a discounted rate even though a proposal was on the table.
To date, the bank will not tell the customers how much they sold the loans to the vulture fund for.
(Above: A section of a letter, seen by TheJournal.ie, sent by the couple to the bank in 2015)
I nearly feel like we shouldn't have paid, we paid thousands of euros in interest to the bank, only to have our loans sold on. There were people who saw what was coming, knew that they were going to lose their home once sold on to a vulture fund and just stopped paying.
"Irish banks sold us on to faceless organisations – essentially putting the Irish citizen from the frying pan, into the fire. The vulture fund just keeps on grinding, and grinding and grinding away at you, because they know the ordinary husband and wife don't have the machinery to deal with it.
All they want is to see how many zeros they can add, all at the expense of a family.
The family home is meant to be protected under the law – but it is the one thing vulture funds know has the most equity in it, so they put as much pressure on you as they can to sell your family home. That family then has to find some where else to live.
They don't make phone calls, they don't do emails, they just keep sending threatening letters in the post.
(Above: A selection of a letter sent by the couple to their bank in 2015)
"It's the effect of the whole thing that has the biggest impact on your life. It causes an awful lot of stress. The thoughts that you are going to maybe lose your home. It hangs over you.
I'd say there are hundreds, if not thousands of us out there. We're not the only ones.
Now dealing with the vulture fund, they have to give over a full account of their monthly spending – from food and clothes to bills and specify how much is left at the end of the month.
"We are left with €100," they say.
"You feel a bit more uncertain about being in the hands of a vulture fund, as they have never been in Ireland before up until recently.
It still takes forever for them to get back to us and no one seems to talk to each other. We continue to get letters to say we are in arrears and then we call to say we are not and to check their accounts and they say it is an error. It all causes undue stress. I don't know if we will lose our house. I just don't know.
The couple believe all that is needed for people in similar positions is a bit of space to get themselves out of it.
"I feel very aggrieved as a citizen. The citizen is powerless."
Do the banks know what became of the mortgage holders they sold to vulture funds?
The banks aren't sure. Once sold on, they don't follow them.
AAA-PBP Paul Murphy grilled Permanent TSB boss Jeremy Masding before the Oireachtas Finance Committee in November on the sale of loans of €481 million to a number of vulture funds. At the time, market sources believed the sell came with a steep discount on the face value of the loans.
Masding said the sale was of its "non-core" loans, adding that the bank was "obliged" to sell them.
When asked by Murphy if residential mortgages were included in the sale, Masding conceded that some were commercial loans that were linked to residential home loans.
Murphy asked the bankers if they knew what had happened to the property owners who had their mortgages sold on to the vulture funds.
He was told that once a sale goes through the bank isn't involved in any further transactions between the two parties.
Source: TheJournal.ie/YouTube
PTSB was not the only bank to sell its portfolios to vulture funds.
Ulster Bank sold off 900 family homes as part of a sale of a €2.5 billion property loan portfolio.
The bank claimed the mortgage holders were on the brink of having their homes repossessed and were already in the court process. There were calls for emergency legislation to be introduced to halt the sale.
Some of the bank's customers have also taken issue with being included in the sale.
When mortgages are sold to vulture funds, they are done so in a large pot with other customer loans. The mortgages are often sold in bulk for a reduced price.
Why does the bank not deal with each individual customer or go back and offer their loans for the same reduced rate they are being offered to the vulture fund?
Financial experts say it comes down to timing – namely it would take too long to deal with them on a case-by-case basis. "It would take forever," said one person working within the sector.
However, the issue has now reached breaking point. With the spiralling homelessness crisis, the government is looking at ways to keep people in their homes.
Recently it was announced that New Beginning – the debt agency founded by barrister Ross Maguire – plans to buy thousands of homes with mortgages owned by Pepper, a firm that services loans for Irish banks and vulture funds.
The sale is scheduled to go through this year, and is something that is envisaged to be the first of many such transactions.
The idea behind it is that properties of mortgage holders in distress will be bought and the tenant will be allowed rent the home, with an option to buy when their circumstances improve.
Other such deals are in the pipeline, whereby homes could be bought and used as social housing and rented out to the once-owner of the property.
Stopping the swell of homelessness
It's a last-ditch effort from the government to stop the ever-increasing number of people finding themselves homeless.
Last year, such a move was recommended by the master of the High Court who suggested the government should buy back homes from vulture funds using compulsory purchase orders.
Edmund Honohan said legislation could be introduced to allow the State purchase these houses at the same price they were sold to the foreign investment funds. The properties could then be used for social housing.
Homeless activist Father Peter McVerry predicts a further 25,000 people will be evicted next year – something the Taoiseach Enda Kenny refutes.
With more evictions and repossessions comes more demand for more housing from the government.
Between vulture funds, the homelessness crisis, younger buyers being priced out of the market, and the huge under-supply of rental properties, housing has become the biggest issue for hundreds of thousands of people in Ireland.