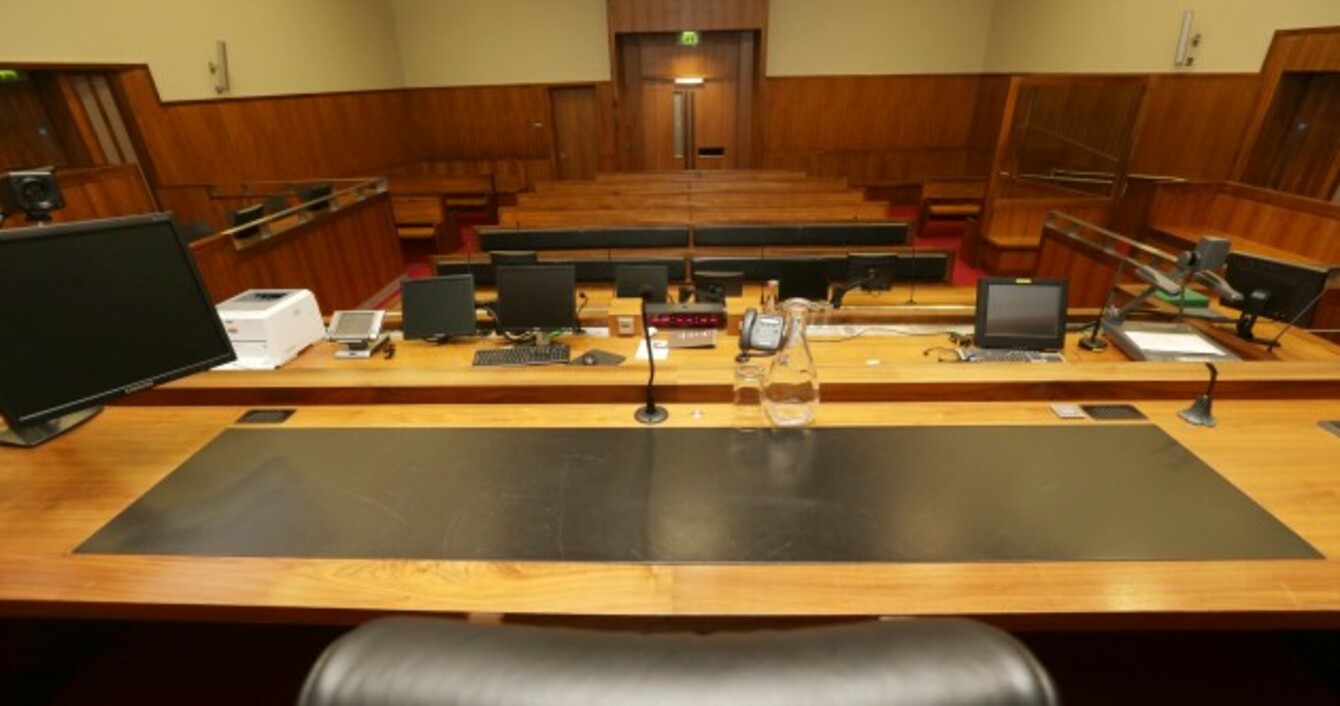 Court 19 - the setting of the Anglo trial
Image: Laura Hutton/Photocall Ireland
Court 19 - the setting of the Anglo trial
Image: Laura Hutton/Photocall Ireland
THE JURY IN the trial of three Anglo Irish Bank executives were tasked one week ago today with deciding whether to bring the first convictions against Irish bankers under specific laws.
The seven women and five men heard complex and technical evidence from 54 witnesses over the course of two months but from last Friday all eyes were on them.
Once their deliberations had started, it was a guessing game for the legal teams, the media and members of the public who attended the trial as to when they would come to a decision.
The accused were told not to stray too far as they could return with a verdict (or partial verdicts) at any time.
A tense atmosphere of unknowing grew as the hours dwindled away.
By law, the group had to have discussions of at least two hours and twenty minutes.
They were tasked with coming up with verdicts in relation to charges against Anglo Irish Bank's former CEO and chairman Seán FitzPatrick, the former MD of lending in Ireland for Anglo, Patrick Whelan and the former chief risk officer and finance director, William McAteer who were charged with breaching Section 60 of the Companies Act 1963.
Surely, it would take longer then than 140 minutes? Some thought not. There was expectation on Monday.
"Would it be quick?"
"Will they take their time?
"And will it be unanimous?"
These were all questions being thrown around.
"When do you think they'll be back?" mused one reporter to another.
It's hard to tell, a lot of boxes of evidence went into the room after them.
On Monday, the first full day of deliberations, journalists from all major Irish media outlets squeezed into their allotted seats, elbow to elbow, as the jury filed in.
FitzPatrick, Whelan and McAteer were sitting together to the left of the court room, all with expressionless faces.
Instead of a verdict, the jury had a question. Members wanted a copy of loan documentation relating to Seán Quinn's wife, Patricia. That was that. They all filed out with the judge telling them to return again in a few hours.
Up on their feet again, the accused got up and left the court room, though they were told 'not to go too far' in case the jury returned.
The expectation of a result today lessened. The jury was mulling over certain aspects of people's testimony. They were being dogged.
Matter of time
Some members of the legal teams and media filed out of the court room taking seats just outside, hovering over their mobiles and laptops. Now, it was just a matter of waiting.
The Criminal Courts of Justice in Dublin is a grandiose circular building, with glass elevators and court rooms on each of its sixth floor. It is filled with barristers in wigs and gowns, gardaí and a spectrum of Irish society. There is not much to do, other than let time roll by.
Waiting around for a verdict is tedious, but people watching and observing the everyday goings on – such as the mundanity of window washing, where three men scaled down the side of the building, swinging from side to side with wipers and suds, caught most people's eye.
TV3′s Brian O' Donovan went outside to capture the scene as taking images is prohibited inside the Criminal Courts of Justice.
Whelan and McAteer often waited outside the court room with the media and their legal teams. FitzPatrick generally left the general vicinity of the court room area, but never took the elevator. He always walked the six flights of stairs.
Guessing game
When asked when they thought a verdict might be returned, one of the legal team said he never takes chances with an unknown group.
If you have been doing trials with a jury long enough you know that you can never guess when a jury will make up their mind. It's really anyone's guess.
One person speculated that the jury might not want to be seen to be too quick, so they might draw it out. While another speculated that if they were asking for documents perhaps it would go into next week.
"It could come down to human psychology. They have been here for two months now, they have jobs and lives to get back to, do they really want to return after the Easter break? I don't think so."
The jury returned again. Would this be it? No. This time they wanted court transcripts.
That was it for day one of full deliberations. The jury were sent home.
Business as usual
On Tuesday, it was all a bit stagnant. The same court room but a dampened atmosphere. This may not be a historic day.
While the deliberations continued in the jury room, Judge Martin Nolan continued to hear cases before him.
Plaintiffs accused of robbery and shoplifting appear in court – the juxtaposition of small amounts of stolen cash to that of hundreds of thousands of euros mentioned in the Anglo trial shows the wide spectrum of the justice system.
One man appeared before Judge Nolan accused of stealing from people's pockets in a Dublin pub, while another was in court for breaching his probation.
Instead of scores of barristers filling up desks like that of the defense and prosecution in the Anglo trial, there are but two barristers arguing the case as to why the accused should be released on bail or stay in jail until their court date.
Members of the gardaí gave evidence to the judge, with one stating that an accused male concealed his identity to the gardaí upon his arrest. His counsel argued for him to be released on bail.
Judge Nolan questioned his trustworthiness, stating that he misled the gardaí.
Some were released on €100 bonds and had to await their trial while others were remanded in custody.
The men dressed in tracksuits sat in the same dock as FitzPatrick, Whelan and McAteer – all in the same position of awaiting to hear their fate.
Court 19
At the outset of the Anglo trial there was speculation that there would be a lot of public interest in the trial throughout, so much so, that an overflow room was made available for the extra crowds who wished to attend the proceedings.
However, at the end of the trial, Court 19 had plenty of room. Had the public lost interest? Maybe. The overflow room was rarely needed, I was told.
Tuesday proved fruitless also as the jury failed to return with a verdict. Each time they filed out of the jury room, they looked that bit more tired.
At the end of each day, media photographers waited outside the courts for a glimpse of the men.
Standing on the steps, film crews and photographers waited for the three to head home. There were amusing moments when other people leaving the building were visibly taken aback by the presence of photographers.
People's reactions differed. They would either strike a little pose for the laugh or scuttle away shielding their faces.
FitzPatrick, Whelan and McAteer left each day, with nothing to say.
After hours of deliberating and a direction from the judge that they did not need a unanimous verdict, the jury returned late on the third day. They had found that FitzPatrick was not guilty on all charges.
By Friday, Patrick Whelan and William McAteer were each found guilty of giving illegal loans to Maple 10, but found not guilty of giving illegal loans to any member of the Quinn family.
Read TheJournal.ie's coverage of the Anglo trial here>>