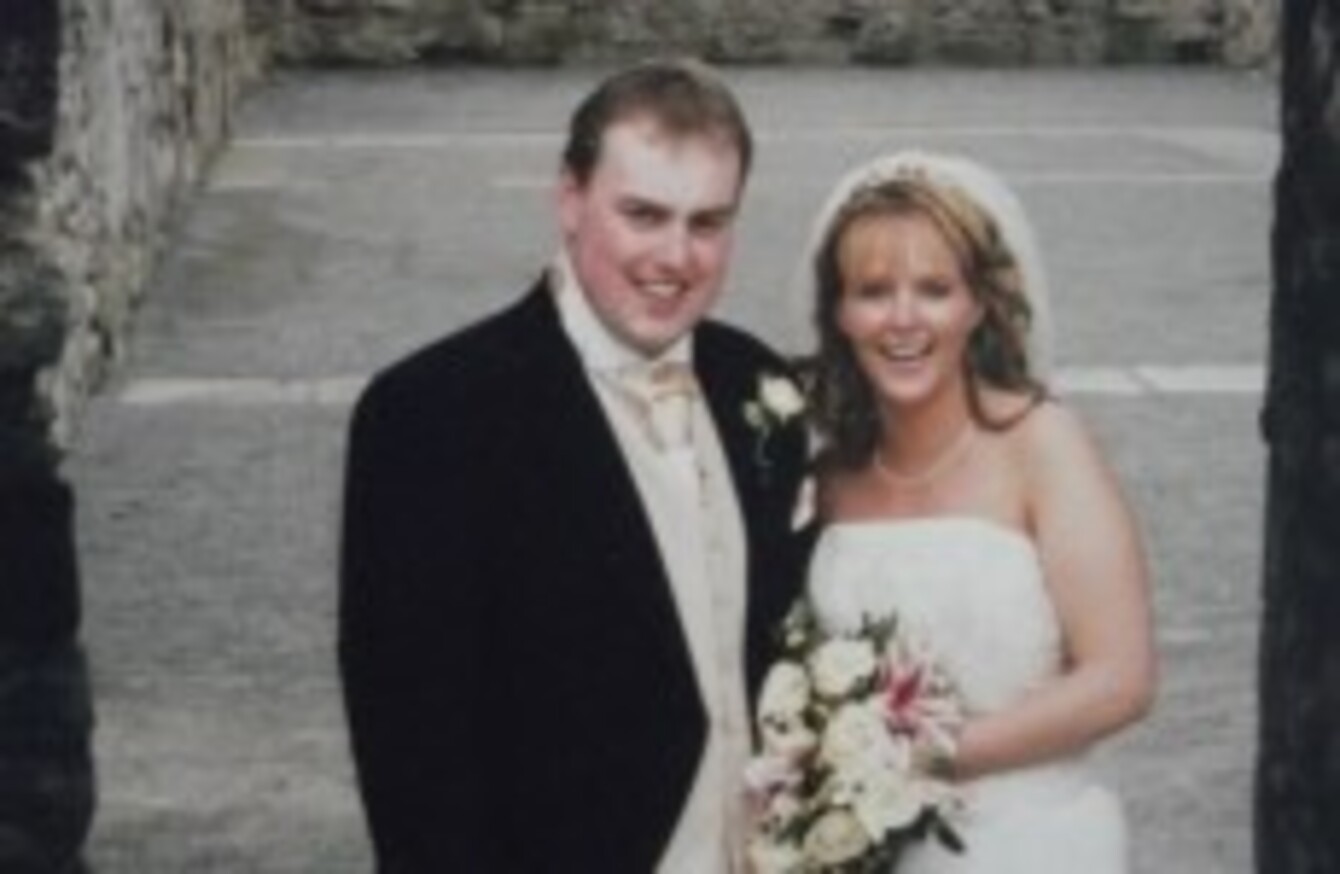 Shane and Tricia O'Connell
Image: Family Photo
Shane and Tricia O'Connell
Image: Family Photo
AS IRELAND EXAMINES the possible implementation of a soft opt-out system for organ donation, there are currently 650 patients waiting on heart, lung, liver, kidney and pancreas transplants across the country.
Among that number is 33-year-old Shane O'Connell who has been living in the Mater hospital since December last year.
The father-of-three from Kerry needs a new heart and his family has appealed to the public in order to raise awareness.
"Organ donation is such a selfless thing for a grieving family to consider but it gives someone else their life back whereas otherwise they would just be existing until their time runs out," says Shane's wife Tricia. "Its legacy is that it can save the lives of so many people who along with their families will be forever grateful. It truly is a wonderful gift, the gift of life."
Her appeal comes ahead of European Day for Organ Donation and Transplantation on Saturday.
The O'Connells hope the day will create more awareness about the "huge difference a transplant can make to so many people".
"Waiting and hoping for someone to donate is very difficult and is like living in limbo, a constant sense of uncertainty," continues Tricia. "Many patients on the waiting list for a transplant have no quality of life. It cannot be termed a 'life' while waiting for a transplant, it is merely an 'existence'."
Shane was diagnosed with Dilated Cardio Myopathy – a hereditary condition – when he was 11 years old.
"Combined with the 35 tablets which Shane has to take every day, he is also on an IV Milrinone Infusion which basically is a device which he carries with him at all times and it pumps drugs though his veins 24 hours a day to keep him alive," outlines his wife.
"Shane has been on the heart transplant waiting list since February 2012 and living in the Mater Hospital since last December. He misses our children and looks forward greatly to seeing them at weekends when we travel to Dublin."
The couple's youngest son, Michael, will celebrate his second birthday on Wednesday and the family would like to be able to tell him his Dad will return from hospital and resume a 'normal life' shortly.
The Kerry native's health began to deteriorate when he was about 21 years old but he resisted having a defibrillator inserted until he was 26 so he could continue working as a lorry driver.
The operation allowed him to continue working in another job and the pair married in March 2007. Just months later, his health nosedived again and he had a Biventricular ICD installed. In December 2012, he was placed on the heart transplant waiting list.
'Lack of action'
Last year, 206 people received organs from 78 deceased donors. Ten of those received heart transplants at the Mater hospital, a figure that lags far behind 20 other European nations.
A further 32 people received kidneys from living donors.
Those figures leave Ireland in 16th place in Europe for all organ donation and 19th for transplantation.
The Irish Kidney Association believe the slide down the league table is due to a "lack of action".
"The time for discussion and talk on how to improve organ donation rates needs to conclude and be replaced by implementation of an Irish Action Plan," says IKA chief Mark Murphy.
"Legislation has little or no part to play in the plan to increase levels of organ donation and should not be waited for," he noted, referencing a recent recommendation to change to a soft opt-out system.
"Political decisions are needed to release the cost saving funds for this plan. What is required is infrastructural and clinical changes. Key to this is the employment of, and training for, organ donor co-ordinators, to be located in all our intensive care hospitals and the expansion of the use of cardiac death donors which has seriously boosted organ donor levels for our neighbours in the UK."
The top five countries for all transplantation – Norway, Croatia, Belgium, Austria and Spain – are all transplanting 65 per cent more organs than Ireland.
"Norway and Croatia are the top two countries when all organs transplanted are added together. Both countries have similar size populations to Ireland but have vastly different economies but still they enjoy first and second position in Europe," continued Murphy. "Ireland is in a disappointing 19th place. If the political will to make change really exists, these facts tell me that, it can be done, and it's not all about the money."
European Day for Organ Donation and Transplantation will be celebrated throughout Europe on Saturday 12 October. Organised by the Council of Europe the event aims to raise awareness about the increasing demand for organ donation for transplantation throughout Europe.