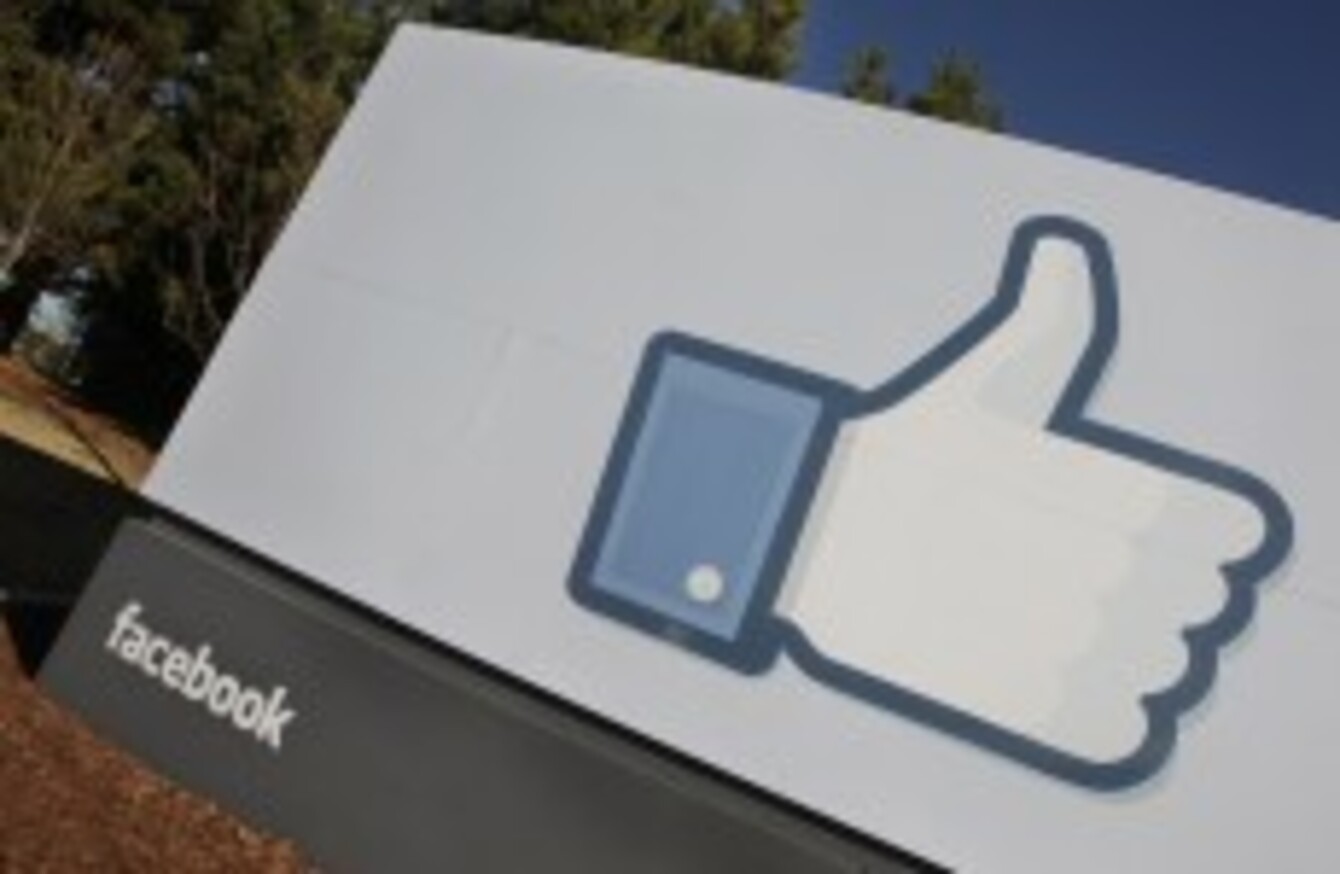 The 'Like' sign outside Facebook's HQ in Palo Alto
Image: AP Photo/Paul Sakuma
The 'Like' sign outside Facebook's HQ in Palo Alto
Image: AP Photo/Paul Sakuma
IN A FEW short weeks Facebook looks set to make history for the umpteenth time in its brief history.
The social network behemoth is not even ten years old but later this month it will float on the stock market for the first time – and speculation is high that it will become one of the most valuable companies in the world.
Over 337 million shares will be up for grabs when Facebook makes its initial public offering (IPO – the first time a private company sells stock to the public), in what the Financial Times has called 'the most hotly anticipated share sale since Google' in 2004.
Other internet companies have done well when they went public – most notably Google and LinkedIn – but Facebook is being seen as a test case for social media sites. There has been speculation simmering lately of another tech bubble, fuelled in part by Facebook buying Instagram for $1 billion last month, and the reaction to Facebook on the stock market is seen as an indicator of whether the market sees social networking sites as worth investing in.
Key facts and figures about Facebook on the stock market
The figures involved in the floation are huge. Last week Facebook estimated that the company could be valued at between $77 billion and $95 billion (€58 billion and €72 billion). In comparison, when Google floated in 2004 it had a valuation of $23 billion.
To put this slightly into perspective: Facebook is very likely to be worth more than the €85 billion bailout that Ireland received from the troika in 2010.
Facebook has put together this video featuring an unblinking Mark Zuckerberg which will be shown to potential investor firms this week. Much of the information is already known, but it also includes some key facts and figures about how big the social network is. Currently it has:
525 million users every day
1 billion comments left on the site every day
2 billion 'likes' every day
901 million active users every month
"It's likely to be the biggest technology IPO ever," says Gareth McCluskey, a portfolio manager at Davy. "It's the first of the social media companies to float so there's huge publicity around it and it will do well initially".
Facebook, which will be listed on the Nasdaq, is expected to have a market value close to that of Amazon or Cisco Systems.
The big question: will it 'pop'?
(AP Photo/Paul Sakuma)
All the signs are that there will be a huge take-up of shares in the company. Anticipation is high, and the Financial Times has suggested that Facebook will 'pop' on its first day – that the price will surge as people who don't often buy shares rush to get a part of it (a bit like with Eircom in the 1990s but probably without the disastrous fallout afterwards).
There is precedent for that: Google led the way in major internet companies floating on the stock market in 2004 and has done increasingly well since then. LinkedIn has also done surprisingly well since floating last year; its starting share price was $45 per share in May 2011. By the end of its first day, the share price had risen by 109 per cent to $94.25, and it is currently trading at $106 a share (around €80).
There have been some warning signs with internet companies on the stock market, however. Deals website Groupon's share price closed at a record low last Friday, at just $9.97 a share, down from a high of $26 per share, amid uncertainty over its financial model.
"There's a lot of social media companies looking to float but it will depend on how Facebook goes," says Gareth McCluskey of Davy. "This is going to be a real benchmark".
So how do you go about buying shares? Can anyone buy them?
(Photo: AP Photo/Richard Drew)
Short answer: yes.
Buying shares is relatively straightforward. "It's very similar to opening a bank account," says Gareth McCluskey.
#Open journalism No news is bad news Support The Journal

Your contributions will help us continue to deliver the stories that are important to you

Support us now
For anyone who has never bought shares before, it requires setting up an account with a stockbroker. Usually this will involve giving your name, address, and other details, providing proof of ID and also proof of address. Some stockbrokers may charge to set up an account and the whole process can take a day or two.
Shares in Facebook are expected to cost between $28 and $35 per share (around €21 to €26). Technically you could buy just one share, but with commission and other costs involved it wouldn't exactly be worth your while.
The good news: Facebook is going to be floated on the Nasdaq, which means the share price will be listed in dollars. Given the current exchange rate, this is good news for anyone buying shares from this side of the Atlantic.
The slightly less good news: A lot of the shares are going to be offered to the biggest clients of the giant Wall Street banks that oversee the stock sale – in other words, big investment firms will be prioritised over people who dabble in the stock market as Facebook aims to sell shares by the millions, rather than by the hundreds or thousands.
The New York Times has sounded a note of caution, noting:
The frenzy surrounding the Facebook public offering is reminiscent of the dot-com boom of the late 1990s, when investors clamored to get a piece of the next hot Internet company.
The exact date for when Facebook's IPO will happen hasn't been announced yet but the Wall Street Journal has reported that it is likely to be 18 May. Mark your calendars – it looks set to be a major day for the world's biggest social network.
Note: The information in this article is intended as a guideline and should not be used as an authoritative source on any financial decision.