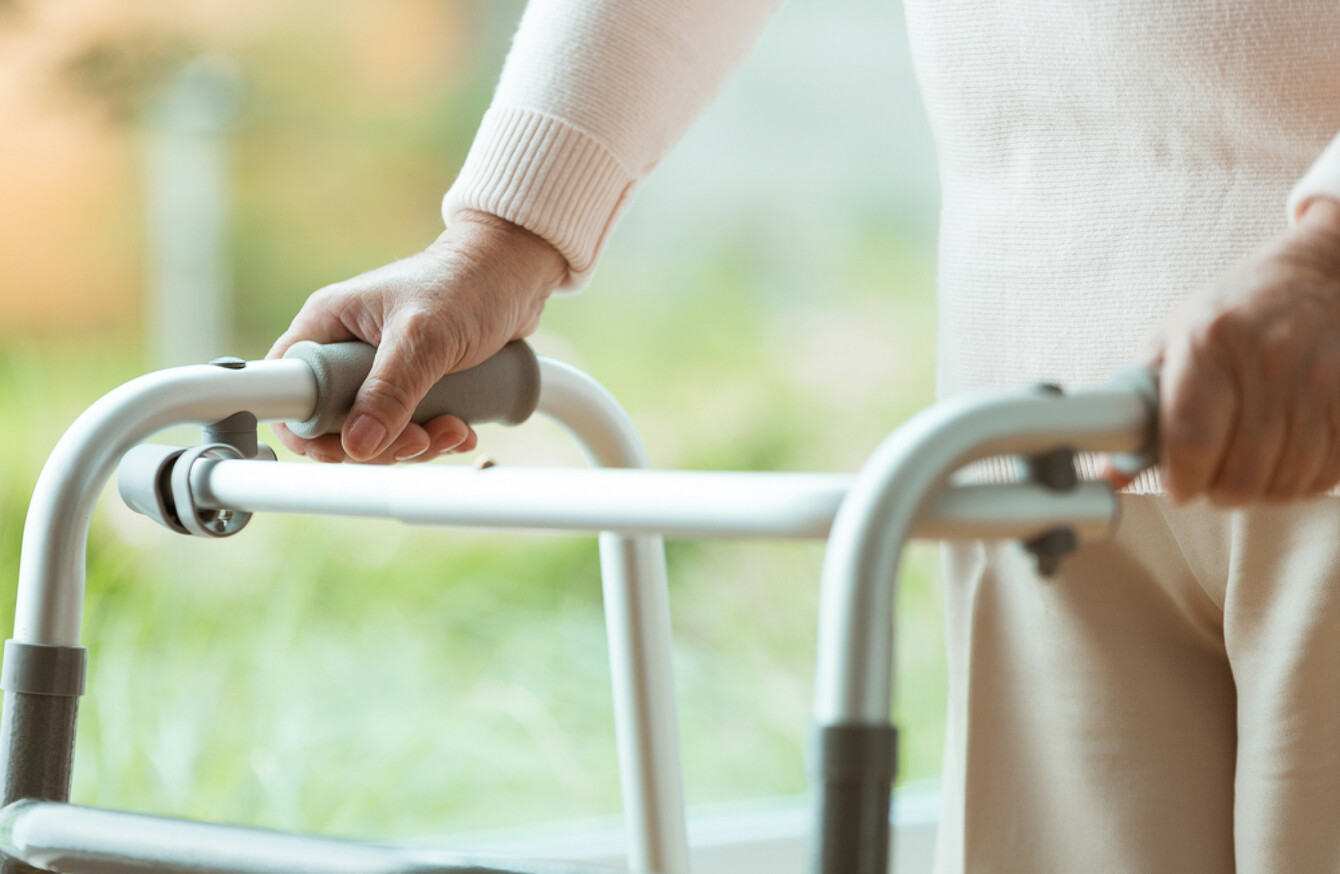 Image: Shutterstock/Photographee.eu
Image: Shutterstock/Photographee.eu
THE IRISH WARD of court system is inadequate and archaic, leads to confusion – and has meant some older people are being made wards so that their assets can be accessed for the Fair Deal scheme.
That's according to the National Safeguarding Committee (NSC), which has published a new report on the Wards of Court regime, which dates back to the 19th century.
It is calling for the Assisted Decision-Making (Capacity) Act 2015 to be urgently commenced as a result.
There are almost 3,000 wards, with total assets of over €1 billion, in the country.
According to the report, which is a review of current practice in the use of wardship for adults in Ireland, there is "substantial public confusion and lack of understanding around the wards of court system", and "it relies too much on the integrity of family members and professionals".
The report also points out that there is no system of review or appeal for wards (and non-wards) who are the subject of de facto detention, like voluntary patients of psychiatric units who are detained in the same circumstances as involuntary patients; older persons who are placed in nursing homes against their will; persons with intellectual disabilities who are placed in congregated settings and institutions against their will.
The NSC, which promotes the rights of adults who may be vulnerable, says that the guiding principles in the 2015 Decision-Making (Capacity) Act should be commenced immediately.
These principles identify relevant human rights obligations and the need to respect the right of a vulnerable person to dignity, bodily integrity, privacy, autonomy and control over his or her personal affairs.
It explains that under the current system, a court steps in and acts as agent for an person who is deemed by the court to lack capacity to make decisions for himself or herself.
Speaking at the launch of the report today, Áine Flynn, Director of the Decision Support Service, said that though the 2015 act is "imperfect", it has some deficiencies but gets some things right. She said she looked forward to the day the word "lunacy" is not used in Irish courts.
The Honourable Mr Justice Peter Kelly, the President of the High Court, who was also at the launch, said that he has not used the phrases "lunacy" or "idiot" in his own court.
Patricia Rickard-Clarke, Chair of the NSC, said that the wards of court system "has no place in the 21st Century".
Barrister Kate Butler, one of the report authors, said that they talked to people who were former wards or representatives of wards, and that they were told "the voice of the ward wasn't fully represented or acknowledged".
"I think that's really the key message that we were getting from people, and we tried to articulate in the report," she said.
Rickard-Clarke gave the example of a person with dementia who can articulate and their wishes are not taken into account. She also said that many people don't appear in court in connection with their case.
But Mr Justice Kelly said: "There is no order of the court, no rule of court, or nothing that prevents a person appearing in court. It's an open door as far as I am concerned." He said people don't tend to appear out of practice, but as far as he is concerned, it is an open door for them.
He gave the example of one elderly woman who had appeared before him in court, but a medical practitioner did not believe she had, and thought she was confabulating. It was only when she appeared before Mr Justice Kelly that he was able to prove she had appeared before him.
A person is usually made a ward following an application by a family member, the person's own solicitor or the Health Service Executive (HSE). This may be because they – for example – have dementia, an acquired brain injury, or an intellectual disability.
In 2016, 311 declarations of wardship were made, of which 289 were adult declarations of wardship. Of those, 234, or 81%, were admitted to wardship due to dementia and age-related illness, says the report.
Mr Justice Kelly said that in his own case, he has put together a small panel of doctors and social workers who carry out spot checks without notice of wards who are in nursing homes. He said this had resulted in some positive results for people involved.
Today's report says there "should be a presumption that a person has capacity to make decisions until an inquiry finds that a person lacks such capacity". It says there should also be a customer charter to deal with representatives of wards, and a transparent complaints process.
#Open journalism No news is bad news Support The Journal

Your contributions will help us continue to deliver the stories that are important to you

Support us now
The report authors also note that they believe it would it be appropriate for wards to have separate legal representation, which they believe is important because up to now this hasn't been the case. They are concerned that sometimes people might be open to exploitation, and were glad to see the General Solicitor acknowledging that it would be appropriate to have separate legal representation.
They found that in one case, a former ward – a young woman with a learning disability – wrote to the Office of the Wards of Court and asked for the legal documentation related to her wardship.
The Office of the General Solicitor for Minors and Wards of Court declined, because they said it "may be difficult to understand" and they thought it would be "inappropriate" to give her a copy of it.
The report also details how a consultant told the authors he has seen assessments "executed at 8am in the morning, while the patient is lying in bed, even though there is research which shows that people are drowsier when lying in bed".
In another case, a former ward was invited to a multidisciplinary meeting (which is unusual in itself), but discovered that the meeting had started without her.
Findings
The report found that
There is confusion and lack of understanding around the entire ward of court system
The wishes of an individual being made a ward are not heard during an application for wardship. This includes issues such as whether or not they want to be made a ward at all; consent to medical procedures; where they wish to live; or how their property is to be disposed of.
More often than not prospective wards have no advocate who is independent of the person making the application to have him or her made a ward.
Vulnerable people in respect of whom wardship is sought are often given court papers they can't understand, but not given the order of the court or medical reports about themselves
There is no recognition that a ward may be able to make a decision for themselves such as consent for medical procedures
There are no clear guidelines around conflict of interest in relation to the applicant and also the person appointed to represent the ward (known as the committee)
There are no clear guidelines on the quality of medical reports on the basis of which individuals are made wards.
Based on all of this, the paper makes a number of recommendations:
Medical practitioners assessing the capacity of people for a wardship application should be required to assess the person's ability to make a decision on the specific issue for which a decision is required at the time the decision has to be made
Lawyers should ensure independent representation for the person involved in any application, and should also provide information, medical reports and court orders expressed in a way that is appropriate to the circumstances of the person involved
The Courts Service should consider adopting guidelines and protocols to ensure transparency, consistency and fairness with regard to any legal proceedings in wardship matters, and should also have a clear complaints process
The HSE should ensure that lawyers used in ward of court proceedings have appropriate expertise in relation to the law on decision-making capacity and human rights obligations in relation to persons who may be vulnerable
The HSE should produce national guidelines for legal and medical practitioners to ensure the protection of the rights of a prospective ward in proceedings
Rickard-Clarke said there is "too much reliance" on the ward of court system to protect vulnerable adults, when very often a much less drastic intervention would be much more appropriate.
"For example, individuals are made wards of court in order to be able to access their funds for the Fair Deal nursing home scheme. This is unacceptable," she said.
The report calls on the HSE and hospitals to review their practice of using wardship as a way of accessing a person's funds for payment of nursing home care.