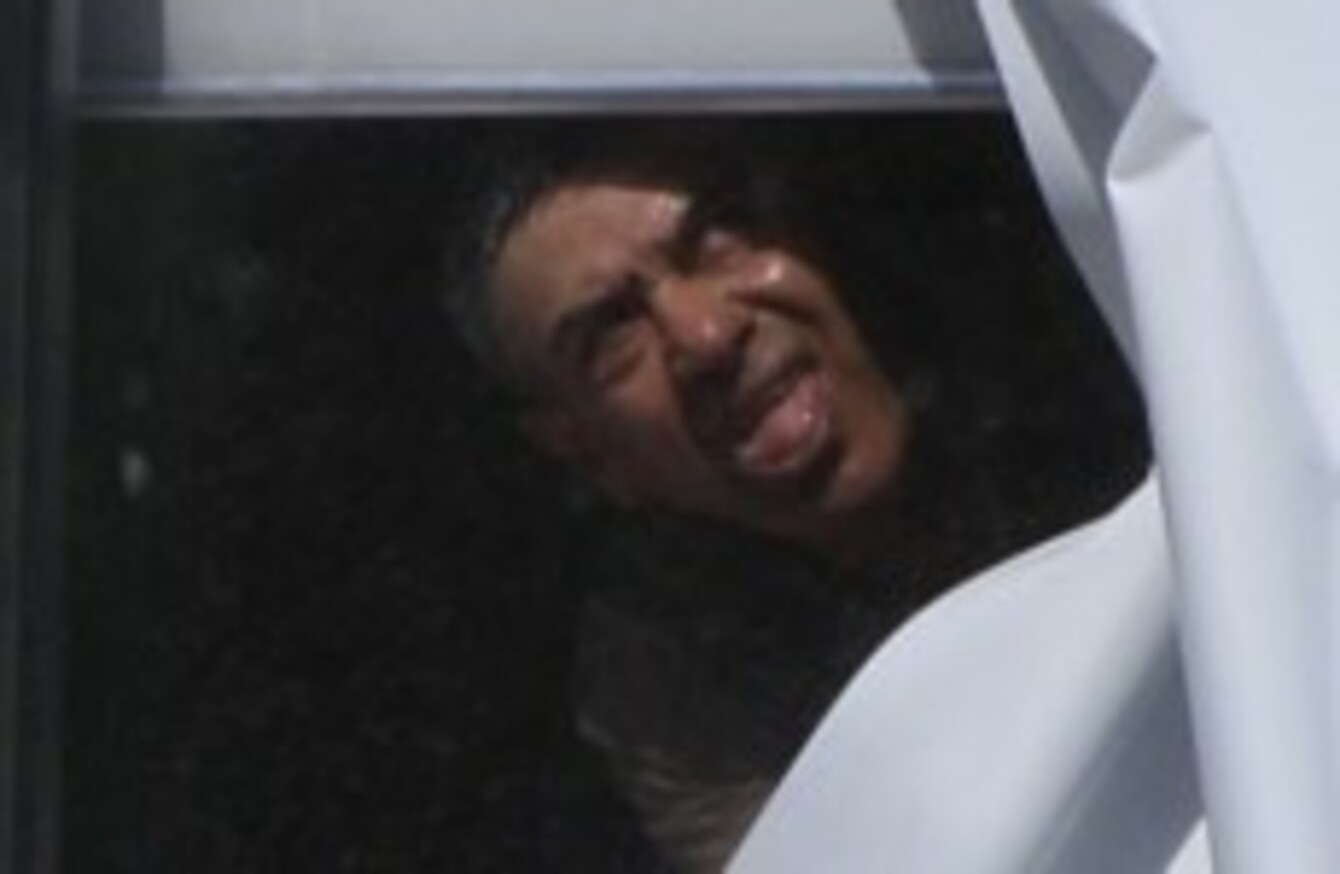 A man believed to be holding a child hostage at a lawyers office looks out a window in suburban Sydney.
Image: AP Photo/Rick Rycroft
A man believed to be holding a child hostage at a lawyers office looks out a window in suburban Sydney.
Image: AP Photo/Rick Rycroft
AUSTRALIAN POLICE CORDONED off a Sydney building today in a tense stand-off with a man who claimed to have a bomb, smashed a window and issued threats from a lawyer's office where he holed up with his teenage daughter.
The daughter appeared to be well, and police spent several hours trying to negotiate with the man, who claimed to have explosives in his backpack and appeared to be in his 50s, Police Assistant Commissioner Denis Clifford said.
Their identities were not immediately disclosed.
Police said the man issued several demands but declined to reveal details, and said they had not yet established his motive. They evacuated the building, kept onlookers 100 yards away and were seen entering with at least one automatic weapon. Witnesses said other buildings also were evacuated.
Demands
"We're working through those demands with him and we're doing the best we can to secure a peaceful resolution," Clifford told reporters. "The fact that he's there and he's made certain threats is obviously of concern to us."
Australian broadcasters showed footage of the man looking from a second-floor window shirtless and wearing the kind of wig worn by judges and lawyers in Australian courts. At one point he spat on the wig.
Watch:
He later swung a glass bottle like a hammer to smash a plate-sized hole in the office window. He yelled through the hole and threw the bottle, then a telephone handset, which was left dangling by its cord.
Clifford said the girl, who was apparently in her early teens, appeared to be doing well.
"We don't believe there's any specific threat against the girl, but obviously we'd like to secure her release," he said. "The concern is that she's in a situation where we've got somebody with a backpack — we don't know exactly what's in that backpack so we have to assume that what he's saying is true."
Betty Hor said she was working at the reception desk at the lawyers' offices when the man approached Tuesday morning and asked to see someone whom Hor had never heard of.
The man went upstairs briefly then returned to the reception desk and repeated his request. She repeated that she had never heard of the man he was looking for.
Bomb
Hor, who spoke to reporters after evacuating the building, said that the man threw a book on her desk and told her to call the unknown man and the state attorney-general's department and "tell them I've got a bomb in my backpack."
Hor called police as the man walked upstairs to a lawyer's office with the girl, who called him "Dad."
Hor said he seemed frustrated and angry. She said she had never seen him before.
#Open journalism No news is bad news Support The Journal

Your contributions will help us continue to deliver the stories that are important to you

Support us now
Robert Hoffman, who works in a neighboring office block, said police had evacuated his and other buildings in the vicinity. Police moved people at least 100 yards (meters) from the building where the man was holed up, Hoffman said.
Five ambulances and two fire trucks were standing by at the scene.
Previous stand-offs
Clifford said he did not believe that the stand-off had anything to do with the family court that adjoins the building.
Bitter family court cases have triggered some high-profile crimes recently in Australia, including the murder of a 4-year-old girl whose father threw her more than 260 feet (80 meters) from a bridge in the southern city of Melbourne in 2009.
The father, Arthur Freeman, 37, was sentenced in April to life in prison after a jury rejected his plea of innocence due to mental illness.
Tuesday's stand-off came a month after an extortionist broke into a Sydney home and fastened a fake bomb around the neck of a millionaire's teenage daughter. She spent 10 terrifying hours with the device strapped to her before police determined it was harmless and freed her.
A man has been arrested in the United States in connection with the incident and is awaiting extradition.