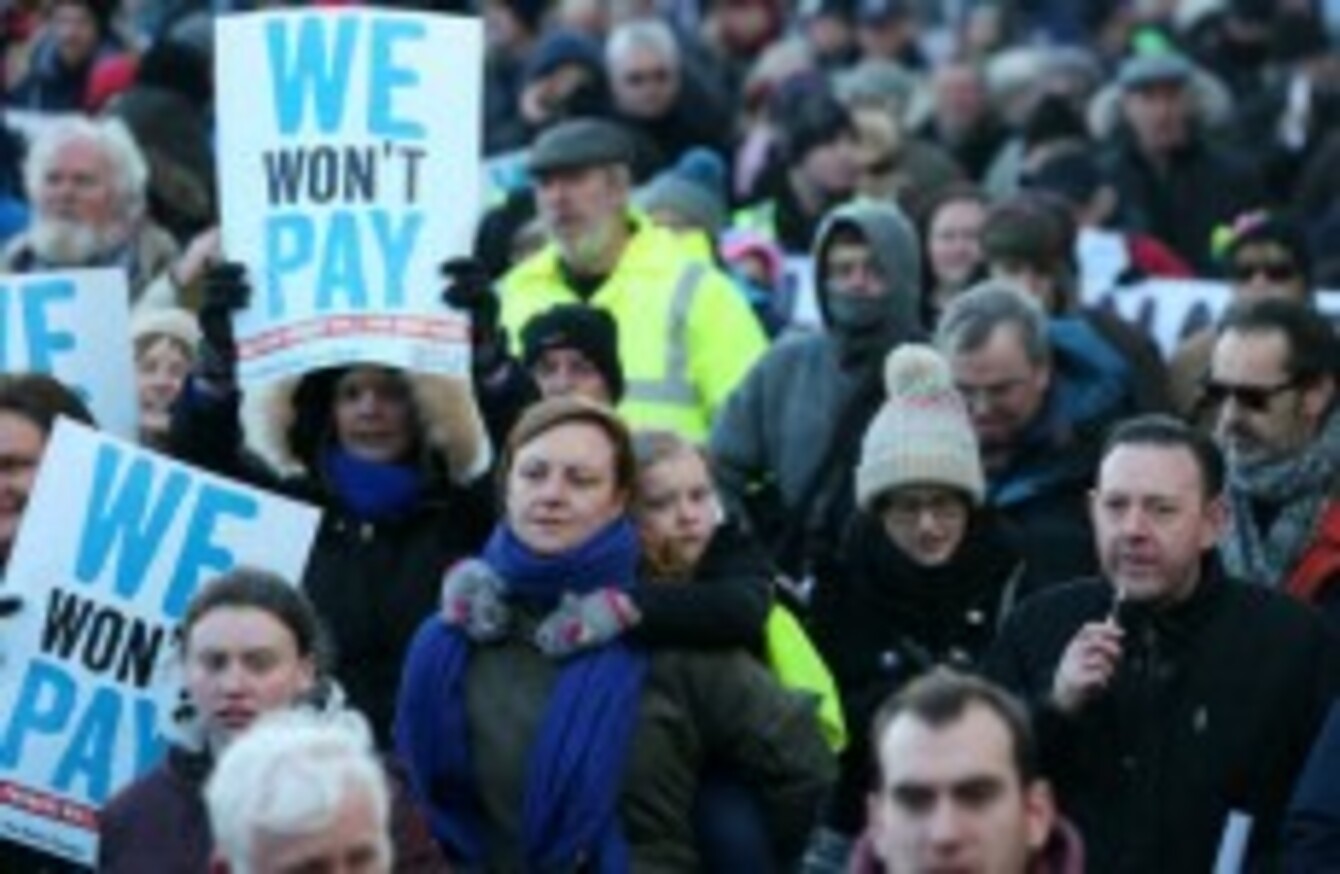 File Photo - Water Protest
Image: Leon Farrell via Photocall Ireland
File Photo - Water Protest
Image: Leon Farrell via Photocall Ireland
ANTI-WATER CHARGE campaigners in Cork say the people of the city have been insulted after Cork City Council refused to accept a petition opposing water charges.
Around 50 people gathered outside Cork City Hall before a council meeting for the petition with almost 15,000 signatures to be handed over.
The protesters were told beforehand that the Lord Mayor and Deputy Lord Mayor were not available to accept the petition.
It's understood the Lord Mayor Mary Shields is away on business but the Deputy Mayor, Ken O'Flynn, was at the meeting.
Cllr O'Flynn told TheJournal.ie, "The Office of Lord Mayor is above the body of politics and couldn't possibly engage with political movements.
However we had made a provision that an official from Cork City Council would be available to receive the documents. Unfortunately that didn't suit the group in question.
Speaking to TheJournal.ie the PRO of the People's Convention Diarmaid Ó Cadhla denied this, saying:
We just wanted someone to come down the stairs, even if all they said was 'I'm here from the council' and took the petition.
Speaking about the Deputy Mayor, Ó Cadhla said, "He didn't show his face at all but he did chair the meeting."
He added that while they suspected this might happen they were hopeful that a council member would be able to convince a representative to accept the petition.
It's a gross insult to people, whether someone agrees with you or not they should take your petition.
"The petition had 15,000 signatures – that's 10% of Cork city and if you exclude children, it's more like 20 or 30%."
The petition is demanding that local councils stand against the water charges and encourage the non-payment of the charges.
Fianna Fáil Councillor Sean Martin offered to bring the petition to the council but he was turned down.
Ó Cadhla said, "We hung on because a number of council members there said they would take it up on the floor of the council.
"We went there after giving two weeks notice and we would have given it to anyone at all acting for the council.
Surely they have an obligation to accept a petition- they should at least acknowledge it and hear what we have to say.
The People's Convention is holding a committee meeting tonight where they are expected to discuss the matter of the petition.