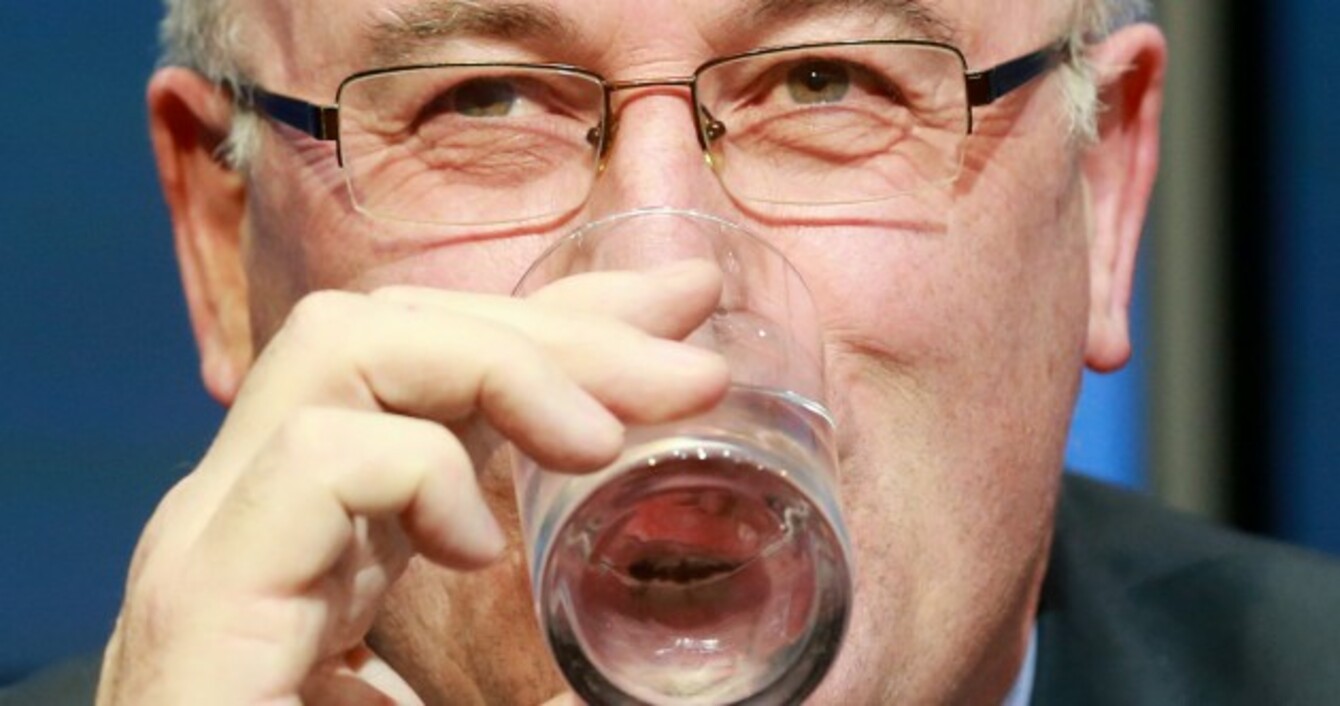 Image: Laura Hutton/Photocall Ireland
Image: Laura Hutton/Photocall Ireland
THE GOVERNMENT HAS confirmed that an average household will pay €240 per year for water – and that those who don't pay will be faced with reduced water pressure.
After weeks of wrangling, the coalition finally reached agreement on water charges this morning. Labour had been holding out until its coalition partners agreed to scrap a mooted €50 standing charge to ensure the scheme would be based on usage. 
In details released this afternoon, Labour and Fine Gael said that there will be a 30,000 litre free allowance per household and that the average domestic water charge will not exceed €240 per year.
The State's subvention of Irish Water is conditional on the maintenance of the €240 cap.
Speaking at a press conference, Minister Phil Hogan said there will be a free allowance of 38,000 litres per child under 18. He claimed that this will mean households will "effectively not pay for water for children".
Charges will also be capped for people with high water usage due to certain medical conditions, such as those receiving dialysis.
The Minister outlined that a person living alone will pay €138 per annum, "less that 50 cent a day".
A family of four will pay €248 per year, "or less than 70 cent a day".
For now, charges will be based on occupancy of a property – but could be refined in the future when metered data is available.
People with disabilities, carers and the elderly are expected to receive an allowance of €100 a year but this has yet to be finalised.
The key points of the today's decision:
Each household will receive an annual free allowance of 30,000 litres of water (and a corresponding allowance for waste water) per year;


Households will receive an additional free allowance of 38,000 litres for every child under 18;

There will be no standing charge for domestic customers;

Assessed charges will be based primarily on occupancy (and will possibly be refined based on data from metered usage);

Charges to be capped for people with high water usage due to certain medical conditions – conditions to be determined by the Minister for Health;

Irish Water will take into account the quality of water – for example, those with boil water notices or restricted services;

Water pressure will be turned down 'to a trickle' for people who don't pay.
The figures announced today will be fixed until the end of 2016 but the Minister believes "the free allowances and the affordability measures will continue into the future".
The government of the day, I'm sure, will be mindful of vulnerable groups.
However, Hogan warned that "water pressure will be turned down for people who don't pay".
Irish Water will spend €40 million this year and €100 million in 2015 and 2016 to fix leaks. Meanwhile, customers' first leaks will be fixed free of charge.
Irish Water will introduce a 'free first fix' scheme that will "help households tackle customer-side leakage in a speedy manner".
"It will help people reduce their bills as well as overall leakage in the water network, which is unacceptably high at 40 per cent."
Commenting on the row between the coalition parties, he said he would have been "very surprised" if there wasn't a difference of views on water charges as it's "one of the biggest decisions this government will ever make".
Irish Water will begin billing customers from October 2014, with bills expected to land in households in January 2015.
There will be a range of payment options, where customers can make regular payments of €10 or more.
Installation of meters is likely to be completed ahead of schedule – by mid 2016 instead of the end of 2016. Over 200,000 metres have been installed to date.
According to Hogan, the government "has honoured its commitment to provide a generous free allowance, with charging based on usage above this allowance".
"The CER has commenced public consultation on the structure of tariffs and will be closely examining Irish Water costs, to ensure that only efficiently incurred expenditure will be passed on to customers."
Reporting by Órla Ryan