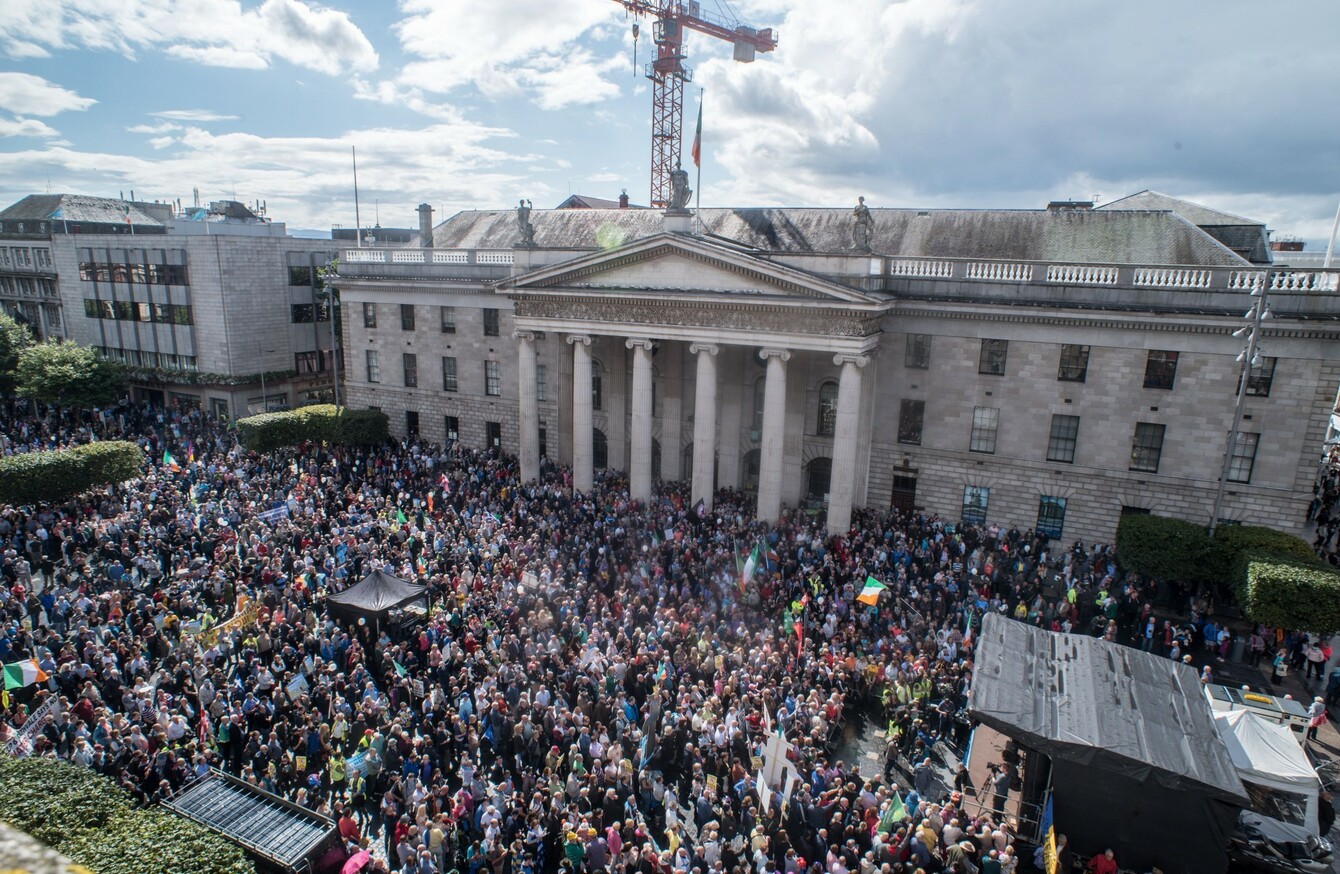 Image: Barry Cronin
Image: Barry Cronin
Updated at 8.50pm
A LEADING ANTI-water charge campaigner has said that a protest to be held the Saturday before the general election will be the largest demonstration to date.
Right2Water spokesman Brendan Ogle said that there were still tens of thousands of people around Ireland furious with the government.
Speaking on Newstalk Breakfast this morning ahead of a planned protest on Saturday, Ogle said that there would be a series of local protests in the coming weeks, before the mooted large-scale pre-election protest.
"This is one of three events we're going to have before the election," said Ogle.
We will be having a massive, and I predict it now… we will have the biggest protest in Ireland ever on the Saturday before the general election in Dublin.
Because we said were going to make this the election issue. It's a totem for all the other issues of inequality that are happening all over the society.
Ogle said that protests this weekend would be held in over 30 locations, and urged people to march in their local constituencies to highlight the issue with their local TDs and representatives.
Decline
The first anti-water charge protests drew crowds of up to 100,000 in October and November of 2014 – prompting a major climbdown and scaling-back of the charging regime by government. However, numbers have been declining at recent rallies.
In a statement last week, Irish Water confirmed that 61% of customers had paid water charges – up from 55% at the end of the previous billing cycle.
"928,000 customers have now paid part or all of their bills," the utility said.
The figures have been questioned by anti-charges campaigners – however a spokesperson tonight insisted Irish Water had been "completely transparent" in providing information on payment figures.
Speaking this morning, Brendan Ogle denied the wind had gone out of the sails of the movement, and said that the protests incorporated other issues – including homelessness and general austerity.
He said the Right2Change platform, a broad policy agreement which emerged out of the movement and has been adopted by a number of candidates, will be the focus going into the election.
"We've been highlighting these issues for the last number of years and people are going to demonstrate them in the run up to the election," he said.