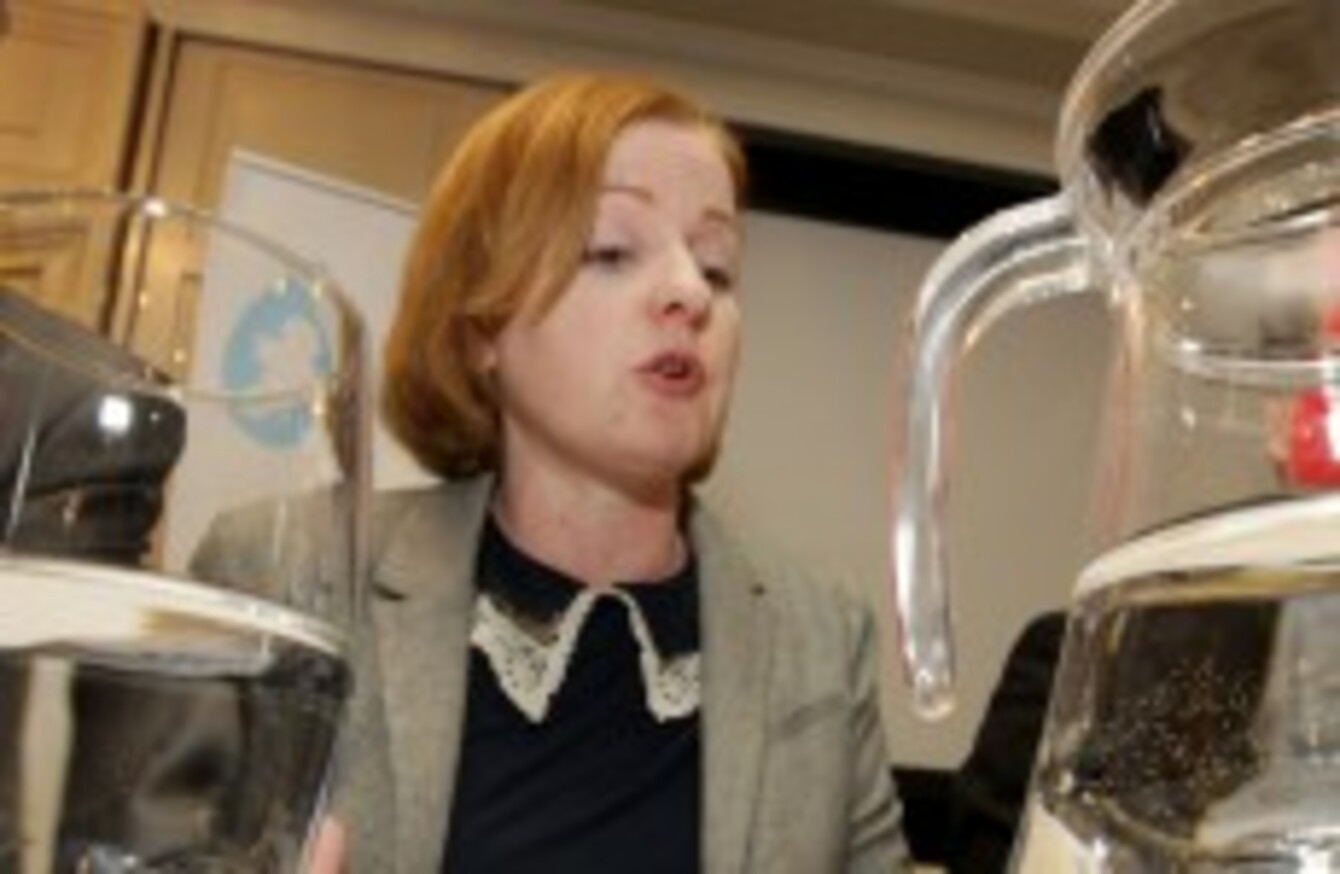 Ruth Coppinger
Image: Mark Stedman/Photocall Ireland
Ruth Coppinger
Image: Mark Stedman/Photocall Ireland
BY THEIR OWN admission, the Socialists/Anti-Austerity Alliance (AAA) don't expect to be leading the next government.
But that doesn't mean their alternative for water services isn't worth exploring. We all know about the AAA's opposition to water charges and its call for a boycott of Irish Water bills, but what would it do instead?
Sinn Féin has been outlining its policy for water services this week so when the AAA TD Ruth Coppinger came into speak to TheJournal.ie we asked her to outline the Socialist alternative.
The video below has the full exchange and is well worth a watch, but a you can also read the summary below.
Source: Video: Paul Hosford/TheJournal.ie
Would the Socialists get rid of water charges?
Yes.
And Irish Water?
Yes. Coppinger said a "super structure" involving "directors on huge salaries" is not needed.
https://vine.co/v/eB0B0XxV1zL
What happens if I've already paid water charges? 
People would be given back their money, Coppinger says.
Would non-domestic customers still pay for water? 
Yes and Coppinger noted there is apparently a "high non-payment rate by businesses that hasn't been tackled".
And what about people on group water schemes? 
They would be given a grant and many of those schemes should be brought onto the public network, Coppinger said.
We've been in favour, and we've always advocated, that people should get some kind of grant.
So if there's no Irish Water, who handles the provision of water? 
Coppinger said that water services would be handed back to local authorities. But she wants some "national coordination".
You could have some coordinating between all the local authorities.
So we'd need another type of Irish water? 
No, said Coppinger. It would be a 'national coordination body'.
How would that work?
The Dublin West TD, who served on Fingal County Council for 11 years, said this has pretty much been done already when councils would talk to each other.
"They just meet," she said. There would be "some small body that would coordinate that" but she was insistent that it's not another Irish Water that the AAA is proposing.
#Open journalism No news is bad news Support The Journal

Your contributions will help us continue to deliver the stories that are important to you

Support us now
What would happen to all the people who work for Irish Water? 
Coppinger is pretty clear that the Socialists would be sacking people, principally John Tierney, the current managing director, and other management.
"We're talking about scrapping the whole John Tierney and all of those people. They're not needed… Absolutely, he's not needed."
https://vine.co/v/eB0BEYUzpiO
Irish Water staff who previously worked for local authorities would keep their jobs. "They would go back to the local authorities," she said.
What about fixing all those leaks? 
Coppinger said the current rate of leaks is "scandalous" and outlined that responsibility for fixing them would be given back to local authorities.
She said that Dublin councils, particularly South Dublin County Council, have been better at addressing leaks in recent years because they are relatively new bodies, but that rural councils have been "the worst offending". She said:
Local authorities have been doing it relatively well when they've had the funding to do it.
Coppinger said "there has to be some body that checks that the work is being done" and suggests councils that don't fix their leaks would face sanctions.
And how exactly do we pay for all this? 
Unsurprisingly, the Socialists want to tax the wealth. Coppinger outlined how a financial transaction tax – the so-called Robin Hood tax – of just 0.01 per cent on financial transactions would raise €500 million "which is more than the water charges in one year".
We've outlined some of the measures that could be taken to take control of some of the wealth that we have in this society and use it for such things as water, which obviously we do know has to be paid for.
This all seems a little short on detail… 
The Socialists/AAA are primarily about opposing water charges and boycotting bills. It was clear from talking to Coppinger this week that the alternative policy isn't fully-formed yet.