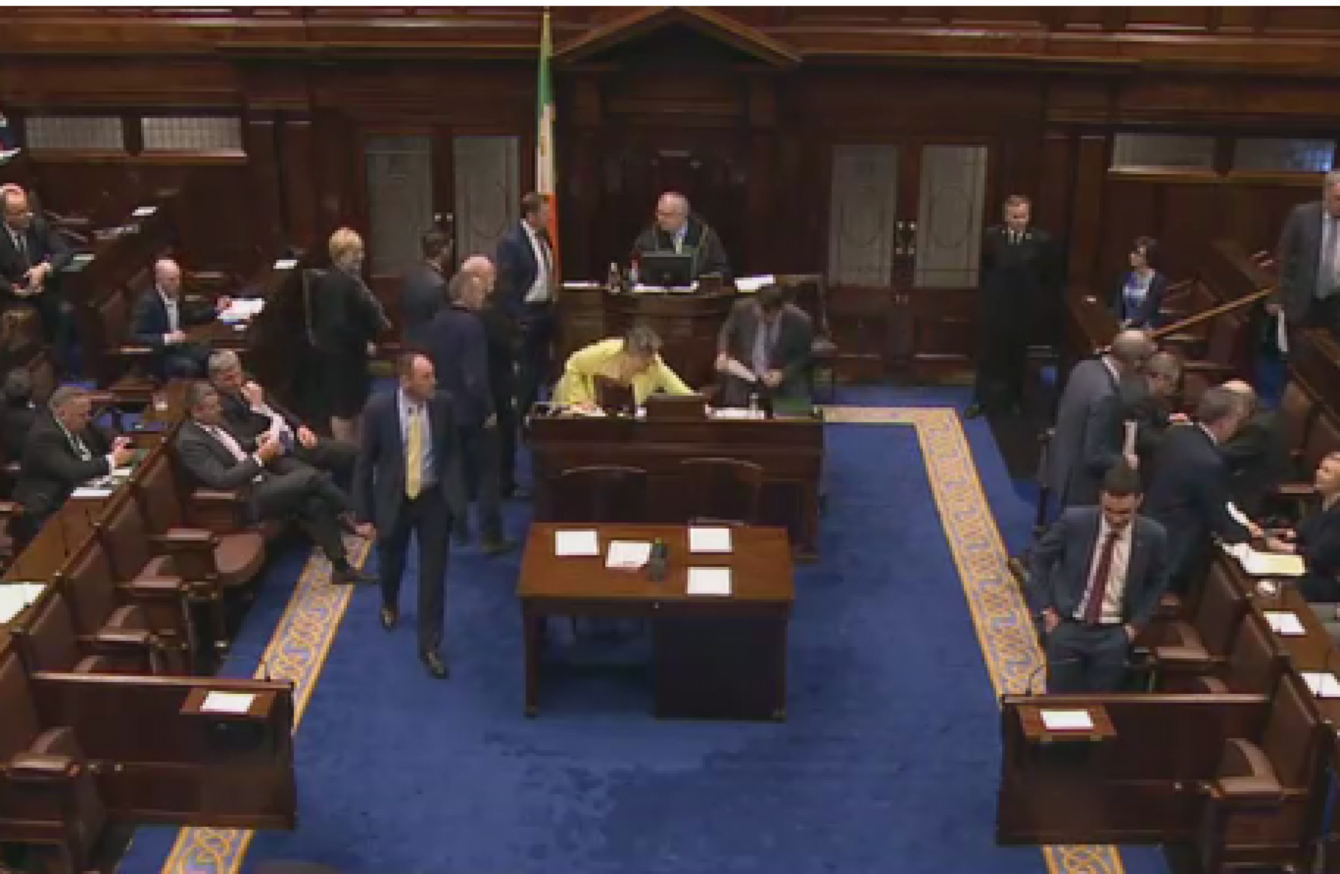 TDs voting in the Dáil this evening
Image: Screengrab
TDs voting in the Dáil this evening
Image: Screengrab
A SINN FÉIN motion calling for the abolition of Irish Water was amended by the government tonight before being carried in the Dáil – marking the defeat of the original motion.
The original motion, put forward by Sinn Féin and supported by a large number of Independent TDs, called for the immediate scrapping of Irish Water as well as an end to water charges.
The motion also called for a date to be set "for a referendum to enshrine the public ownership of water services in the Constitution of Ireland."
Opposing the motion, the Fine Gael and Independent minority government put forward its own amendment which allowed for water charges to be suspended while a commission was set up the examine whether they should remain.
The amendment carried by 60 votes for to 39 against – which meant that Sinn Féin's original motion was altered with government's amendment.
When the time came to vote on the motion as amended – it passed by 59 votes to 38.
Not wanting to vote with the government, Fianna Fáil abstained – but argued along the same lines, calling for the commission to be set up to investigate the future of water charges before any decisions are made.
Irish Water
Earlier, an anti-water charges protest was held outside the gates of Leinster House.
TDs from both sides of the political divide gave speeches over two nights on Irish water and water charges.
Fine Gael ministers Leo Varadkar and Paschal Donohoe argued tonight that a water utility was needed and that the commission should be allowed to do its work.
#Open journalism No news is bad news Support The Journal

Your contributions will help us continue to deliver the stories that are important to you

Support us now
"This is nothing to with water… this is an example of old politics reasserting itself under the name of new politics," said Minister Donohoe, to much protestations from Sinn Féin.
Meanwhile, Sinn Féin TDs and Independents and others who had opposed water charges in their pre-election campaigns came down strongly on the government and Fianna Fáil's position.
"We want a world class water services, funded through general taxation provided on basis of need and not an ability to pay," said Deputy Eoin Ó Broin of Sinn Féin said this evening.
AAAPBP TD Richard Boyd Barrett hit out at how Irish Water was set up and at the high salaries paid to some of its top staff
"The issue is do we pay for it fairly, or de we disproportionately impose the burden on the least well off – and that's what water charges were doing," he said.