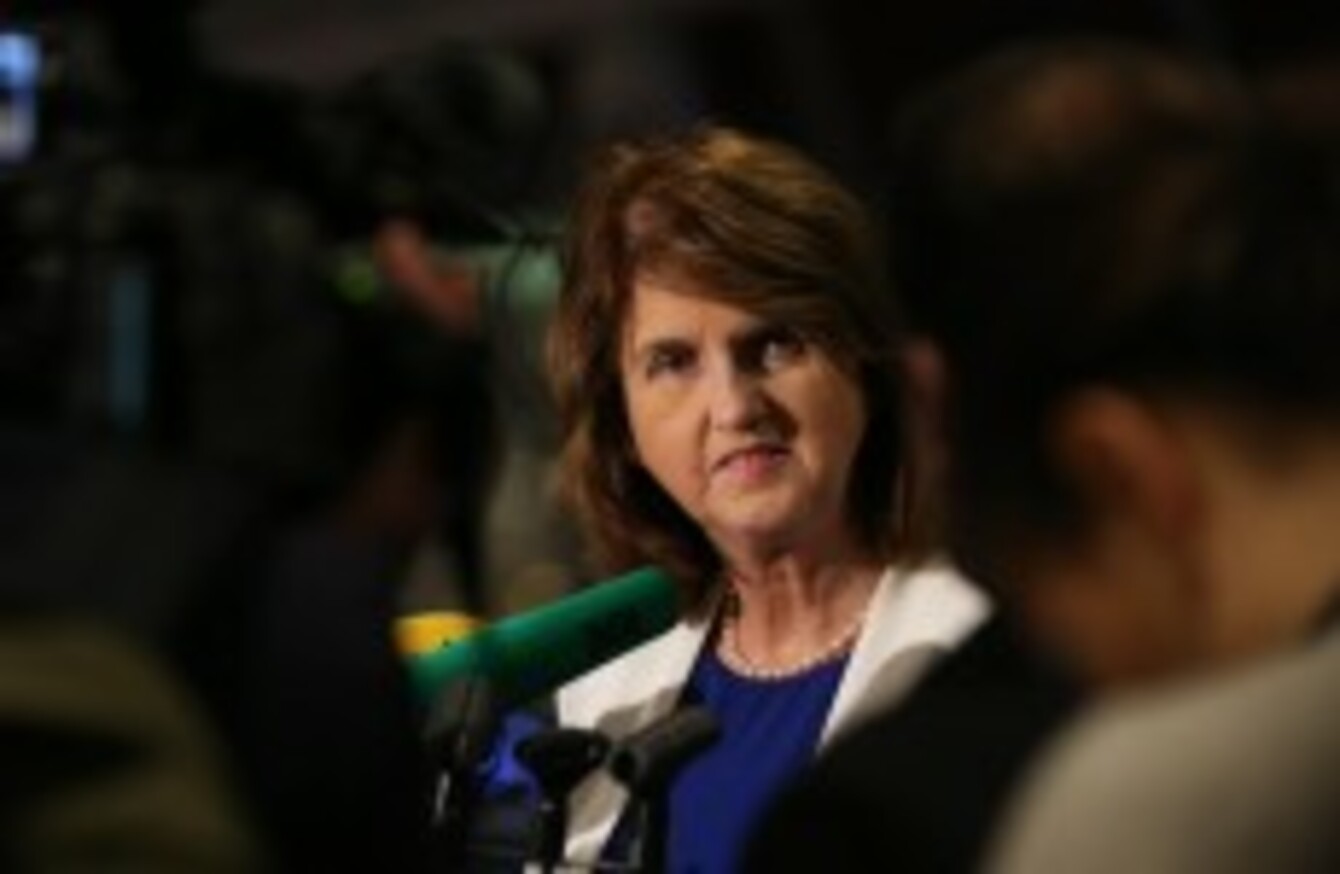 Image: Leon Farrell/Photocall Ireland
Image: Leon Farrell/Photocall Ireland
Updated at 07.45am
TÁNAISTE JOAN BURTON faced questions on the latest round of water charge reports this last night, as she attended an event in Dublin's Convention Centre.
The Government is preparing to announced its much-heralded revised charges scheme to the Dáil this morning.
However, the broad outline of what will be on offer has been widely reported in recent days — with further information emerging this this morning.
According to The Irish Times this morning, a permanent water charges cap could be enshrined in law to assure homeowners their water bills will remain at an affordable level.
The new measures could see Ireland adopt one of the cheapest water charge regimes in Europe.
However – according to the Irish Independent – those who fail to pay could face penalties, the value of which could be deducted from their homes at the time of a sale.
Reports this morning state the revised cap on charges will now be €60 per one-adult household, and €160 for all other homes.
But in her comments to reporters yesterday, the Labour leader wasn't confirming any of the latest leaks.
She simply re-iterated her 'personal view' comment from earlier this month that a household "of two adults and two young adults" will face charges of "well below €200 net" before adding:
"I would just hold to that."
On the subject of new compliance measures for people who don't pay their bills, she said Environment Minister Alan Kelly would address that issue tomorrow.
RTÉ is reporting this evening that the Government is considering two measures to deal with people who won't fork out for the charges — including penalties for people who haven't paid after one year.
A Government spokesperson said:
There will be compliance measures contained in tomorrow's announcement.
Last-minute scramble
The Government has been scrambling to get to grips with water charges in recent weeks, in the wake of sustained public opposition to the way the issue has been handled to date.
The new scheme will be formally announced in the Dáil by Minister Kelly this morning following another Cabinet meeting.
Amongst the other new departures widely-publicised in recent days, it emerged at the weekend that…
Households will continue to register for charges through Irish Water, but will register their PPS number with the Department of Social Protection.
Only one person per household will have to register their PPS.
This will entitle them to a €100 rebate that will be available to everyone, not just those on social welfare.
The figure for single-person households was reported as €76 at the weekend, and the one for homes with more than one person, €178 (once the €100 rebate is factored in).
If correct, the new figures emerging today will represent another significant climb-down from the Government.
It emerged last night that ministers plan to delay the issuing of the first bills by three months — meaning households won't be charged for water use until after Christmas.
Security
There was a significant Garda presence in the Convention Centre for the Tánaiste's appearance this evening, in the wake of Saturday's Jobstown protest.
8 to 10 uniformed officers walked through the lobby minutes before her arrival, while a smaller number kept watch outside as her car drew up.
The Daily Mail is reported this morning that Environment Minister Alan Kelly had a death threat telephoned into his office yesterday where a woman told him 'he would be shot before the end of the day'.
There were no protesters at tonight's engagement.
First published 11.30pm, 17 November