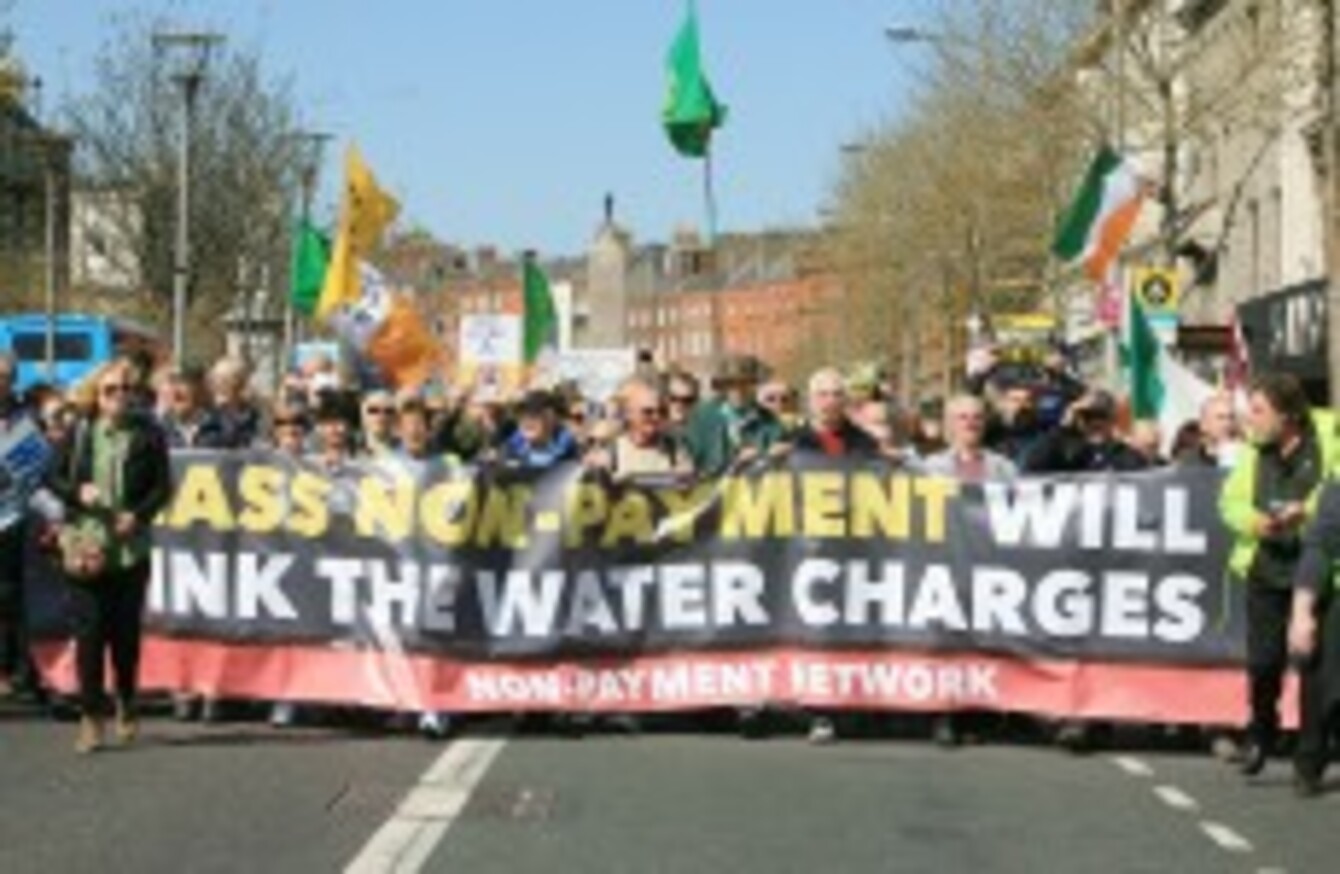 Image: Leah Farrell/Photocall Ireland
Image: Leah Farrell/Photocall Ireland
A GROUP OF anti-water-charge politicians are developing a plan to coordinate candidates ahead of the next general election.
It comes as the Right2Water group and its associated trade unions are to hold conferences in May and June to politicise the movement.
Now, the People Before Profit Alliance, the Anti-Austerity Alliance and some independent activists have released a joint statement calling for nationwide activists to meet ahead of these conferences.
They want anyone involved in the anti-water-charge movement to meet and discuss the issues before deciding on delegates to send to Right2Water's 13 June conference.
They argue that this would give extra credibility and power to the conferences.
"On foot of this, the June gathering should be able to decide for itself the political positions it adopts and how to proceed – not simply endorse previously determined statements," according to the statement which is signed by four TDs.
It adds that the 13 June conference should therefore be larger meeting than 200 people and include trade union and political representatives.
The Right2Water group has previously indicated that it will be endorsing candidates in the next general election but admitted that the mechanics of this had yet to be worked out.
The group of politicians want to establish a group of principals that their aligned candidates would have to be signed up to. They want them to openly call for non-payment and use their elected positions to campaign for this.
This is different from the Right2Water group which isn't at present advocating non-payment of the charges.
It's also being argued that the aligned politicians should campaign against austerity and reject coalition with Fine Gael, Labour and Fianna Fáil.
The statement can be read in full here and is signed by the following politicians:
Richard Boyd Barrett TD, Cllr. Brid Smyth, Cllr. John Lyons, Ailbhe Smyth and Brian O'Boyle on behalf of the People Before Profit Alliance; Paul Murphy TD, Ruth Coppinger TD, Joe Higgins TD, Eileen Gabbett and Joe Harrington on behalf of the Anti-Austerity Alliance; Cllr Brendan Young ; Eddie Conlon; Des Derwin; Shane Fitzgerald; Tomas O'Dulaing; Raymond Deane.