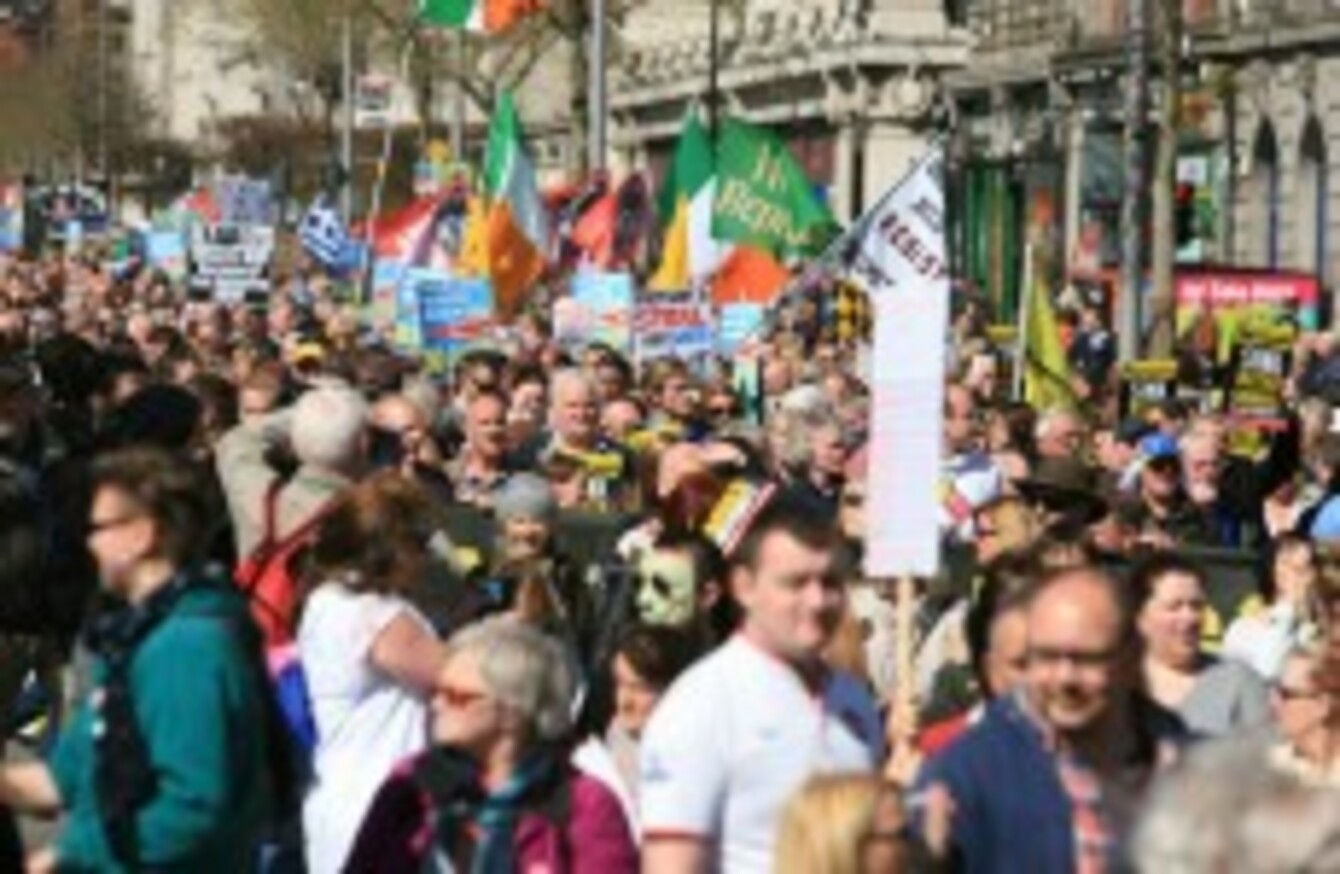 Image: Leah Farrell/Photocall Ireland
Image: Leah Farrell/Photocall Ireland
A PROTESTER WHO was jailed for breaching a court ordered injunction surrounding water meter installers says the lack of "bloodshed on the streets" shows that protests have been peaceful.
Bernie Hughes made frequent criticisms of the media as a new academic report into the anti-water-charge campaign was launched today.
Hughes says the media coverage of protests means people are now "more skeptical and are going to make up their own minds".
She said the fact that there has been "no bloodshed on the streets" has shown that the protests have been peaceful.
"We have gone out to stop water meters the only way we knew could, just to stand there," she said. "The gardaí, in fairness to them, don't want to be there."
The research is titled 'The Irish water war, austerity and the Risen People' and was conducted by Dr Rory Hearne and his students. It involved a survey of 2,556 water protesters.
Hearne, who has campaigned against water charges, says the Irish people have "risen" over the issue and "shattered the assumption" that Ireland is a conservative country.
He says the water movement has shown that what successive governments were trying to say about the Irish people was wrong:
"This was the narrative that was being put across by a number of different governments. That Irish people understood that austerity was a necessary medicine… What the movement has shown is that this was not the case."
"This movement shatters the assumption that the Irish have been politically conservative since independence, " he said, adding that "politics is completely changing and people are engaging in a different way."
The 2,556 protesters surveyed for the report filled out a questionnaire online. Some of the findings:
54.4% had not participated in protests before
The most cited reason (59.6%) for getting involved was because 'austerity had gone too far'.
92% would not be paying water charges.
52% were working full-time.
70% say they intended to change who they voted for in 2011.
82.6% said they were informed about the campaign mostly through social media.
Also speaking at today's launch was Brendan Ogle of the Right2water group. He was at the meeting by collection of left-wing politicians including Thomas Pringle TD, Richard-Boyd Barrett TD, Paul Murphy TD and Lynn Boylan MEP.
Ogle said Right2Water would seek to endorse candidates in next general election but how this would work in practice presented "a challenge".
"There is no answer to that at the moment," he said. "There's a very narrow window into something that can deliver political and social reform."
"If we could just talk about what we agree on as opposed to what we don't agree on then I think we would get there a lot quicker."
Asked about whether Right2Water would consider its own candidates, Ogle said setting up a political party would require developing a platform across a range of issues but he did not rule out standing in a general election himself.