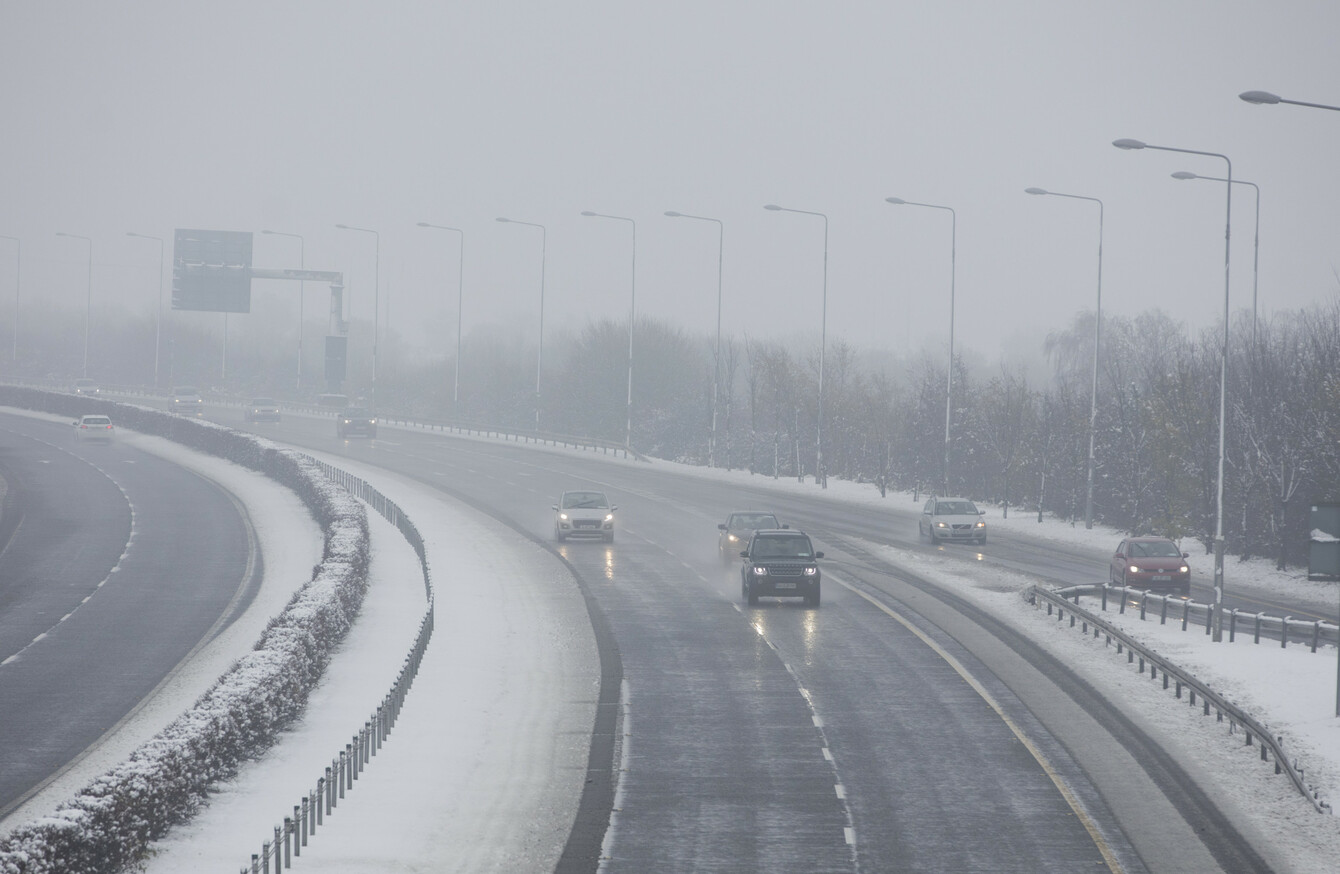 Snowfall on the M7 at Laois yesterday.
Image: Eamonn Farrell/Rollingnews.ie
Snowfall on the M7 at Laois yesterday.
Image: Eamonn Farrell/Rollingnews.ie
Updated at 8.05am
THERE ARE ICY and frosty conditions on the roads this morning after temperatures dipped as low as minus eight degrees in some areas, following snow at the weekend.
The worst affected counties are Roscommon, Sligo, Donegal, Cavan and the eastern half of Galway, AA Roadwatch is reporting this morning.
An 'orange alert' weather warning for severe frost, ice and lying snow remains in place until at least 10am this morning – with east Connacht, Leinster and Ulster the coldest areas.
Here's the advice from AA Roadwatch this morning:
If you're driving in such conditions, slow down, make sure your dipped headlights are on and remember it can take up to ten times longer to stop your vehicle so stay plenty of space from the vehicle in front.
Brian Farrell of the Road Safety Authority said motorist in areas affected by snow and ice should check local conditions before heading out.
"It will take everyone longer to get where they're going this morning," he cautioned, speaking to Morning Ireland.
Drivers should clear their car of snow before leaving their driveway so it doesn't fall off in transit, he said. It was safest to stick to national and regional roads, which will have been gritted, Farrell said.
Rail and buses 
Irish Rail said all trains were running this morning – but that there were delays on the 5.35 Longford to Dublin service, causing some knock-on delays to Maynooth services.
Bus Éireann said the majority of its services were unaffected by weather conditions and operating to schedule, with the following exceptions:
Expressway: Route 4, 5am & 7am departures from Waterford to Dublin are operating via motorway and cannot serve Mullinavat/Thomastown/Gowran
Commuter/Rural & City Services: Route 440, 6.45am departure, Athlone-Westport has been cancelled
Dublin Bus said a full service was operating today on all routes, with one exception:
The only curtailment is to route 44b which is operating to the Blue Church and not serving Glencullen due to icy roads
Airports
A number of Dublin to London flights have been cancelled this morning, due to the adverse weather in the UK capital.
Five flights to London Heathrow have been cancelled so far, but a number were also heavily delayed or cancelled yesterday.
Passengers are being urged to check with their airline on the status of their flight before going to the airport.
A number of flights from Cork to Birmingham and London were also cancelled yesterday, and two flights to London Heathrow have been cancelled today.
Similarly, after a number of cancellations from Knock Airport yesterday, flights this morning are due to leave as scheduled.
Europe-wide
The UK, meanwhile, faced the heaviest snowfall in four years yesterday, over 300 flights were cancelled at Germany's busiest airport and a ferry ran aground in the French port of Calais as the continent reeled from the extreme weather conditions.
In Britain, Birmingham airport, serving the country's second biggest city, suspended flights for all of Sunday morning, as staff worked to clear the runway in heavy snow.
The airport typically handles around 30,000 passengers and 200 flights a day in December. It diverted 11 flights elsewhere and expected to cancel more than that, a spokeswoman said.
London's Luton Airport closed its runway for two hours before reopening around 11.30am yesterday morning to departing aircraft, according to a spokesman.
Police forces in worst-hit Wales and central England urged motorists not to travel unless "absolutely necessary" as they dealt with surging calls.
A spokesman for the Highways England agency said there had been road incidents "all over the place".
In Germany, some 330 flights were cancelled by 4pm Irish time yesterday after heavy snow and sub-zero temperatures struck the region around Frankfurt, a spokesman for airport operator Fraport told AFP.
The airport – Germany's largest air hub and the home base for major carrier Lufthansa – had been scheduled to handle a total of 1,260 flights over the day.
After working through the evening and into the night, the runways were cleared of snow and flights resumed this morning, albeit with a number still cancelled.
Forecast
Closer to home, we're unsurprisingly set for another very cold day.
Temperatures are set to limp above freezing as the day goes on, reaching a high of around 4 degrees, before dropping to -3 again overnight.
Met Éireann forecasts wintry showers across Connacht, Ulster and west Munster but it'll be mainly dry elsewhere.
Widespread frost will return overnight, with temperatures set to go below freezing.
Tomorrow will be slightly warmer, with temperatures ranging between 5 and 8 degrees.
We can also expect to wake up to severe frost every day this week.
- With reporting from Daragh Brophy, AFP