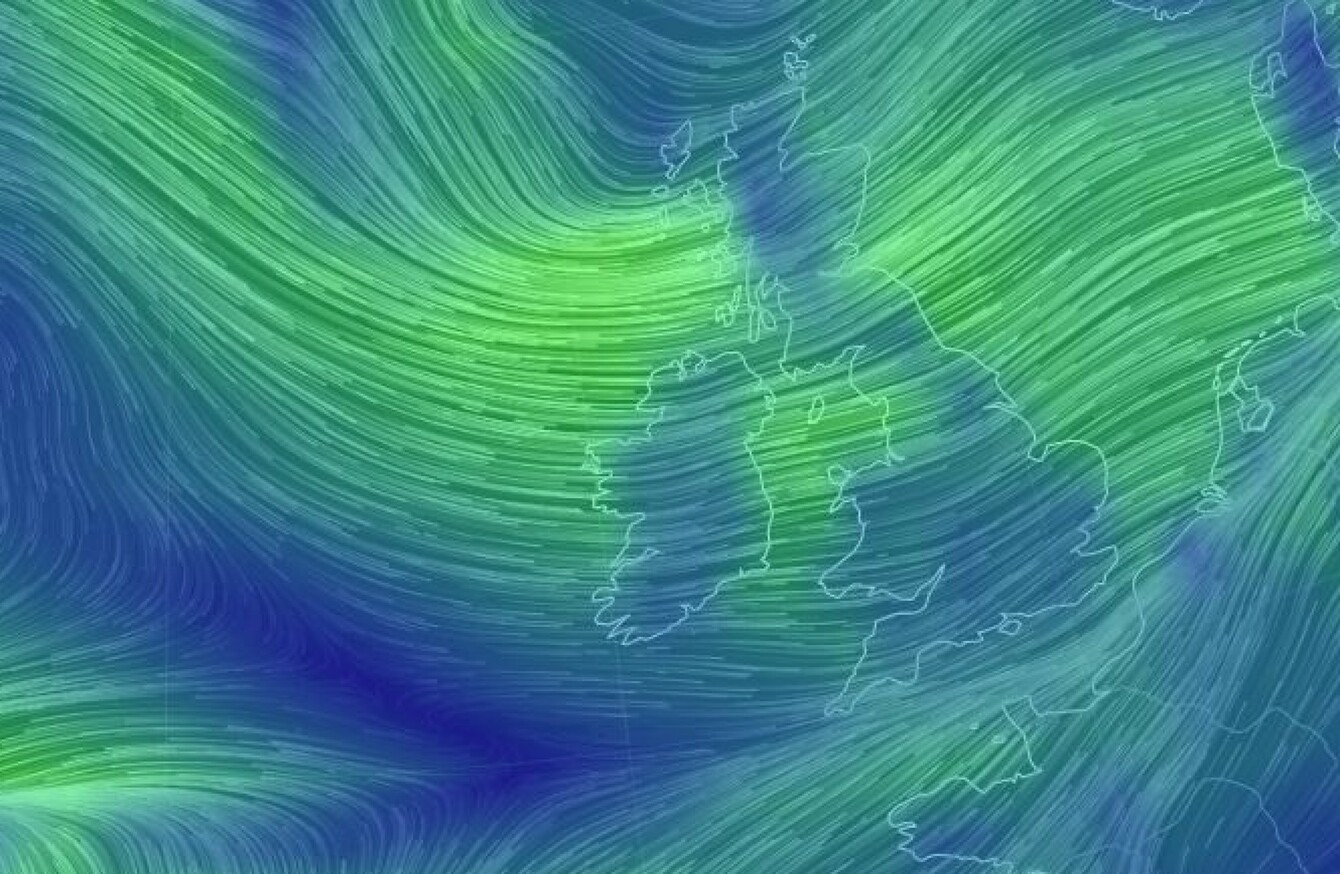 The wind picture off Ireland on Friday.
Image: Earth Wind Map
The wind picture off Ireland on Friday.
Image: Earth Wind Map
TWO RAINFALL WARNINGS have just kicked in – and there are warnings that areas already dealing with flooding could experience further rising waters over the weekend.
The two alerts – one orange, one yellow – came into effect at midnight and last until tonight (midnight again):
Here are the details, from Met Éireann:
Orange Rainfall Warning for Clare, Cork and Kerry
Prolonged falls of very heavy rain expected overnight Friday and during Saturday with totals of 30 to 50mm, larger totals on higher ground. Further flooding is expected.
Yellow Rainfall Warning for remaining counties of Munster, much of Leinster and much of Connacht
Falls of very heavy, prolonged rain at times overnight and during Saturday with totals of 25 to 35mm, larger totals on higher ground. Further flooding expected.
Sunday, according to the weather service, should be reasonably dry – and there'll be some showers around on Monday. The outlook for the week is for "very unsettled and wet and windy" conditions.
Flood warnings 
The ESB has advised that the level of water flowing down the Shannon may increase in the coming days, and a severe flood warning has been issued by Clare County Council.
Here's the advice from the local authority for Clare residents:
Businesses and householders who have experienced flooding in the past are being urged "to operate on the basis of a very high level of alert".
The Council will operate an emergency helpline on Saturday for anyone who needs to report blocked roads and flooding (1890 252 943).
Updates will be issued through the Council website, Twitter (@ClareCoCo), Facebook, and the Council's text alert system during the weekend.
Many roads are expected to be flooded. People are being urged to check forecasts before planning any journeys.
Officials in the county are particularly concerned about flooding due to a combination of factors – including the elevated water levels already in waterways, saturated ground, spring tides and strong winds.
Advice for drivers
The Road Safety Authority has issued an appeal to drivers to take extra care. Here's the specific advice for motorists dealing with flood conditions:
If the road ahead is flooded choose another route, do not attempt to drive through it. Flooded roads that appear shallow could be deeper than you think.
Do not underestimate the force and power of water. A mere 15 cm of fast-moving flood water can knock over an adult. It takes just 30cm of rushing water to carry away a small car, while 60 cm of rushing water can carry away most vehicles. It is NEVER safe to drive or walk into flood waters.
Many drivers of 4 x 4 vehicles over-estimate their ability to navigate flooded roads too, putting too much faith in their 'heavy' vehicles. In reality, most motorists will lose control of their vehicles, including SUVs, in just 15 cm of water.
The hidden dangers caused by the erosion of the road by fast moving water is another factor that drivers should consider. Moving water is very powerful and can undermine the integrity of a road. A motorist will be unaware that he or she is driving into a gouged out section of the road because it's hidden underwater.
Always follow recommended routes and obey signs closing roads to traffic.