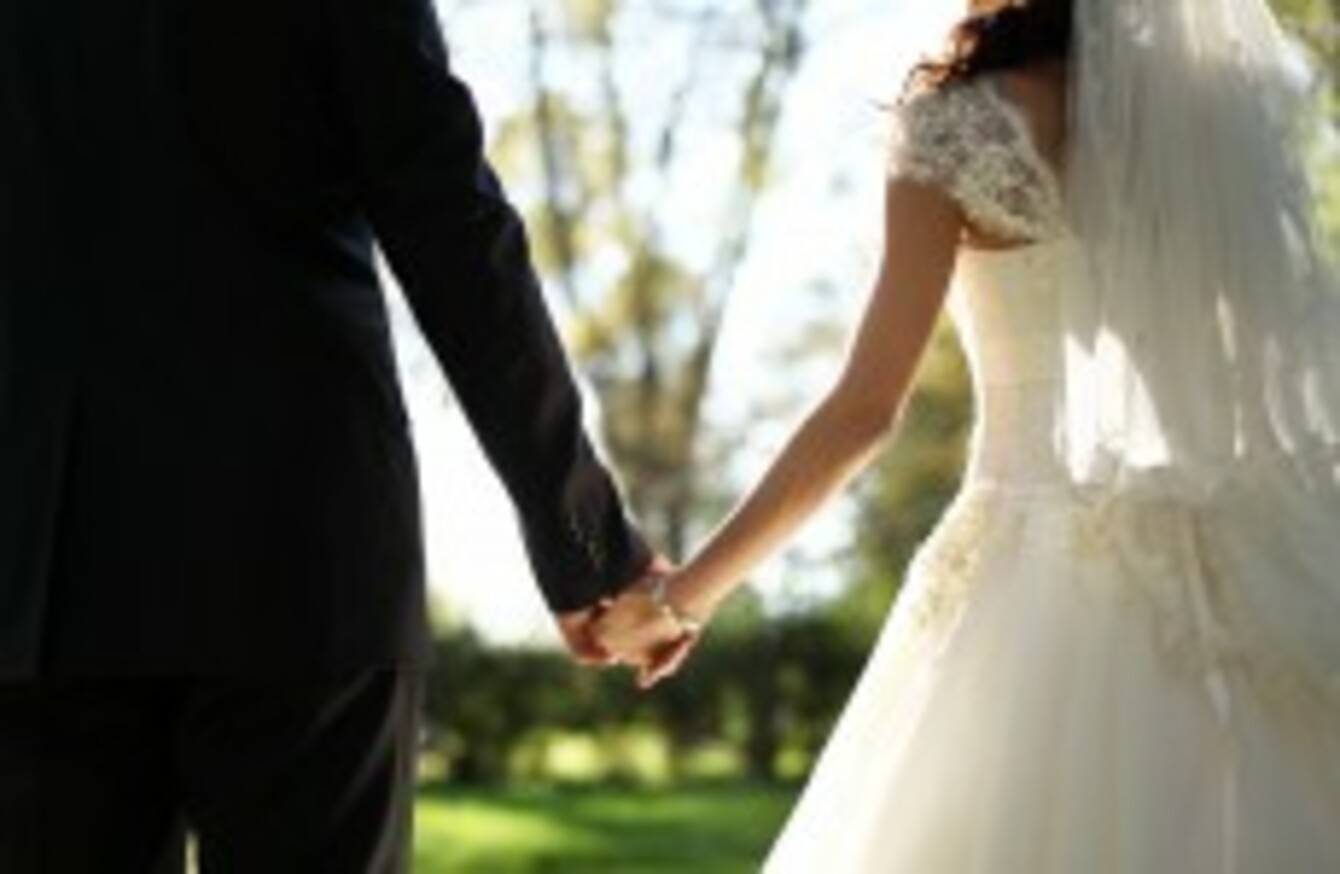 WE'RE IN THE midst of peak wedding season at the moment, with hotels around the country doing a booming business in smoked salmon sandwiches, Prosecco, 'chicken-or-beef' main courses and all the rest of it.
But hoteliers in West Cork say they've run into a hitch (sorry) in organising ceremonies, as the law that governs them appears to ban couples from getting married in marquees set-up in hotel grounds.
Fine Gael TD Jim Daly, who raised the issue with Social Protection Minister Joan Burton this week, says the same law also means you can't just put "the Phoenix Park" on your wedding invite and expect the registrar to be happy to go ahead with the event.
"The Act indicates it has to be fixed building. It has to be identifiable as a public place."
Daly says some hotels, particularly in the Clonakilty area, have run into problems recently, and were told couples had to get married inside the hotel, rather than in the marquee outside.
Replying to Daly's parliamentary question on the issue this week, Burton said the law governing the area is currently taken to mean "that the place must be a building that is easily identifiable by its address, and that it is open to the public to enter at all reasonable times, but especially on the day on which an intended marriage is to be solemnised".
And the Minister appears to indicate some leeway for registrars, pointing out that:
"Section 8 of the Act outlines the functions of an tArd-Chláraitheoir. Section 8 (4) states 'An tArd-Chláraitheoir shall be independent in the performance of his or her functions…' while section 8 (5) states 'An tArd-Chláraitheoir may do all such acts or things as are necessary or expedient for the purpose of the performance of his or her functions…'."
The recent confusion as to whether marquees are suitable venues apparently arose after the Registrar General sent out a guidance letter on the issue.
Burton said it had been brought to the Registrar's attention "that it was intended to solemnise a number of marriages at private houses and at places where the exact locations were uncertain".
Daly said the Minister's response appeared to offer some clarity on the issue, and that he would contact the HSE locally to see if they planned to make any changes to procedures in view of her response.
It looks like this could be solved by having some sort of permanent structure in the grounds… A cement platform or a plinth. A flag even might do.
So… there you have it.
If you do happen to be planning a wedding in the Phoenix Park, perhaps just putting 'the Wellington Monument' would go some way towards helping you side-step this particular uncertainly in the legislation.