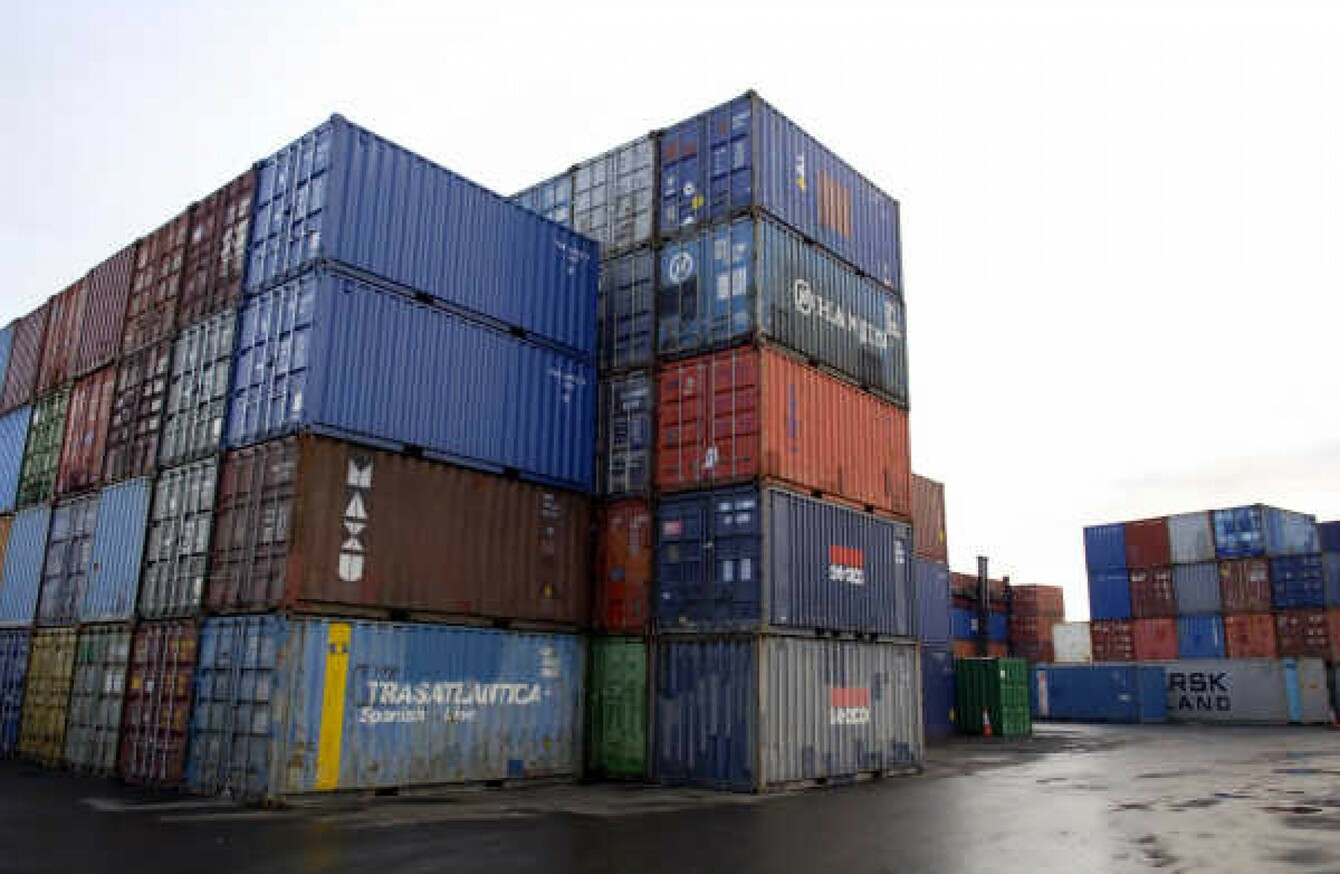 File image of containers at Dublin Port.
Image: Rollingnews.ie
File image of containers at Dublin Port.
Image: Rollingnews.ie
FIVE PEOPLE FOUND in a shipping container in Wexford on Sunday night have been taken to Dublin, Gardaí say.
The migrants, were discovered inside a container delivered to a Wexford transport company on Sunday evening.
The four adults and a three-year-old child were found inside an unaccompanied container which came from Cherbourg to Rosslare on the Irish Ferries Oscar Wilde ship.
The container was picked up by a haulage firm and brought to New Ross, where gardaí were contacted.
A Garda statement said:"Gardaí at New Ross are investigating the discovery of three males, one female and a minor which occurred at a transport company in Marshmeadows, New Ross, Co Wexford on Sunday at approximately 6pm.
All persons are now under the control of the Refugee Applications Commissioner.
The migrants – three men, one woman and her young girl – are believed to be Kurdish. They have told gardaí they were fleeing persecution and will be seeking asylum.
All five were in good health, gardaí say, and have been brought to Dublin, where they are being dealt with under immigration legislation. A three-year-old child was among the people found, they added.
Deportation
Last year the International Protection Act 2015 was enacted, giving An Garda Síochána increased powers of deportation.
Justice Minister Frances Fitzgerald recently said, in answer to a Dáil question, that over 4,000 people were due to be deported from Ireland this year.
The 2014 Bill has also been criticised by migrant rights groups for eroded the rights to family unification.
"We need to step up our response to the humanitarian crisis, step up our resettlement scheme," Edel McGinley of the Migrant Rights Centre Ireland told TheJournal.ie.
"When people have no alternative, they take extremely risky routes, and it's very lucky that these five people didn't die in the shipping container.
When we don't have proper ways for people to access the State, for relocation, people will take risks with their lives.
"We need a lot more people on the ground, staff from the Government staff to resettle people across the country. Also, we also are not following any model of integration, when people are coming here."
Oxygen deprivation
Last February, Gardai discovered nine men inside a container that was also delivered to New Ross.
It's almost 15 years since eight people died in a freight container which arrived in Wexford. Two children were among those who died from oxygen deprivation in the container.
Last month, an International Refugee Council survey of European sentiment found that Ireland is the most sympathetic country towards the arrival of Syrian refugees.
Last year Ireland resettled 178 refugees, and would need to settle a total of 6,116 refugees or 1,223 annually to meet a target set by the IRC for European countries, based on GDP and population.
On 10 September 2015, the Government pledged to take up to 4,000 refugees through the Irish Refugee Protection Programme as part of the European response to the crisis.
Earlier this month, Minister Fitzgerald said that 550 refugees and asylum seekers have arrived so far in Ireland through the programme.
She added that 1,300 are scheduled to arrive in 2017, and that the Greek relocation programme is now fully operational.