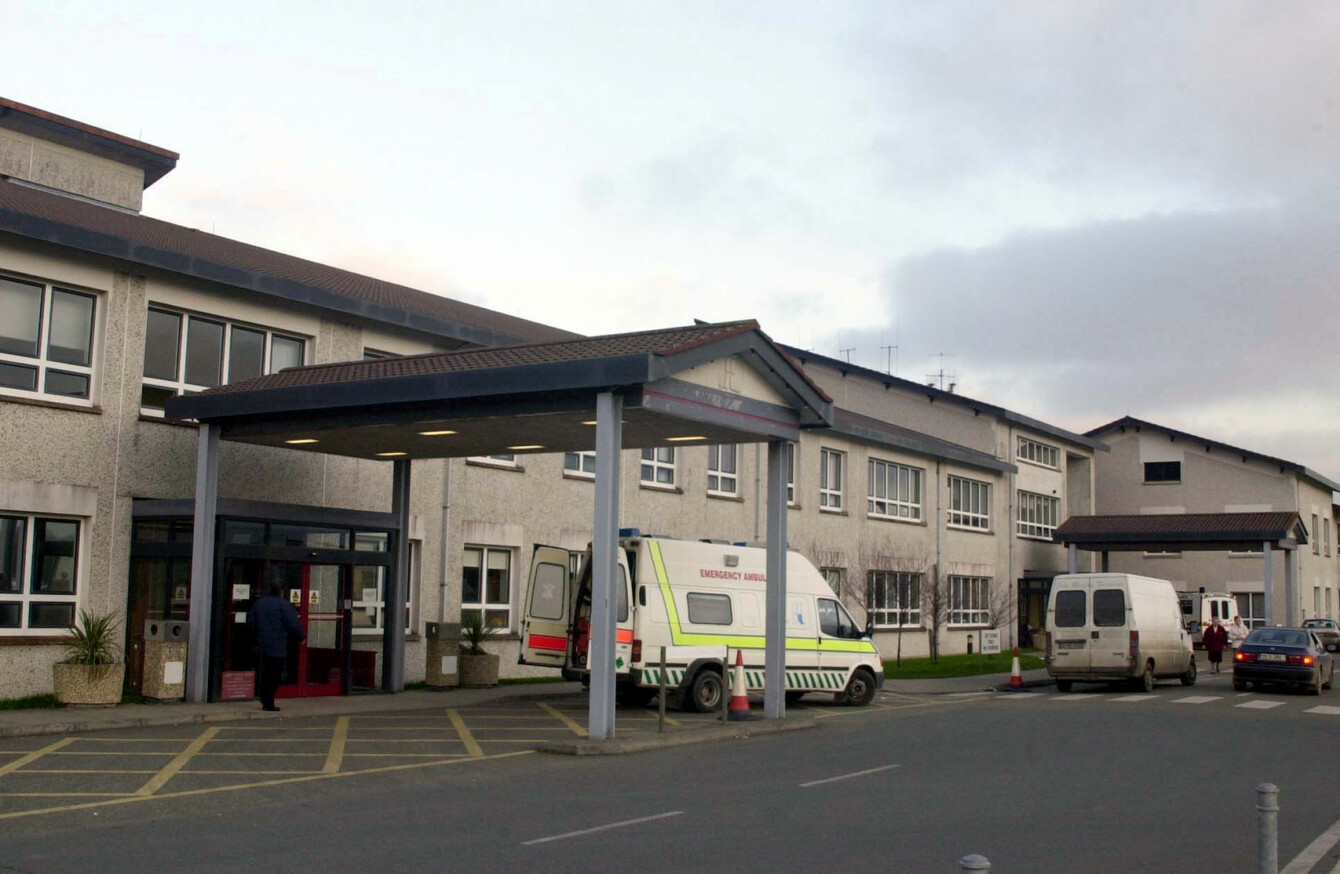 File photo of Wexford General Hospital
Image: Joe Dunne/Photocall Ireland!
File photo of Wexford General Hospital
Image: Joe Dunne/Photocall Ireland!
A TEENAGE GIRL with acute behavioural difficulties and mental health problems has spent 115 days in limbo at Wexford General Hospital as she waits for funding to become available for a bed at an appropriate residential care centre. 
The girl's mother, who wishes not to be identified to protect her daughter's anonymity, says that, for the third time, they have been offered a bed in an appropriate unit. However, she has not been able to take the places offered and begin treatment as the HSE says there is no regional or national funding available to her.
Speaking to the Enniscorthy Guardian, the mother (called Nicola for the purposes of this piece) explained her 15-year-old daughter's problems began around eight-and-a-half years ago.
"At first, it was seen as a [solely] mental health issue and it was directed that she should go to CAHMS (Child and Adolescent Mental Health Services)," she said.
"I believed it was more of a disability problem. I could show you two foolscap pages of diagnoses that we've had over the year. They range from autism and behavioural issues to ADHD, ODD, PTSD, and even an intellectual disability."
At the height of the problems, Nicola, who has three other children aged from 10 to 17, one of whom also has special needs, was living in fear over what would happen next.
"In the last two-and-a-half or three years, things have gotten much worse," she said.
She'd overdose or self-harm. We'd be in and out of casualty all the time. If we were out or had visitors and she happened to see some pills in someone's handbag, she'd take them, not even knowing what they were. It got to the stage where we had to tell visitors to leave their handbags in the car. If she couldn't get her hands on anything else, she'd smash her head against the wall.
"She required 24-hour care before we came in [to Wexford General] and, after a while, they couldn't control her in school. There were two SNAs appointed to her and she'd manage to run off and we'd have to get the gardaí out looking for her.
"They were very good to us. At one point they even tried to section her so we could get her the help that she needs, but she's not psychotic. It's just her anxiety levels are through the roof."
Having previously been in and out of hospital and with things getting no better, Nicola made the decision that her daughter would have to remain in hospital until she received the help she needed in the form of a bed in a residential care unit.
That was 115 days ago.
The offers of two beds have come and gone.
Another one is currently on the table but Nicola has been told that her daughter will not be taking it up as the funding is not currently available to pay for it.
In the meantime, she is staying with her daughter and is effectively living in the hospital room beside her. She only makes it home to see her other three children, who are staying with her parents, for a 'couple of hours' each week.
The biggest fears for the teenager are the risk of suicide and self-harm. 
Background
Difficulties in Wexford's youth mental health services have been well documented this year with public resignations of key personnel and local activists holding rallies. 
From January to September 2018, Wexford's Child and Adolescent Mental Health Services have lost 5.8 staff members.
Nicola estimates that between disability funding, mental health funding and hospital funding, it's costing somewhere in the region of €40,000 to €45,000 per month to keep her daughter at Wexford General. She has to be kept in a private room for her own safety and the safety of fellow patients. She also is aware that this is a room that is 'desperately needed by others'.
Nicola says that for an extra €8,000, her daughter could be moved into the bed in an appropriate care centre and could even be back home within six months. As things stand, she has been told to prepare for the fact that she and her daughter could spend upwards of 300 days in Wexford General.
"I just don't understand it," she said.
"It's a busy season here at the hospital at the moment too and they desperately need beds. Yet, we're left sitting her until Simon Harris decides that money is available. He's told us, however, that this definitely won't be until the end of January at the very earliest.
"We've been offered a bed at Nua Healthcare in Kildare, but we've been told to forget about it as the funding is not there. We've more or less been told that if we want the treatment, we'll have to wait for it.
"This is taking a year from my daughter's life," the heartbroken mother said. "The longer this goes on, the less services that will be available to her as she approaches adulthood. At this stage, I don't know if she'll be alive long enough to get the help she needs. She'll end up killing herself or someone else."
Nicola praised the staff at Wexford General Hospital, who she says have gone above and beyond the call of duty to help her daughter in any way they can.
#Open journalism No news is bad news Support The Journal

Your contributions will help us continue to deliver the stories that are important to you

Support us now
"The staff are amazing," she said. "It's like a family up here. They do great work with her. They come in and do things like yoga and play cards. All things that just help pass the day for her. They go above and beyond the call of duty. Unfortunately, she's missing out on her education while she's here too. We're doing our best for her, but there's only so much you can do. She also suffers with anxiety attachment issues, so she gets anxious when I'm away. This places massive strain on us because my other three are living with my parents. They're very good and they look after each other, but ultimately, they're missing their mummy too."
Local councillor George Lawlor said that, along with Labour leader Brendan Howlin, he has been lobbying the HSE on this case and, so far, they have been greeted with a complete lack of willingness to engage.
"It makes absolutely no sense to have this young lady in surroundings that are completely unsuitable for her," he said.
"As well as that, from a secondary point of view, it makes no financial sense when you look at the cost of keeping her at Wexford General. The focused treatment that this young girl requires is absolutely essential if she is going to progress. Keeping her where here is doing the hospital no favours, and it's certainly doing her and her family any favours.
"We've been lobbying on this for a couple of weeks," he continued.
"We've been finding the HSE extremely difficult to deal with and to get through to. This is something that is having an absolutely dire effect on this young girl and her family."
While they refused to comment on individual cases, a spokesperson for the HSE said that they were continuing to liaise with the family in question in a bid to find a solution.