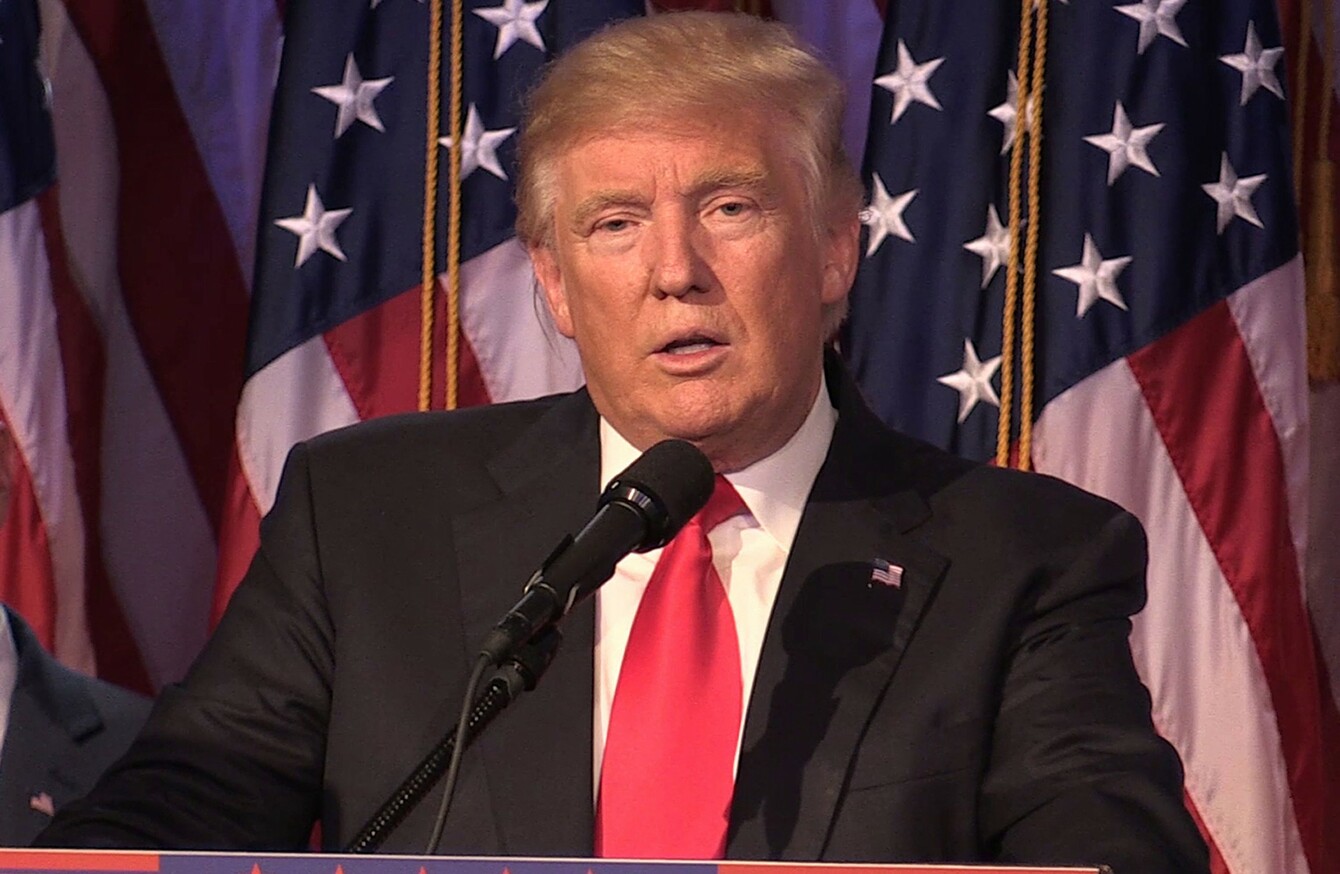 Image: Paco Anselmi
Image: Paco Anselmi
IN THE MONTH and a half since he was elected President of the US, Donald Trump has already made major announcements and statements of intention.
From enraging China to having a go at Saturday Night Live, the new US President hasn't been far away from the headlines.
And he won't be inaugurated until 20 January.
But what can we expect from the billionaire businessman as he strives to "make America great again"?
Last month Trump outlined his plan in a transition video and said he had one core principal: putting America first.
Source: Jim Browski 2.0/YouTube
Trump's pledges are largely similar to his 100-day action plan, a "contract" signed between himself and voters during the election.
This included six measures to "clean up the corruption and special interest collusion in Washington, DC".
These were:
A constitutional amendment to limit terms in Congress
A hiring freeze on public servants (outside the military, public health and public safety)
A requirement that all new regulations see the repealing of two others
A ban on White House officials lobbying for foreign governments, a ban on lobbyists raising election funds and a ban on Congressional officials becoming lobbyists.
Trump has also promised seven actions to protect American workers including:
The repeal of the NAFTA trade agreement and withdrawal from the Trans Pacific Partnership
An official designation of China as a currency manipulator
Actions to tackle foreign trading abuses
Major repeal of Obama-era environmental regulations, including opening up the fracking, oil and gas drilling industries
Cancelling payments to UN climate protection funds.
The President-elect also wants sweeping changes to roll back Obama's legacy by repeal every "unconstitutional executive action, memorandum and order" issued by him.
He also wants to:
Appoint a Supreme Court Justice to fill a vacant seat
Cancel all federal funding to cities which do not prosecute illegal immigrants solely for being in the US (this would include Los Angeles, San Francisco, Washington DC, New York and Miami)
Begin removing more than two million illegal immigrants
Suspend immigration from "terror-prone" regions
On top of all of that, Trump has pledged to enact a tax plan aimed at helping the middle classes, end the practice of US companies offshoring jobs and enacting an act to make childcare affordable.
Trump had also pledged to repeal and replace Obamacare, but that plan seems likely to take longer than 100 days, particularly as Trump seems a lot less critical of it in recent weeks.
Much is made of a President's first 100 days, with Obama's promise to close the Guantanamo Bay facility in his first century of days becoming something of a millstone around his presidency.
How much of what Trump has promised will be achieved awaits to be seen.