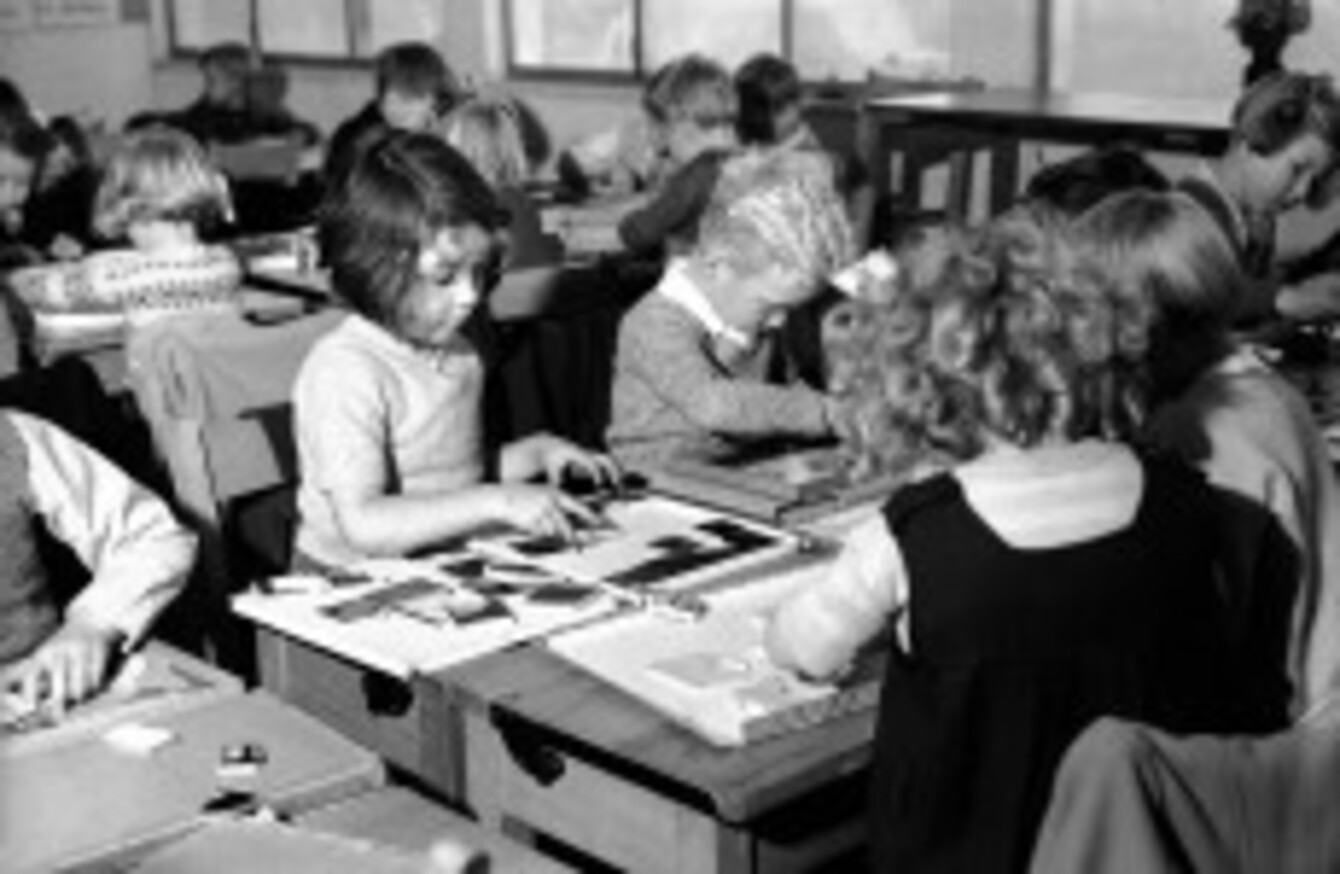 Image: AP Photo Archive
Image: AP Photo Archive
JUST OVER 55,000 students received Leaving Certificate results this morning, an end to the nerve-wracking wait to discover how they performed in the final State school exam.
For many, the results will determine the options available to them should they continue on into third-level education. Is the Leaving Cert a real measure of everything we learned in school though? How much of that do we actually go on to use in real life, beyond the points system?
Some of TheJournal.ie team has been contemplating those questions. We'd really like to hear from you in the comments section on your own experience – What did you learn in school that you continue to use today?
Jennifer Wade
Things I used: I was lucky enough to be able to take Classical Studies for my Leaving; it's a fascinating subject that opens students up to a whole new world view and exposes them to type of storytelling that's completely different what's covered in English classes alone.
Things I didn't use: Home Ec: I've never had to put my knowledge of domestic plumbing systems to use. Thankfully.
Christine Bohan
Some of the most useful things I learned in school weren't on the curriculum – how to think for myself, that authority figures aren't always right, and a deep appreciation for the noble sport of badminton are all things that have stuck with me since I graduated. However the most useful things I learned in the classroom were generally the most practical things: how to structure an argument in History class, how to cook in Home Economics (um, kind of) and how great the poetry of Philip Larkin really is.
The least useful things? Leaving Cert Biology. There's two years of my life I'll never get back (although I can now document the entire life cycle of a liver fluke. USEFUL).
Emer McLysaght
Even though I only 'studied' (under duress) Home Economics for two years in secondary school (first year and fourth year) I still find myself drawing on inspired memories from my time under Sr Brigid's tutelage, from the cold utensils necessary for perfect pastry to the foolproof instructions for wiring a plug.
Apart from my brief dalliance with Home Economics, I think English, Geography and History are the subjects I have drawn on most since leaving school, especially working in the field of journalism. At the time I may have glared with hatred at my Soundings poetry book, or lamented the day the tectonic plates were discovered, but I have retained a surprisingly large cache of knowledge from those various subjects (including an almost encyclopaedic knowledge of the Norwegian tourism industry in the '90s, which has yet to bring me any benefit, but I live in hope).
I left school and went on to study Science at TCD, trying to put my maths and biology to good use, before swiftly realising that biochemistry was my nemesis. I headed instead to Ballyfermot College of Further Education and DCU for the heady lights of journalism and media studies.
(Image: Gill & Macmillan)
Gavan Reilly
Sod all. I didn't do Geography or History in school so the amount of practical stuff I learned there, and I still remember, is quite little. Most of the education I remember from my school days wasn't actually delivered in a classroom but learned from other places (and no, I'm not talking about naughty talks behind the bike shed). Stuff I did for a Young Scientist project – to do with the special qualities that makes some music sound pleasant, and other music less so – has stuck with me far more than anything I learned in a classroom.
In all honesty, there are genuinely two things I learned in a classroom and still remember: the different names for grammatical terms that I learned in German (though in fairness, I studied German in college too), and Pythagoras' Theorem.
Susan Ryan
Things I've used: Although I didn't have much love for them at the time, studying French and German at school has proved really useful when travelling. The strangest place I've needed to use German was in southern Ukraine, to negotiate a taxi fare! Having some French was really useful when I went to Haiti with the housing charity Haven for TheJournal.ie last year.
Things I haven't: I took Chemistry for the Leaving because at the time I wanted to design race cars and needed it to get in to a particular engineering course. I got the course, but it wasn't for me and I've never regretted changing my mind about it. I haven't gotten much use of the Chemistry since though!
Michael Freeman
Things I learned in school that I have used: For me the most important thing school teaches you is how to get along (or at least coexist) with large groups of people who you don't know, and may well not like. Anyway – I'm convinced that those long weeks of sitting next to Lydia Smith in Biology class, while traumatic at the time, ultimately made me stronger.
Things that I have never used: Despite a name-in-lights role as Mr Bucket Snr in the school performance of Charlie and the Chocolate Factory, my talents in amateur dramatics have gone pretty much untapped since. But if TheJournal.ie ever puts on an office Christmas play, I'm a shoe-in for Shepherd #3.
#Open journalism No news is bad news Support The Journal

Your contributions will help us continue to deliver the stories that are important to you

Support us now
(Okay, this is the English Prince Harry as Shepherd #3 – the one with the dark head-dress – in 1988, but we bet Michael Freeman was just as credible a young dramatic talent… Image: Bell Ron Bell /PA Archive/PA Images)
Aoife Barry
The remnants of my school education that still stay with me include rudimentary French and German phrases that came in handy when I needed to get to a train station or buy deux baguettes on holiday. But overall it was my English teacher Mr Dennehy's love of writing that has stuck with me. If it wasn't for his encouragement I'd likely be in a different career.
However, the ability to write non-stop for three hours during exam time was a skill that, in today's technologically-advanced world, I no longer really use. As for my in-depth knowledge of coastal erosion, sadly I've never been called on to speak about this beyond the classroom.
Christina Finn
What I have learned since school and actually used would be my understanding of the how the Dáil and Seanad work. I think this was taught to us one day in CSPE class. Active citizenship and using your vote, always a great thing to teach the kids young.
What I learned and have not since used is probably some of the things from my Classical Studies class. While I loved learning all about Ancient Greece and Rome (it beat Irish class anyway) I probably have never needed to know that a tepidarium is a warm bathroom in the Roman baths or that a strigil was used to scrap olive oil off athletes at the Olympics in Ancient Greece – interesting facts though all the same.
Susan Daly
Aside from the obvious – emerging with the basic reading, writing, numerical skills in place – the minutiae of the other subjects haven't really stayed with me. I have no idea how I managed an honour in French – I could barely say boo to the maman de la maison when I went to au pair in France two years later and gained more fluency in the language in two months there than in five years of the senior-cycle French curriculum here.
I do think subjects that helped me understand how the world works, or how it got to be in the state it is – Geography, History, Biology – gave me a good basis for journalism. The thing that changed me most? Being thrown from a small rural primary school into a year with 150 students was a sink-or-swim lesson in social skills and balancing the books with… er… boys.