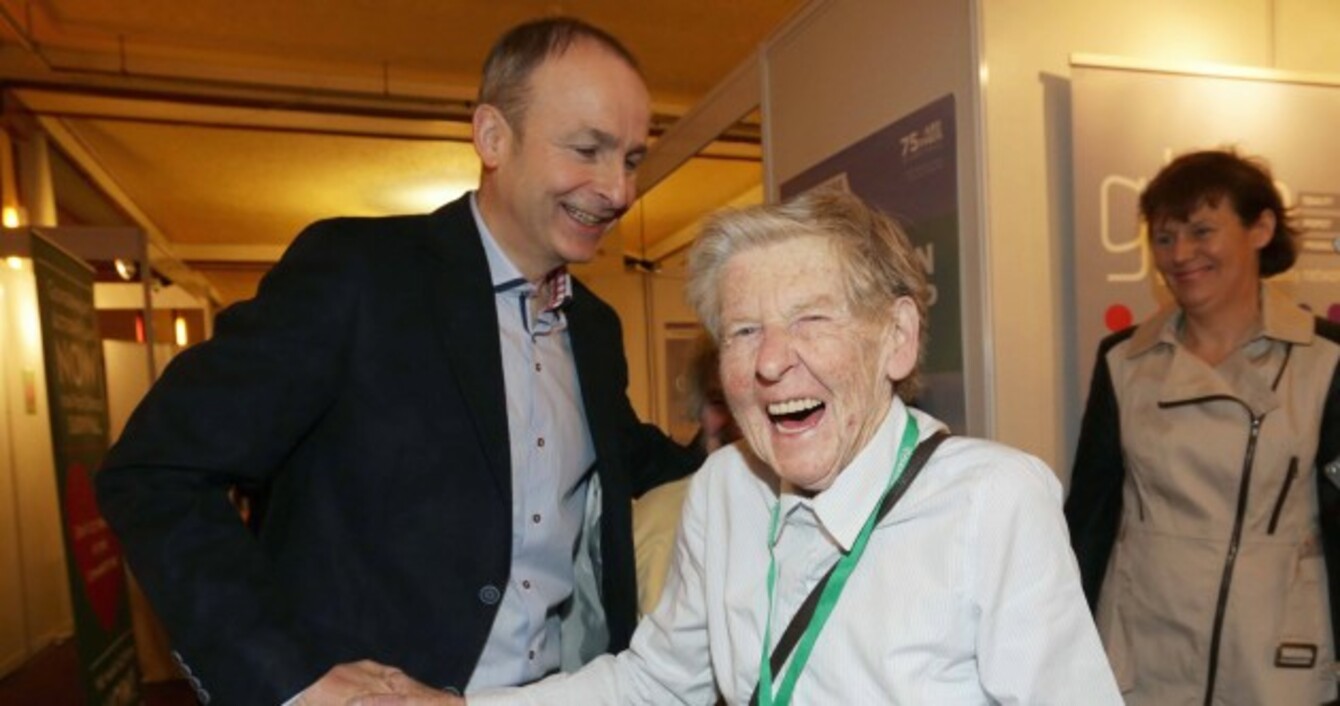 Micheál Martin shares a joke with a delegate at the Fianna Fáil Ard Fheis this weekend
Image: Laura Hutton/Photocall Ireland
Micheál Martin shares a joke with a delegate at the Fianna Fáil Ard Fheis this weekend
Image: Laura Hutton/Photocall Ireland
THOUSANDS OF FIANNA Fáil members descended on the INEC in Killarney this weekend for the party's 75th Ard Fheis.
With the local and European elections just weeks away this was about rallying the troops for the battle ahead as the party looks to recover from its near-fatal collapse in the 2011 general election.
Plenty of local and European election candidates were on show with the party keen to demonstrate that it has young, fresh and female faces ahead of the 23 May vote.
We spent two days with Fianna Fáil so you didn't have to and here's what we learned…
1. The big story wasn't in Killarney
Were it not so serious for the coalition itself, a cynic would argue that Fine Gael and Labour purposely chose this weekend to have a bit of a row about the garda commissioner/whistleblower controversy. As a result it has dominated the domestic news agenda.
Of course a Cabinet split is probably good for the opposition parties on the long run, but it distracts from Fianna Fáil talking about its ideas and policies and forced Martin to spend quite a bit of time answering questions about the controversy during his media appearances this weekend.
2. The party of law and order?

"Let's be clear here, no party comes close to matching Fianna Fáil in its commitment to An Garda Siochána," Martin told delegates on Friday night. The party leader has used the controversies surrounding the gardaí and its watchdog to attack Alan Shatter in recent weeks to some political gain.
But at this gathering Martin deflected questions on the future of Martin Callinan refusing to call for his resignation and clearly aware that calling for his head may not be the right move. Fianna Fáil can only go so far in criticising the gardaí, it would seem.
3. The party's age profile is vastly different to others
"We have had an infusion of young blood into Fianna Fáil," finance spokesperson Micheal McGrath told RTÉ earlier. You could argue another 'infusion' is badly needed. One could not escape the number of grey-haired and elderly delegates in attendance at the INEC in Killarney this weekend.
That's not being ageist, simply an assessment that the party seems to have more older than younger members when compared to the other main parties. Despite the presence of large numbers of Ógra Fianna Fáil, the average age of attendees probably didn't drop below 55. More young blood is needed for the party to move forward.
4. Micheál Martin got into an unnecessary row…
Last night, the party leader alleged that Phil Hogan had gerrymandered the redrawing of the local election boundaries with the way he set out the Boundary Commission's terms of reference. Never one to duck a row, Hogan hit back saying Martin should apologise to the members of the independent commission.
Martin did not row back on his earlier comments when asked about the controversy today, insisting he was talking about Hogan's terms of reference, and not the independent members of the commission. But it was all a bit unnecessary.
5. … and everyone hates Phil Hogan
Speaking of Big Phil, he has and continues to be the favourite punching bag for the opposition parties. As well as the property tax, water charges and the aforementioned row, the minister himself was bashed by ordinary delegates.
Gorey councillor Malcolm Byrne said that appointing Hogan as European Commissioner, as is widely expected, is "like appointing Nidge from Love/Hate as the next Garda Commissioner". One reason why the opposition might want that plum EU job to go to someone else is so they can continue bashing Hogan here at home.
6. Fianna Fáil still has a women problem
Claire O'Driscoll, a candidate in Ashbourne, and her seven-week-old son Ferdia Barry at the Ard Fheis. Pic: Laura Hutton/Photocall Ireland
If you want to vote for a minority candidate you won't get any more minority than a female candidate for Fianna Fáil – the words of the party's MEP candidate in Dublin, Mary Fitzpatrick. She's being brutally honest about a problem that is as relevant now as it was three years ago when the party failed to get any female TDs elected.
The optics this weekend weren't great either. Several women who attended an event on gender equality bemoaned the fact that it was held in a room on the fifth floor of the INEC complex – very much on the fringes.
Fianna Fáil is still lagging behind on gender quota targets – 30 per cent of their total must be female at the 2016 general election – and this needs to be addressed. One senior party source lamented that while plenty of women are working behind the scenes, few of them are willing to put their name forward on the ballot paper. That's a problem Fianna Fáil simply has to overcome if it is to have any hope of returning to power.
7. Selfies are now obligatory at party gatherings…
You know that a new trend is getting out of hand when politicians are all over it and the selfie craze is one thing TDs and Senators are getting into big time. Here's Robert Troy trying an Oscar-style picture earlier today:
And here's Micheál Martin holding up some jam made by the Dingle food company Blúiríní Blasta. We're told that the party leader was insistent on it being a selfie rather than waiting for a photographer:
8. … so it's a good job that a bonkers social media motion was voted down
One motion debated today proposed legislating to give government autonomy to shut down a social media site in circumstances where it was found to have led to the death of a citizen. Impracticable, unenforceable and easily voted down by a handful of delegates who gathered on the fringes of the Ard Fheis. One delegate, who was particularly passionate about opposing it, remarked: "We got the room tightly whipped!"
9. Members love John McGuinness – but do his Dáil colleagues?
The Public Accounts Committee chairman has had an uneasy relationship with his party over the years, but the grassroots love him. His speech earlier this evening was supposed to be about SMEs but covered everything from the garda whistleblowers to Enda Kenny's bizarre request to business people in America to 'call me'.
McGuinness drifted into his work on the PAC, saying what he had seen there had shown that "your taxes are being wasted every single week". The delegates gave him a standing ovation. But the reception remains lukewarm at best within the parliamentary party.
Pics: Twitter and Laura Hutton/Photocall Ireland