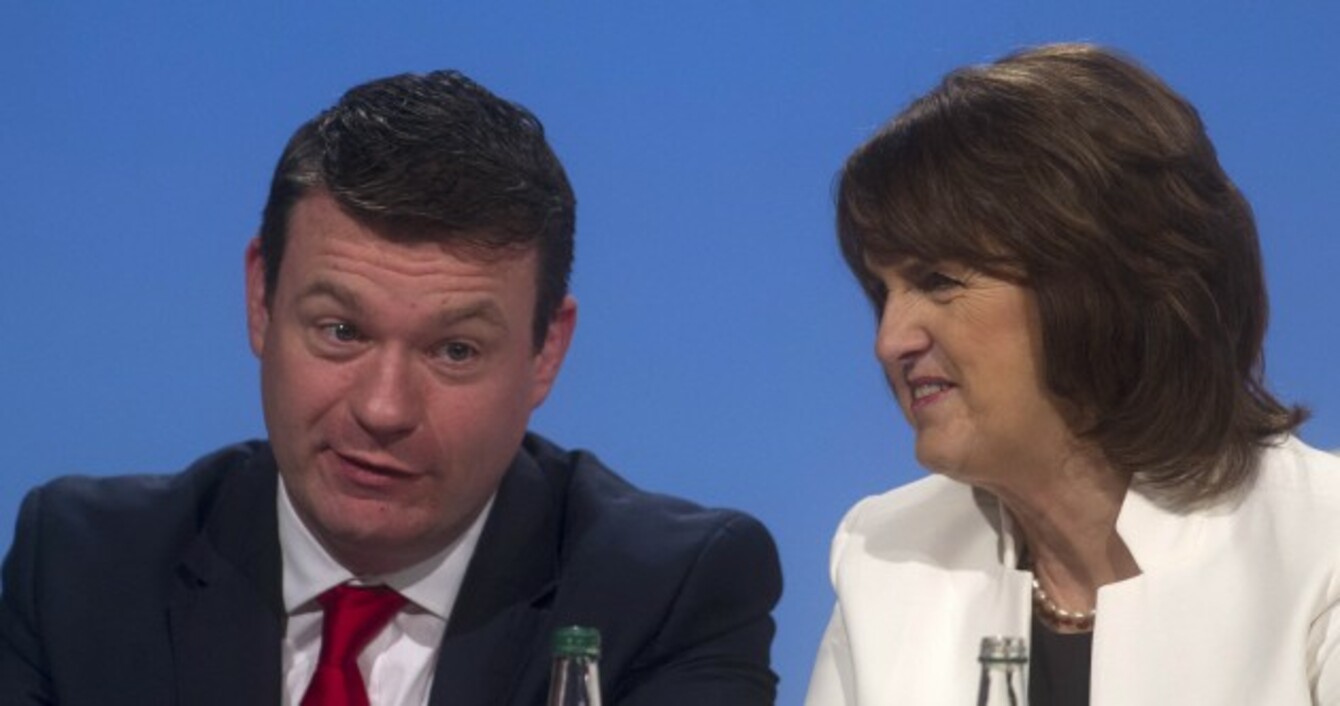 Alan Kelly and Joan Burton at the Labour conference this weekend
Image: Sam Boal/Photocall Ireland
Alan Kelly and Joan Burton at the Labour conference this weekend
Image: Sam Boal/Photocall Ireland
Updated 11.50am
THE LABOUR PARTY gathered for its annual conference in Killarney this weekend with plenty to discuss as the general election draws ever closer.
At 7 per cent in the opinion polls, Labour faces an uphill task to convince voters that it is worth returning to government with Fine Gael in just over a year's time.
In debates on dozens of motions, as well as several enlightening fringe events, members and ministers made the case that Labour has done a good job in government (Although that's not hard when you're preaching to the converted).
In the most notable development of the weekend, delegates backed a motion on the proposed sale of Aer Lingus that seeks guarantees on employment at the airline if the government sells its 25 per cent stake.
Here's what we learned over the course of Friday, Saturday and Sunday as Labour returned to the INEC for the second time in two years…
1. The Alan Kelly Show
https://vine.co/v/O2PvJFthDad
Joan Burton is the Labour party leader, but delegates were really loving her deputy this weekend. Alan Kelly has made no secret of his desire to lead the party that is "in my DNA" one day. This weekend he timed a number of newsworthy announcements as well as having plenty of tough talk for water protesters and the opposition.
His biggest announcement was a pitch to solve the rental crisis by introducing 'rent certainty' – as distinct from 'rent control'. How all this works is a bit unclear, but it involves "a framework" – a word Kelly used repeatedly during a media doorstep on the fringes of the conference.
So with all this good news about Alan, would he challenge Joan's leadership if Labour's poll numbers don't improve? We just had to ask:
Source: hughoconnellthejournal.ie/SoundCloud
2. Labour Youth's Way
There was a significant victory for young Labour members on Friday evening when they were able to secure the passage of a motion calling on the government to reverse cuts to the dole for under 26s.
This was a measure introduced in Budget 2014 and it has been widely criticised. Junior minister Kevin Humphreys wanted to kick the matter into an internal departmental working group but the young Labour members got their way:
3. Siptu is still on board with Labour
Sinn Féin has made no secret of its desire to align itself with the big trade unions ahead of the next election. Speaking on Saturday with Claire Byrne this afternoon, Siptu president Jack O'Connor said the union "is doing business with Sinn Féin all the time".
While that might worry some in Labour, he added that he didn't see his union aligning itself with Gerry Adams's party in the lead up to the next election. O'Connor has at times been a vocal critic of Labour in government. But he admitted this weekend that there are limits to what the party can do with it being one-third of the coalition.
4. A third of the government and all of the blame
Speaking of which, it's a frequent Labour complaint that while it's only a third of the government it's getting all the blame, or at least a disproportionate amount, for the harsh impact of austerity.
Labour ministers and others frequently make the case that they are having more of an influence than the party could expect with its number of TDs and that's true to some extent, particularly on social issues.
https://vine.co/v/O2x5LAqrOKP
But the reality is that voters don't spend much time digging into Dáil numbers. This is a Fine Gael/Labour coalition just as the last one was Fianna Fáil/Green Party and we all saw how unforgiving voters were to the Greens in 2011.
Addressing this issue of proportionality and making voters understand that Labour could only have so much influence over the last four years won't be easy over the next 14 months.
5. A second term is not the be-all and end-all
Speaking to delegates on Friday night, Joan Burton made an interesting point about returning to government not being the only ambition for Labour at the next election.
"Our task is not to win a second term alone. It's to have sufficient strength to make our presence felt just as we have done and are doing in this government," she said.
Put simply, Labour will be quite prepared to go into opposition if it doesn't return with sufficient numbers to have a reasonable influence on government. Or as junior minister Aodhán Ó Ríordáin told Claire Byrne on RTÉ on Saturday afternoon: "I've no interest in being a tenth of a government."
6. Discrediting Sinn Féin
It's no surprise that Labour is looking to discredit Sinn Féin at every opportunity. The party is fully aware that Gerry Adams and co have eaten into a sizeable amount of the support it got at the last general election and it's appealing to voters who feel utterly let down by Labour.
Over the weekend, ministers, including Brendan Howlin and Alan Kelly, sought to portray SF as a fundamentally populist party and not one that is actually left wing or socially democratic.
#Open journalism No news is bad news Support The Journal

Your contributions will help us continue to deliver the stories that are important to you

Support us now
It's also undeniable that there was an element of political point-scoring in giving Mairia Cahill, the victim of abuse at the hands of the Republican movement and vocal Sinn Féin critic, the James Larkin Thirst for Justice Award on Saturday night.
https://vine.co/v/O2QxHHg9FAw
7. Progress on abortion
It was no great surprise that Labour passed a motion calling on the party to campaign for repeal of the 8th Amendment at the next election. But it was interesting that the Labour Women group had wanted a much stronger motion put to conference. It would've mandated Labour to ensure a provision to hold a referendum to repeal 8th Amendment was included in ANY programme for government it negotiates next time out.
https://vine.co/v/O2pUHIjAgH7
8. Trouble for Jan
It's not been a good conference for the Education Minister Jan O'Sullivan who was forced to deal with the impending clash with secondary teachers over junior cycle reforms she is now determined to implement.
Unfortunately, the minister appeared to have no real response to the question as to what sanctions teachers will face if they don't comply with the reforms.
9. The big protest never materialised
As was the case in Castlebar last weekend, the thousands of anti-water charge protesters did not materialise in Killarney. A few hundred largely good-natured demonstrators arrived outside a rain-soaked INEC to have a good chant and a go at Labour.
The lack of protesters at both government parties' conferences over the last fortnight is not indicative of the anger over water and other issues having subsided completely and the turnout would have been a lot higher had these conferences taken place last November.
10. Dealing with the Aer Lingus question
On Sunday morning, Labour overwhelmingly backed a motion put forward by backbench TDs looking for more guarantees around the proposed sale of Aer Lingus to IAG. The topic had been the subject of much debate in Labour circles in recent weeks and in the end a significantly strengthened proposal was put to delegates. It demands a legally enforceable recognised employment agreement (REA) for Aer Lingus staff, which would protect them from any redundancies and outsourcing of jobs. While the motion is now party policy it is not binding on the government as a whole.
Follow @TJ_ Politics and @oconnellhugh for updates from Killarney.