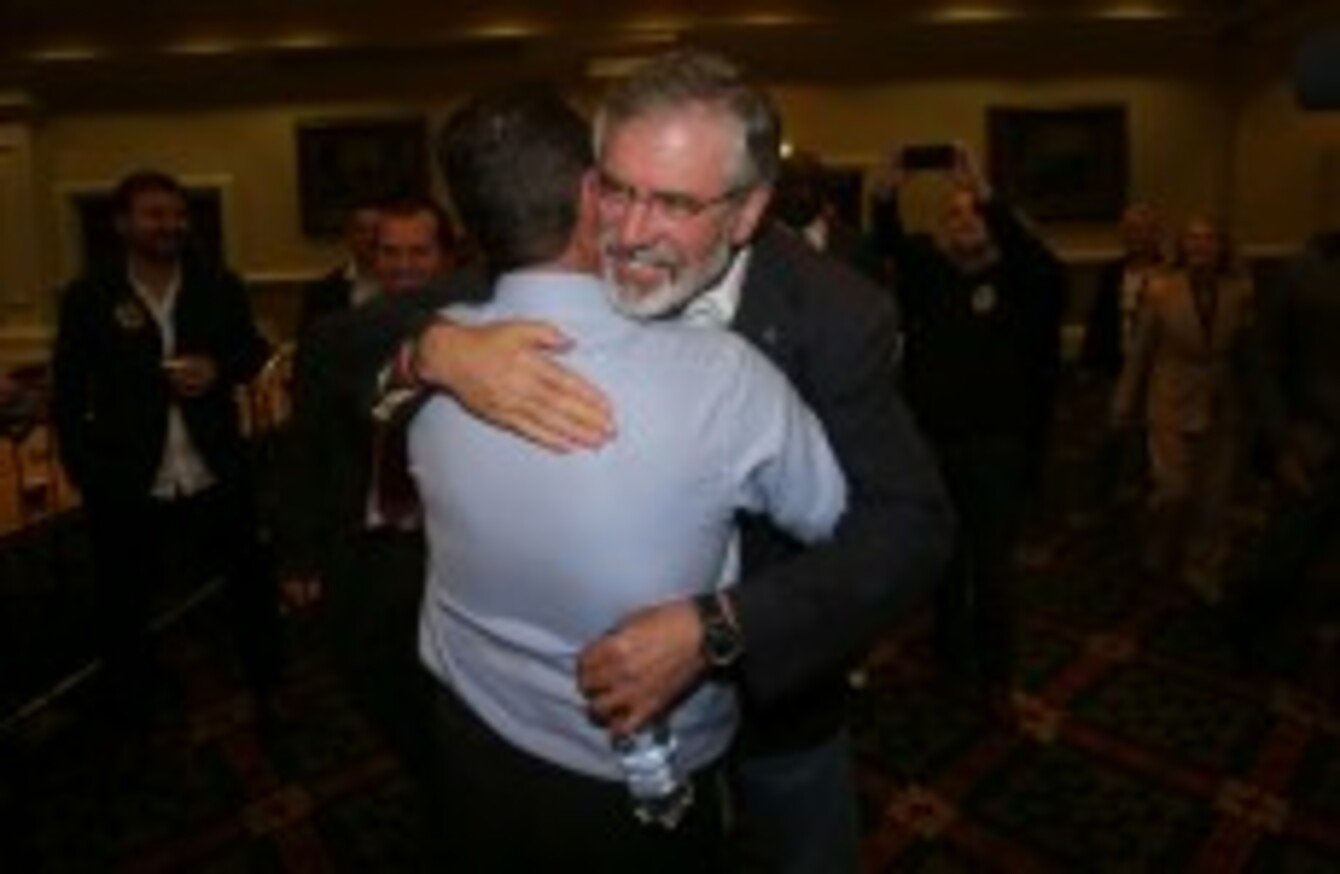 It's been a good election for Gerry Adams and Sinn Féin
Image: Niall Carson/PA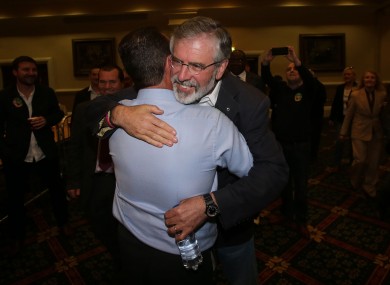 It's been a good election for Gerry Adams and Sinn Féin
Image: Niall Carson/PA
IT'S BEEN A "shellacking" for the government and particularly Labour while there's been a significant rise in support for Sinn Féin and independents.
Fianna Fáil is now set to be the biggest party in local government – a remarkable turnaround – and the left-vote is strong across the country.
All over the country, the people have had their say in the local and European elections and the political parties and independents will now be assessing what it all means as we still await the definitive outcome of the European elections.
But what did we learn from the election of hundreds of councillors, out of over 2,000 candidates, to 31 local authorities? Here's our take…
1. The government is being forced into action – but what action? 
As we wrote earlier, there are very few if any options available to the government that will boost its support given the extent of voter anger expressed at the ballot box this weekend. There is now an expectation that the Cabinet reshuffle will happen next month, possibly as soon as this coming week with big changes in the offing. But does that pacify the voters in any meaningful way? Probably not.
Labour is now pushing for a renewal or even a renegotiation of the programme for government, something which Fine Gael doesn't appear particularly keen on. The junior coalition party must now deal with its own internal issues including a possible leadership heave, but that's unlikely to have much impact on its popularity with voters.
2. The electorate has swung left – but doesn't think Labour is on the left
It's somewhat ironic that a large swing to the left has been of no benefit whatsoever to the Labour Party. The junior coalition partner has suffered what Joan Burton called a "shellacking" yesterday with its local authority numbers taking a huge hit and the party set to return zero MEPs.
The seemingly inevitable electoral bloodbath for Labour transpired and has raised wider questions for the party but one thing is for sure: many people who opted for a left alternative weren't voting for the traditional party of the left.
3. Sinn Féin couldn't run enough candidates in some areas 
It's been a seriously good election for Sinn Féin but sources were briefing on Friday that it did not have the organisation to match the other parties and so it proved in some areas. In Clondalkin for example the party had enough of a quota to take three seats, but it only ran two candidates – Eoin Ó Broin and teenager Jonathan Graham.
The challenge now facing the party is to put that organisation in place ahead of the general election to capitalise on its growing popularity in addition to showing that it can govern as it looks to hold the balance of power on many councils across the country most notably in Dublin where it is the biggest party.
4. While Fine Gael ran too many in some areas 
Fine Gael figures acknowledged today that the party ran too many candidates in some parts of the country particularly in the capital and areas like Rathgar-Rathmines and Pembroke South Dock. In Ballymun, Noel Rock was elected for the first time, but that came at the expense of former lord mayor Gerry Breen and Professor Bill Tormey, both sitting councillors who lost their seats.
It's worth remembering that candidates were largely selected months ago before the party's decline in the opinion polls with the various controversies that have engulfed government in recent months. The party had optimistically aimed to get some 350 candidates elected but it will fall well short of that.
5. Fianna Fáil is recovering nationwide, including in Dublin 
The party may not take the European seat, but the Battle of Blackrock did not become the Bloodbath of Blackrock as both Kate Feeney AND Mary Hanafin took council seats. The party was less successful elsewhere in the capital but it is the beginnings of a recovery with an increase in seats on Dublin City Council including the newly-elected Frank Kennedy:
This was indicative of a much better performance from Fianna Fáil in the capital which was mirrored in other parts of the country like in Cork where it is now the largest party on the city council. In all likelihood Fianna Fáil will be the largest party in local government – a remarkable turnaround from its 2011 position.
6. The Greens are on the way back
The Green Party is on the way back after its wipeout in 2011. The party has enjoyed some considerable success in Dublin not least in Rathgar-Rathmines where Patrick Costello took a seat and polled strongly. Meanwhile, on the other side of the city in Mulhuddart the decade of work put in by Roderic O'Gorman paid off as he won a seat on Fingal County Council.
Vine: The Green Party's Claire Byrne was elected onto Dublin City Council along with Fine Gael's Kieran Binchy and Paddy McCartan: 
https://vine.co/v/MwtW2271KH2
7. Independents must seize the moment 
This election has seen a huge endorsement of independent voices at a local government level with overall numbers set to double to around 200 or so. People who are tired of the same old party structure have voted for people they feel best articulate their beliefs
The challenge now for independents is to work effectively at local government and prove doubters wrong. Experience in the Dáil has shown that those who cooperate with each other stand the best chance of success. There's no use being a protest councillor who says 'no' to everything.
8. Being part of the last government is no barrier to recovery
https://vine.co/v/MwrdmAB3QDa
As well as the aforementioned Hanafin restarting her political career with election to Dún Laoghaire-Rathdown County Council, it was intriguing to see former Green TD Paul Gogarty elected, albeit as an independent, onto South Dublin County Council.
Former Fianna Fáil junior minister Seán Haughey has also won a seat in Dublin proving that associations with one of the most controversial governments in the history of the State is no barrier to restarting your political career three years on.
9. Apathy may have been the biggest winner
"If only Irish people were as enthusiastic about voting as they are about watching the results," remarked one retiring councillor to us today. Wise words given that around half of voters didn't even bother voting in this election.
Perhaps that's the biggest lesson in all of this. Turnout is always lower in mid-term elections but this was lower than in 2009.  Of the many talking heads we've heard over the past weekend, very few have touched on the turnout except for Charlie Flanagan, the Children's Minister, who said: "I do believe we've got to look at the other 50 per cent of those that didn't vote at all. There's something of a disconnect in Irish politics."
He's right.