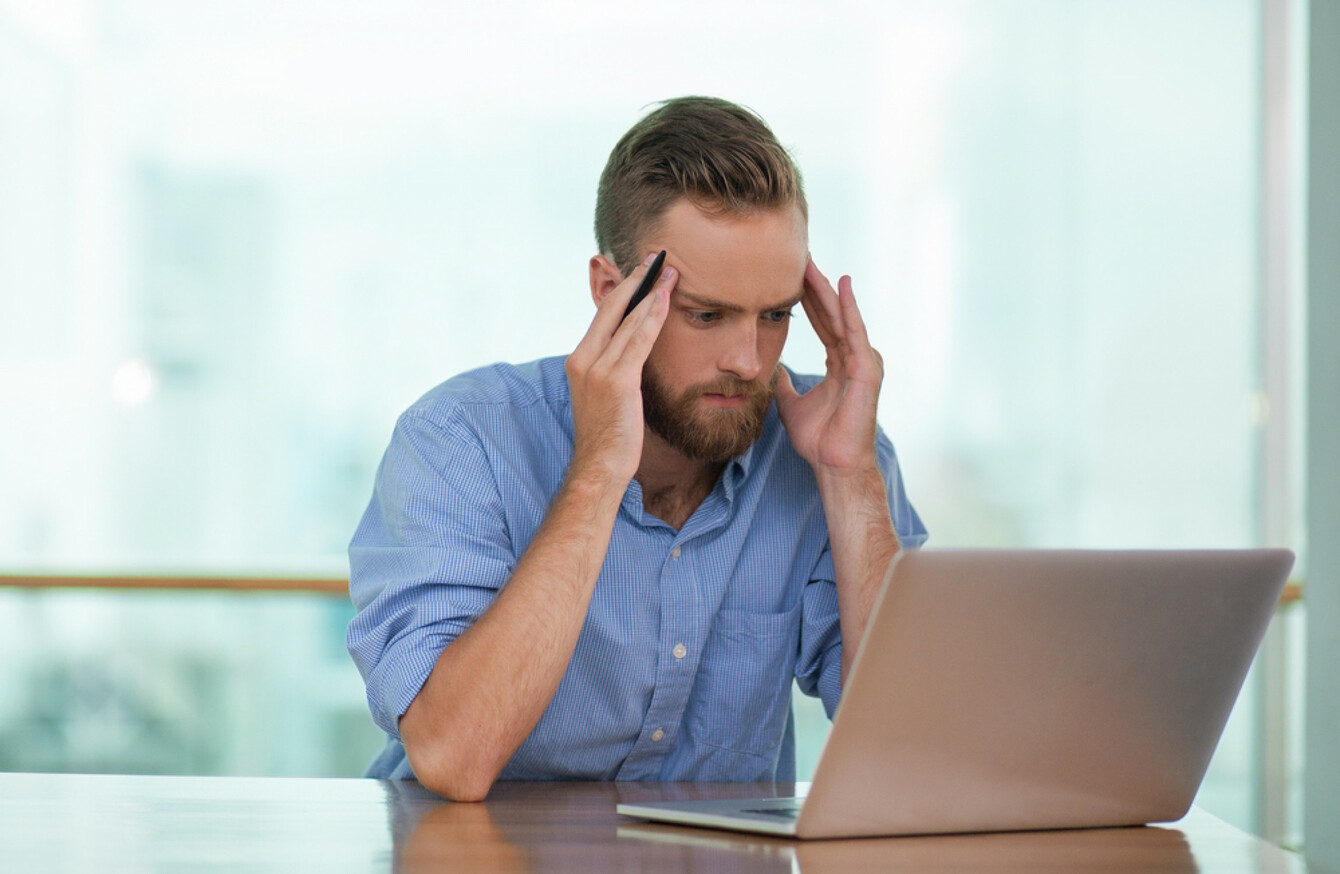 This man has posted something regrettable on his LinkedIn profile.
Image: Shutterstock/Mangostar
This man has posted something regrettable on his LinkedIn profile.
Image: Shutterstock/Mangostar
YOU'VE HAD YOUR break, you've consulted with family and friends over mulled wine and decided that 2018 will be your year. You're gung-ho; you're ready to go. Step one: land a new job.
We know how it can be job-hunting in January. While the unemployment rate is falling steadily – it's currently at 6.1 per cent according to the CSO – the cost of living in Ireland is also disproportionate to the average weekly wage (just under €560 for people under 50 in the third quarter of 2017, in case you were wondering). So, obviously, money is a huge consideration when job-hunting. And that's before we even delve into job satisfaction and opportunities to progress.
Whatever your reasons for wanting to switch it up this year, one thing you'll probably be considering is your LinkedIn profile. You'll find lots of tips online about how to build a great profile, so we won't get too deep into that.
Instead, we've looked at some of the absolute no-nos when it comes to LinkedIn… and some helpful alternatives too.
1. Don't leave your LinkedIn to stagnate
If you're updating your CV and cover letter, your Linked In profile needs the same attention. Gary Mullan, MD at Prosperity recruitment, has this advice for making sure your profile is in tip-top shape:
Make the most of your profile title and job title. Add a summary detailing your latest achievements. Make sure you quantify your responsibilities with results and metrics. List your skills and help recruiters to locate you. Are you using the keywords we would use to find you? Ask for recommendations and endorse your contacts. Create a customized LinkedIn URL for your signature – and if you send your CV for a certain role, make sure your Linkedin profile matches it.
2. Don't use a picture of you and your mates on the lash or family holiday snaps
Seems obvious, but you'd be surprised. Linked In is an extension of your CV and it's online for all to see. Use a professional-looking headshot. It doesn't need to be professionally-taken, but it should be a clear, in-focus head and shoulders picture. Tip: changing images to black and white or sepia can work wonders!
3. Don't publish a vague 'looking for a job' post
I've seen this happen on professional Facebook networking groups too, which are slightly less formal in nature but still put a message out there for all your industry to see. As someone who is often on the look-out for potential employees, I would rarely respond to someone who had either posted or InMailed me to say 'Hey! On the lookout for a job in media!'
Put your best foot forward. Instead, look at companies you like the look of, or who you know are recruiting. Do your research and request to connect with the person who does their hiring or the CEO/manager of the company (I'm more of a fan of this route, but bear in mind that it's usually more effective with small to medium sized companies).
Pay them a compliment! Show that you're a fan of what they do and that you'd like to be a part of it. Give reasons as to why you think you'd be a good fit. They may not be hiring there and then, but LinkedIn is a professional social network; it's about building connections that may be mutually beneficial either right now, or in the future. Either way, it's more personal than emailing a CV cold. And, ahem, you can see when people have read your messages.
4. Don't rely solely on LinkedIn for your job search
If you are finding it difficult to narrow down exactly what area you want to move into, or what role might suit your skills, there are some great services out there that will help you narrow this down.
#Open journalism No news is bad news Support The Journal

Your contributions will help us continue to deliver the stories that are important to you

Support us now
Recruitment companies that focus on specific industries are worth contacting too. "For a career in the arts, like acting or painting, Linked In is not that relevant," says Gary. "Casting agents would tend to use other platforms when advertising a job." Gary's company Prosperity focuses on jobs in Digital Marketing, Design and Tech.
5. Don't bash people or companies
"You never know when you might need them!" says Gary. We all get exercised about things when they relate to our business and may have strong opinions. If you're a professional, no form of social media is an appropriate place to air grievences, particularly LinkedIn.
"Humour really works, just remember to keep your posts balanced," he says.