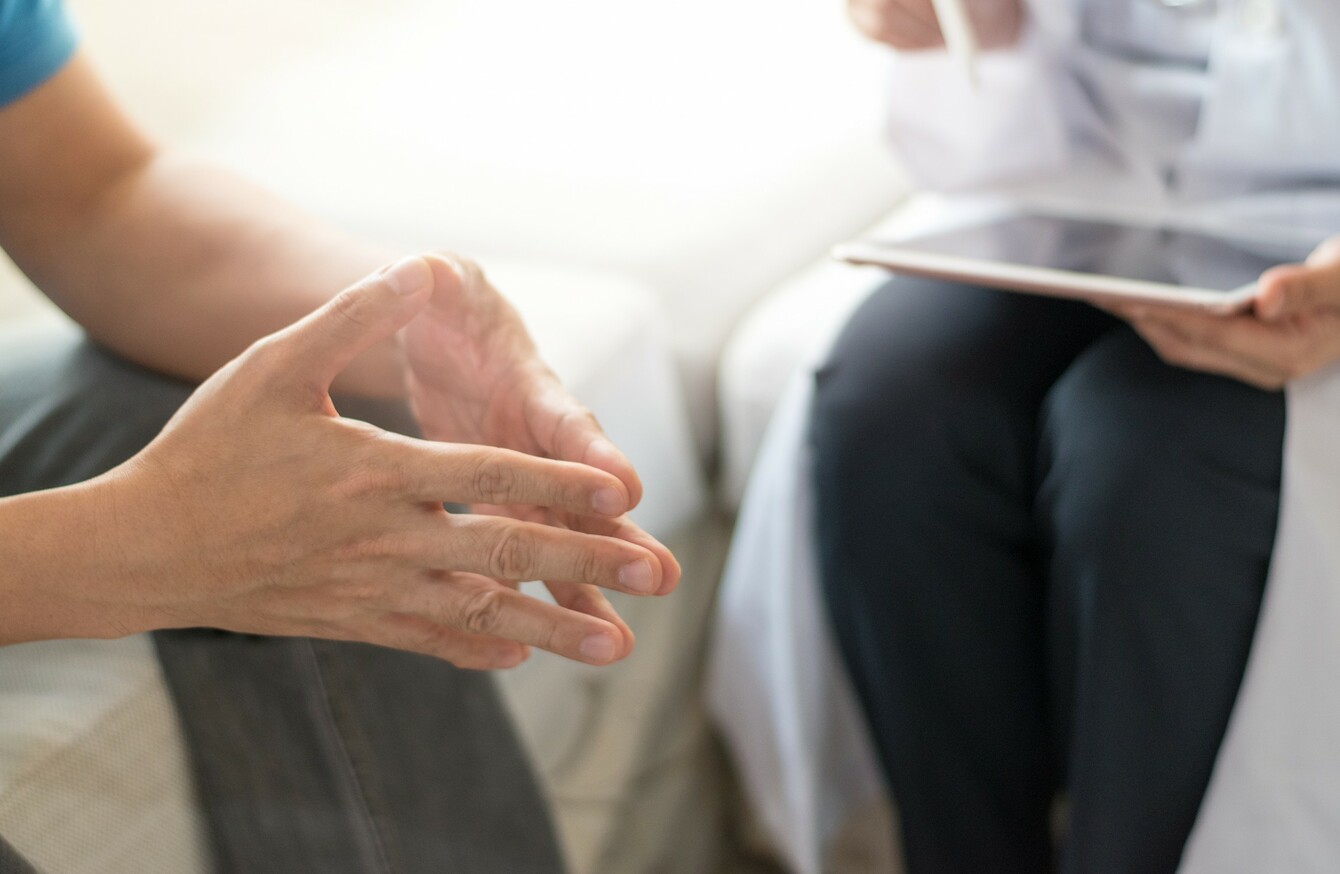 Image: Shutterstock/BlurryMe
Image: Shutterstock/BlurryMe
"SOMETIMES PEOPLE LOOK at their problems and think, 'Oh that's nothing.' But if it's bothering you, then don't minimise it," says Bernie Hackett, a counsellor and chair of the Irish Association of Counselling and Psychotherapy. "Go and talk to someone and put your mind at rest."
Speaking openly about what is going on for us, and sharing our worries with others, is a vital part of mental wellbeing. And over the last year, that communication has become more vital than ever.
One in five Irish people has experienced increased levels of psychological distress, like anxiety or depression, as a result of the Covid-19 pandemic and its restrictions, according to figures cited in the Irish Medical Journal. 
Feelings of loneliness among the Irish public rose last year, too, according to the CSO, who compared data from 2020, 2018 and 2013.
Putting your concerns out in the open is often the first step to easing them, and speaking to a professional like a therapist can be a great place to start. But how does the process of therapy work, and how do I go about finding one? Bernie answers some of the bigger questions you might have…
1. How do I know if I need to see a therapist?
Everyone's reasons will be different, says Bernie, but there's often a trigger. "It might be something that has just happened, like a job loss. It might be a memory of something that happened a long time ago that is impacting on your life right now. Or it might just be a feeling of being overwhelmed or of not coping."
A typical concern among people considering therapy can be that their problems aren't 'big enough' or 'upsetting enough' to talk about. But, in Bernie's view, anything that is worrying you or concerning you is worth talking over:
A big part of our role as therapists is to help people make sense of what they are going through and why they are feeling the way they are.
2. Can't I just chat to my friends and family instead?
Friends, partners and family members are a vital element in any support network, but sometimes it can be hard to communicate honestly to those closest to us. "We want to protect our loved ones, that's natural, so we may hold back to avoid worrying them or upsetting them," says Bernie.
That's where a therapist can prove invaluable. As Bernie puts it, each session with a therapist is "a safe space" where clients can share what is going on for them, express how they are feeling, and be heard, without being judged.
3. How do I go about finding a therapist, anyway?
There are thousands of counsellors and psychotherapists around Ireland, so how do I choose one that fits my needs? First, says Bernie, have a think about what you are looking for. You may wish to speak to someone who specialises in a certain area, like grief counselling, or you may be looking for a more general approach. An online directory can be helpful here:
"When you visit the IACP's online directory, you'll enter your location and the kind of counselling you are looking for, and you'll get a list of IACP-accredited therapists based on that. From there you can view each person's bio, contact them by phone or email, and set up a first appointment if you wish."
4. What happens at the first session – and what if we just don't click?
Although the therapy journey will be led by you as the client, there are some things you can expect to happen at your first session, whether it's over the phone, by video call or in person.
First, the therapist will run through the limits of confidentiality with you, and will ask you to confirm you understand those limits. They may also ask you some general questions about the issues you'd like to talk through. The first couple of sessions are also a chance for you to figure out if this person is a good fit for your needs, says Bernie:
Therapy is a collaboration, and having a good connection really underpins the effectiveness of each session. You want to feel that this is someone you can talk to and that you feel comfortable around.
5. What if I can't think of anything to talk about?
This is a common worry, but it's important to trust yourself, and your therapist's skills, says Bernie.
"There's no agenda in a therapy session, and you bring whatever it is that you want to bring. The therapist is there with a skillset to help you open up a little bit more or to help you understand what you are feeling." It's a process of working together, she adds:
Sometimes a client will come in and say, 'I don't really have anything to talk about,' but something will still come up for them, or we may remind them of something that was discussed at the last session.
6. How many sessions will I need?
Again, this decision will be yours to make, though it's often made in collaboration with your therapist.
"After the first session, if a client is happy to come back, I might suggest that we work together for five or six sessions," says Bernie.
For someone who is looking to work through a specific issue, that length of time might be enough, while for others, it will be the beginning of a longer relationship. "It's all part of the journey of working together to resolve whatever is going on for you," says Bernie.
The Irish Association for Counselling and Psychotherapy is the largest industry body for therapists, with a directory of over 2,500 trained and accredited professionals nationwide. Find the right therapist for you by visiting iacp.ie.

As part of its 40th anniversary celebrations, the IACP brings you Essential Conversations with IACP, a new virtual conference connecting mental health and wellbeing professionals. This free conference will be MCd by Blindboy, with guests like Síle Seoige and Colman Noctor. Join the conversation on Fri May 14 at 10am. Register for free here.