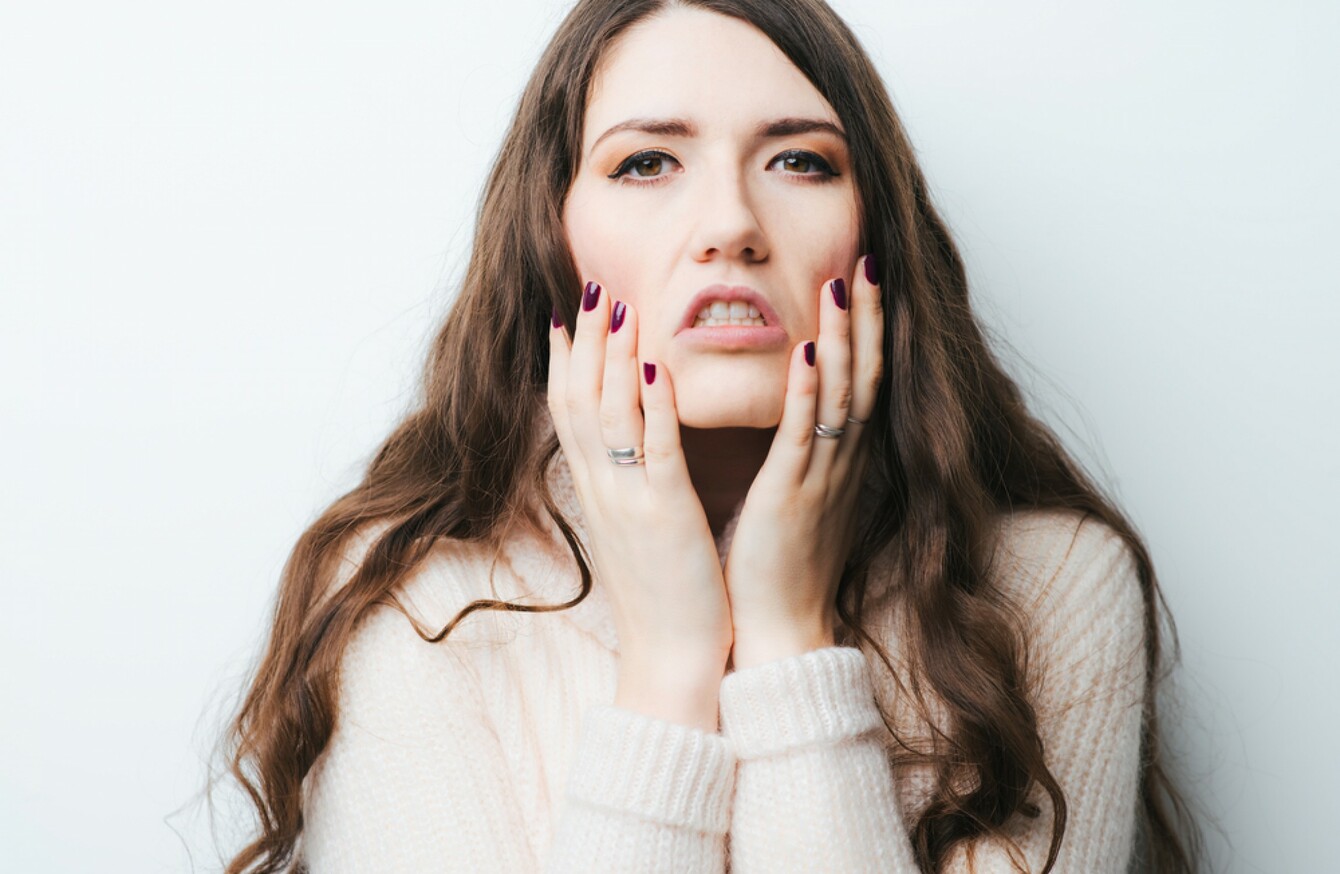 Image: Shutterstock/file404
Image: Shutterstock/file404
DO YOU OFTEN FIND yourself throwing on a host of creams and concealers to hide any problem skin you encounter in the morning?
Seemingly common facial skin problems like dry skin and or sudden breakouts can sometimes indicate a vitamin or mineral that may be lacking in your diet, harsh products that you're using or plummeting temperatures.
So what exactly can issues on your face signal about the nutrients your skin could be missing or the environmental factors you may be subjecting it to?
Problem 1: Dry skin
Dry skin on your face can be often be caused by a number of environmental factors such as cold and dry temperatures, central heating, fireplaces taking long hot showers or baths and exposure to heavily chlorinated pools. It can also be caused by caffeine.
If you find it's become regular thing, it might be worth having a closer look at the products you use.
According to The Mayo Clinic, many popular soaps, detergents and shampoos strip moisture from your skin as they're formulated to remove oil so be extra careful if these are getting near your face.
Severely dry skin on your face can also indicate low levels of vitamin A, according to Livestrong. Similarly, dry skin around your mouth can often signal a vitamin B2 (riboflavin) deficiency.
Problem 2: Acne
Unexpected breakouts can sometimes be explained by a nutrient deficiency, according to Livestrong, who highlight that the condition has links to a lack of vitamin A, E, D and zinc.
In particular, severe acne has been linked to low levels of vitamin E and zinc, which can be found in nuts and seeds, seafood, beef and pork.
Similarly, diet can be worsened by dairy products and carbohydrate-rich foods, according to The Mayo Clinic, which also cites increases in hormones (such as the contraceptive pill) to trigger sebum production and enlarged sebaceous glands, leading to breakouts.
Problem 3: Darkness under eyes
According to doctor-run health information website Mercola, the skin under your eyes is only 0.5mm thick (as opposed to the usual 2-3mm thickness elsewhere), meaning that the blood vessels under your skin are more visible than they are elsewhere.
The layer beneath the outer layer of skin (the subcutaneous layer) only allows blue or violet light to pass through, meaning this area of skin reflects mainly blue light, making your veins appear blue.
But what about the bags? Dark, loose skin under your eyes could also be down to fatigue, when fluid may also gather beneath your eyes causing baggy eyelids, according to Livestrong, or it could be down to allergies or sinus congestion, or inherited.
Problem 4: Eye twitching
Eye twitching can be attributed to lack of sleep, smoking, or too much alcohol or caffeine according to The Mayo Clinic, and it can also indicate a lack of vitamin B12 or vitamin D.
Vitamin B12 deficiency can lead to shaky movements, muscle weakness and vision problems such as eye twitches, and symptoms can start to occur when vitamin B12 levels are just slightly lower than normal.
If it's vitamin D you're missing, the problem arises when calcium is less likely to be absorbed properly, which can lead to eye twitches because of the role calcium plays in muscle contraction.
Problem 5: Premature wrinkles
Although wrinkles are an inevitable part of life caused by skin getting thinner, drier and less elastic as you age, there are a multitude of ways to lessen the severity of them.
The number one way to do this? Throw out the cigarettes and protect your skin by using sunscreen everyday, even in winter, according to Men's Health.
It's also important that you moisturise at night as dry skin turns plump, healthy skin cells into shriveled ones, creating lines and wrinkles. It's also vital you look after your skin in your twenties and thirties before wrinkles set in.
Problem 6: Flushed face
Sudden facial redness happens when the sympathetic nervous system creates a series of involuntary physical changes, including widening the blood vessels to your face, increasing blood flow and producing increased redness in your face, according to the NHS.
Interestingly, this can be caused by emotion such as embarrassment, but also by alcohol, sudden hot or cold temperature, hot drinks, hot or spicy foods, fever or strenuous exercise.
However, it is a symptom that is also associated with rosacea, menopause, and in rare cases, mastocytosis, which is a skin disorder caused by higher than normal amounts of histamine releasing in your body.
Looking to give your skin a little more TLC? Discover more about Vichy's Idealia range here. Vichy Idealia can also be purchased in pharmacies around Ireland.