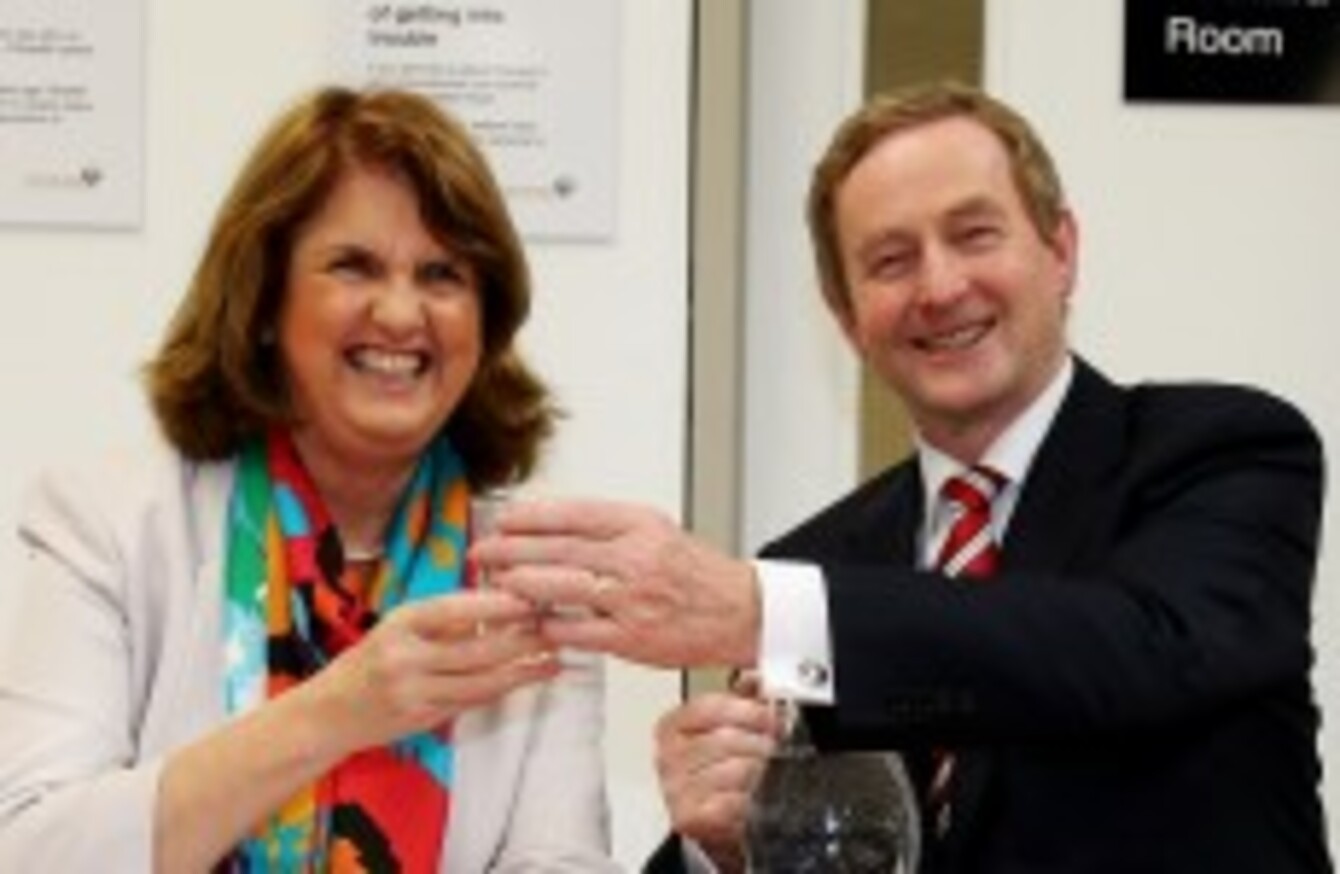 Joan Burton and Enda Kenny
Image: Brian Lawless/PA Archive/Press Association Images
Joan Burton and Enda Kenny
Image: Brian Lawless/PA Archive/Press Association Images
CABINET RESHUFFLES ARE often fraught with difficulties, particularly in a coalition where parties have to look out for their own best – and sometimes competing – interests.
With so many TDs harbouring ambitions of sitting at the top table, the fact there can only be 15 senior ministers means there are inevitably many more left unhappy than happy with the outcome of a reshuffle.
The weekend, and indeed the past few weeks and months, have been filled with speculation about which ministers are being dropped, which ones are being moved and which lucky few are being promoted.
The reality is that voters don't pay much attention to which ministers are in which posts unless it concerns their local representative. But that hasn't stopped the speculation across the media, or as the Taoiseach put it this morning: "I've seen at least 10 different Cabinets outlined."
To an extent we're operating in an information vacuum with little concrete information about what's actually going to happen when the new Cabinet is announced later this week. But here are a few pointers which should get you up to speed…
1. Some people are safe 
They're in short supply, but some ministers are safe in their current portfolios including the Taoiseach (obviously), Finance Minister Michael Noonan, Public Expenditure Minister Brendan Howlin, as well as Charlie Flanagan (Children) and Frances Fitzgerald (Justice) who are only new to their roles.
Tánaiste Joan Burton can stay in Social Protection if she wants, while there are others who will remain in Cabinet, but probably be moved to different departments including the trio of Fine Gael ministers Simon Coveney, Leo Varadkar and Richard Bruton.
2. Some are not so safe
For Labour, Ruairí Quinn (Education) jumped before he was pushed while no one expects Eamon Gilmore (Still the Foreign Affairs Minister) to remain in Cabinet nor does anyone think Pat Rabbitte (Communications) is particularly safe – not that he's taking much notice.
For Fine Gael, the most under threat is Arts Minister Jimmy Deenihan who seems destined to be demoted. Then, of course, there is Health Minister James Reilly who is widely tipped to be moved. It seems unlikely that as Fine Gael deputy leader he will be demoted from Cabinet that means a shift sideways to somewhere like Arts or Transport.
3. Alex White's has capital advantage… 
The junior health minister performed badly in the Labour leadership election, failing to even secure a quarter of the vote that was seen as necessary to secure him a Cabinet post. But what he does have in his favour is his Dublin South Dáil seat and the fact that if Quinn, Gilmore, and Rabbitte are all out, then Labour has only one Dublin minister at Cabinet (Joan Burton). Many in the party feel that White's Dublin roots mean he should sit at the top table given how important the capital is for the party.
4. … and geography matters 
The White situation is indicative of why geography matters in the make-up of a Cabinet and the Taoiseach is particularly cognisant of having a spread of ministers across the country. Equally, Burton will have to think about the need to satisfy areas such as Cork where Labour took a battering in the local elections. This bolsters the chances of junior ministers Seán Sherlock and Kathleen Lynch getting a promotion.
Nervous Fine Gael TDs in Dublin are worried that with the loss of Alan Shatter and prominent junior ministers Lucinda Creighton and Brian Hayes in the last year that the party needs more capital representation at senior government level. This is why the likes of Dublin Central TD Paschal Donohoe, currently junior Europe minister, is in with a shout of being promoted.
5. Both parties have women issues
They make up half the population but there are simply too few women sitting at the Cabinet table. Just two in fact. Or four when you include 'super junior' Jan O'Sullivan and AG Máire Whelan.
Kenny is thought to be keen to promote a woman but there is nobody to choose from at junior minister level which means it would be a radical move to pluck someone from the backbenches. The four most likely contenders if he does do this are Meath East's Regina Doherty, Cavan Monaghan's Heather Humphreys, Dún Laoghaire's Mary Mitchell-O'Connor and Cork North East's Aine Collins.
For Labour, Burton is also thought to be keen to promote a woman with Kathleen Lynch, the junior mental health minister, said to be the most likely to get the call. But don't rule out Jan O'Sullivan getting a bump up to full Cabinet level. Wild cards would be Carlow-Kilkenny's Ann Phelan, Waterford's Ciara Conway or even Senator Ivana Bacik who was the subject of much rumour and speculation last week.
6. Labour wants jobs, Fine Gael wants something in return
Labour has made it known that it wants the Department of Good News i.e. Jobs where Richard Bruton has been pitching up at some sexy new start-up doling out tens if not hundreds of jobs on a weekly basis for the past three years. Labour wants a bit of the action and is prepared to push for it, even to the extent that it will seek to add it as a sixth Cabinet position (it currently has five).
What will Fine Gael seek in return? Possibly the Department of Education. Although Labour will be loath to give it up, this is what is being suggested in some quarters. It also gives us an idea of the type of discussions and horse trading that will go on in the coming days.
7. There could be a reshuffle of departments 
Don't rule out a rejigging of some of government departments this week. With the departure of Alan Shatter in May, the Defence portfolio was rolled into the Taoiseach's department before being farmed out to junior defence minister Paul Kehoe. Kehoe, who is also the government chief whip and sits at Cabinet, could become a full minister but it's more likely he will remain Minister of State with day-to-day responsibility for the Department of Defence as is currently the case.
There is some suggestion that Equality could be taken out of the Department of Justice and could be rolled into the Department of Children. Another rumour is that the Department of Arts is rolled into Defence and becomes a sort of Ministry for 1916 commemorations for the remaining lifetime of the government. Also watch out for the possibility that Trade is taken from Department of Foreign Affairs and moved back into the Department of Jobs.
8. It's looking like Phil Hogan for European Commissioner
Labour has made a late and very public push to secure the European Commissioner job for outgoing Tánaiste Eamon Gilmore but Environment Minister Phil Hogan has had his eye on this role for years and the expectation now is that he will get it.
9. Which means there's a chance Reilly may stay at Health
With his enforcer Hogan gone to Europe and another close ally in Shatter now on the backbenches, the Taoiseach may need an ally at Cabinet level and one who is happy about it. James Reilly wants to stay in Health – it's the only reason he's in politics.
He insists he'll be happy to serve wherever he is put but don't rule out a surprise and Kenny keeping him where he is. It's something certain Fine Gael TDs with a close watching brief on health matters have whispered quietly in recent weeks.
But if he does go expect either Richard Bruton or Leo Varadkar to take over. Currently it's looking more like the former than the latter.