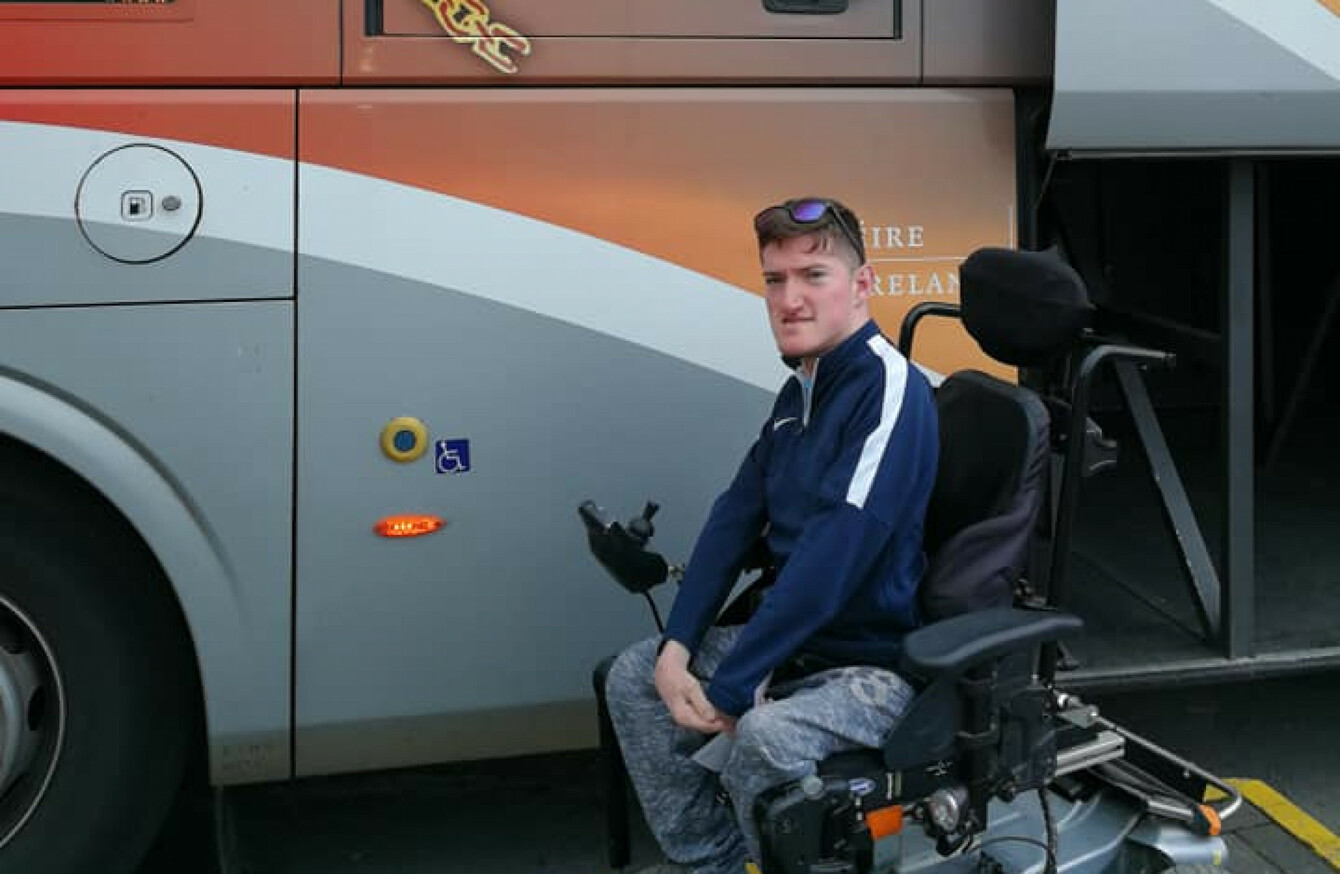 James Cawley works as a school teacher in Maynooth
Image: James Cawley Facebook
James Cawley works as a school teacher in Maynooth
Image: James Cawley Facebook
WHEELCHAIR USERS AROUND the country are unable to travel on 'accessible' Bus Éireann coaches due to restrictions regarding bus stops.
Currently, 86% of Bus Éireann's entire road passenger fleet of 680 vehicles is wheelchair accessible but their effectiveness is limited due to a lack of accessible bus stops.
A spokesperson for the National Transport Authority told TheJournal.ie that there are currently very few bus stops around the country that have the space to facilitate a wheelchair lift.
A minimum of three metres of space to the back of the footpath is required to facilitate a lift for a high-floor coach.
"The wheelchair arrangements for high-floor vehicles require a large area of an adjacent footpath to operate, typically between three metres and three-and-a-half metres in width. In many towns and villages, it is extremely challenging to achieve the necessary footpath width for the vehicle lift to function.
Solutions such as relocating the bus stop to an alternative location may be necessary, but this can give rise to additional problems in that the alternative stop location may not suit other users.
"In other cases land or property acquisition may be required to obtain the necessary space, potentially requiring the exercise of compulsory acquisition powers to acquire the relevant lands," a spokesperson said.
Booking System
Wheelchair user, James Cawley was recently denied travel on a fully accessible bus, adding four hours to his journey and a cost of €200.
Cawley planned to travel home to Longford from a family holiday in Ballina on the Bus Éireann service at 3.30pm on the May Bank Holiday Monday.
He was left stranded in Ballina because he was told that the route was not accessible and there was no record of his booking.
The issue is that Bus Éireann have all of the facilities, I took a picture of me outside an accessible bus, outside where there is an accessible depot but they tried to tell me that the route is not accessible.
James Cawley spent €200 to get home to Longford.Source: James Cawley Facebook
A spokeswoman for Bus Éireann told TheJournal.ie that 24-hour notice of travel is required for wheelchair users as the coaches used on accessible services require the removal of up to four seats, prior to the journey, along with an operational check on the wheelchair lift.
In Cawley's case, Bus Éireann says that no booking was made through its helpline as outlined in its policy.
''A booking request was not made to us via the customer care helpline in this case, so therefore the booking could not be processed. However, Route 22 Dublin to Ballina is also not a designated accessible route, as specific bus stop infrastructure is required for this,'' a spokeswoman said.
Cawley said he gave more than 50 hours notice of his travel plans, but admits he did this online as at the time of the booking he was travelling without his personal assistant and he is unable to put his phone to his ear unassisted.
''I got an email, even though it's generated, it said 'thank you for your query, we will be in contact soon'. It's not my fault that emails are not monitored over the weekend.
Not everyone wants to ring because of the cost and there is no accountability because you don't have a paper trail of your booking,
"But it's important to know that there are people out there who can't speak or hear, so would that not be the alternative method to do it online?''
Cawley has written a letter to Transport Minister Shane Ross asking for a policy change to the booking system and for more accessible bus routes.
#Open journalism No news is bad news Support The Journal

Your contributions will help us continue to deliver the stories that are important to you

Support us now
Bus Éireann says that its booking system is essential given the preparations that are involved and because only one wheelchair place is available on accessible coaches.
''Safety for our customers and staff is our priority, and our reservation system ensures this and is in line with practices across other EU countries," a spokeswoman said.
The Irish Wheelchair Association has condemned Bus Éireann's current policy for wheelchair users having to give notice before they travel.
Anita Matthews, communications manager of the IWA, says that the "concept of advance notice is not accepted by IWA or the people we represent".
People with disabilities have the right to travel on public transport with the same freedom as their peers. To be able to make decisions on the spot and to travel when and where they wish at a moment's notice.''
IWA says that it has been informed by the National Transport Authority that improvement work will begin in the coming months to address this situation and to create fully accessible bus stops along Bus Éireann routes.
The NTA said it hopes to operate low-floor, single-deck vehicles rather than high-floor coaches for shorter regional commuter services less than 50km.
''We are in the process of procuring the first of these vehicles with a low floor ramp entry suitable for the mobility impaired with a dedicated wheelchair space and we expect them to be in service from 2019'' a spokesperson said.