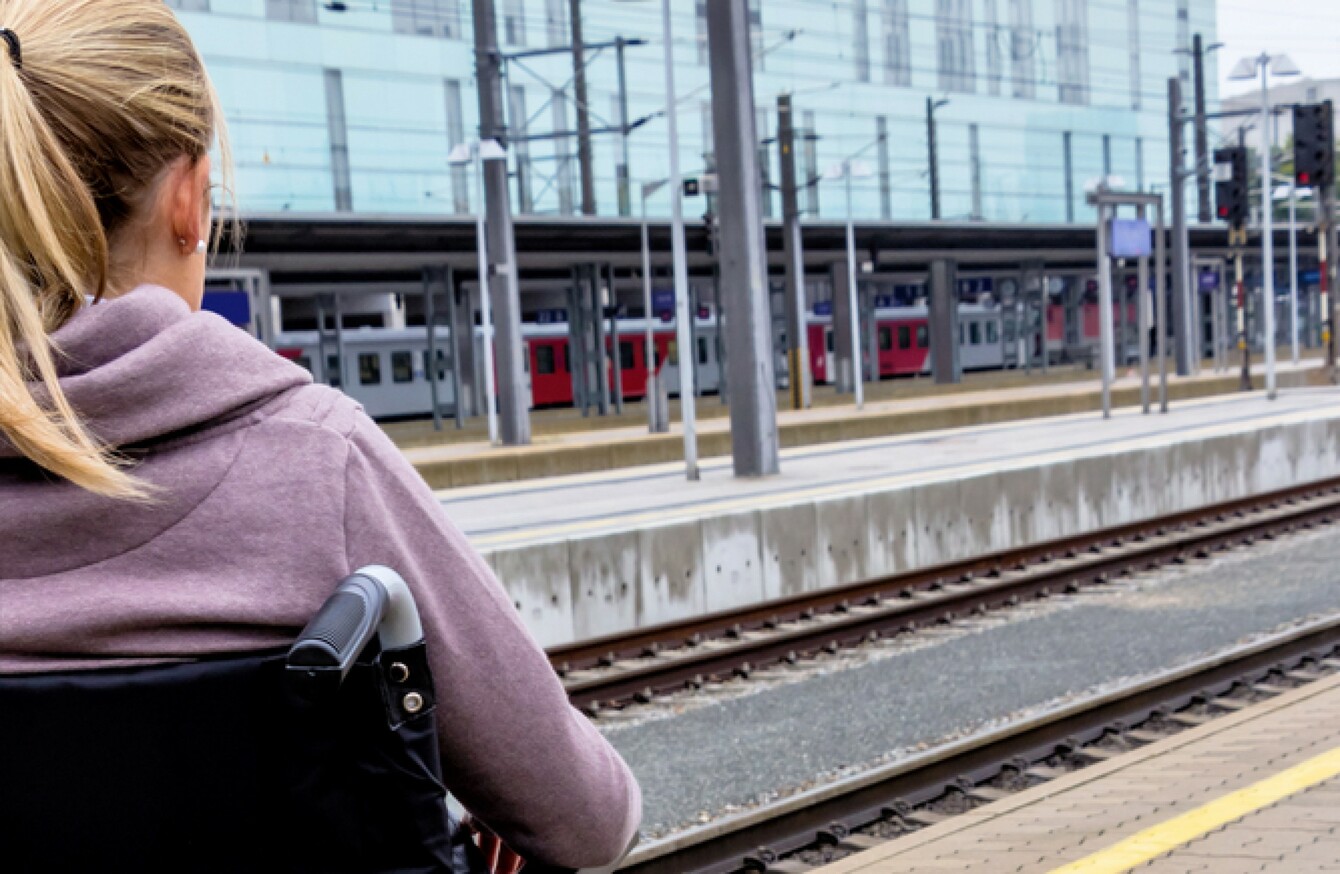 File photo
Image: Shutterstock/Lisa S.
File photo
Image: Shutterstock/Lisa S.
A WHEELCHAIR USER has described a 'nightmare' experience on the Dart last week, after she was forced to wait 15 minutes for Irish Rail employees to help her exit the train.
Speaking on RTÉ Radio 1′s Liveline, Saoirse Smith said that she was "driven to tears" while waiting for an employee to put the ramp down to allow her to leave the tram.
Smith, who has cerebral palsy, told the show that she had called ahead to Connolly Station to make sure that someone would be there to assist her.
In a statement, an Irish Rail spokesperson issued an apology to Smith, said that they were investigating the incident and will "give her a full report once the investigation is complete".
Felt like a "burden"
Smith said that every day is harder to get around Dublin city. She lives in Clontarf and works in Blackrock.
Although possible to get the Dart between the two areas, she does not use the Clontarf station as "it isn't always manned".
She travels to Connolly Station by bus, and then journeys to Blackrock.
Smith said that she was travelling back from Blackrock on an evening last week. She received assistance from the driver to get on the train.
"When I got to Connolly then, I had to wait 15 minutes for someone to come get me off the Dart," she said.
They didn't know I was on my way. Thank god for these kids that stood in the door and made sure it didn't close. I just felt really embarrassed. I'm holding up everybody and they can't go where they want to go, because I'm waiting to get off the Dart.
She said that she sometimes feels like a "second-class citizen" due to such issues for wheelchair users in the city.
"Very apologetic"
In a statement the Irish Rail spokesperson said: "Daily there are up to 150 wheelchair customers travelling on our services through the city centre, the vast majority of these customers receive assistance from our staff without any problem.
However, when a fall down in communication does it occur it does cause great distress and for that we apologise.
Smith said that the event was a "big shock" and said that the staff at Connolly were "very apologetic" about the incident.
She now fears what the situation will be in future if more and more stations are unmanned.
Smith said: "It's worrisome. The guy who usually helps me off at Blackrock said there's not enough men. In this day and age, there should be a ramp we can use ourselves without having to rely on anyone.
I was actually driven to tears. I was that frustrated and angry.