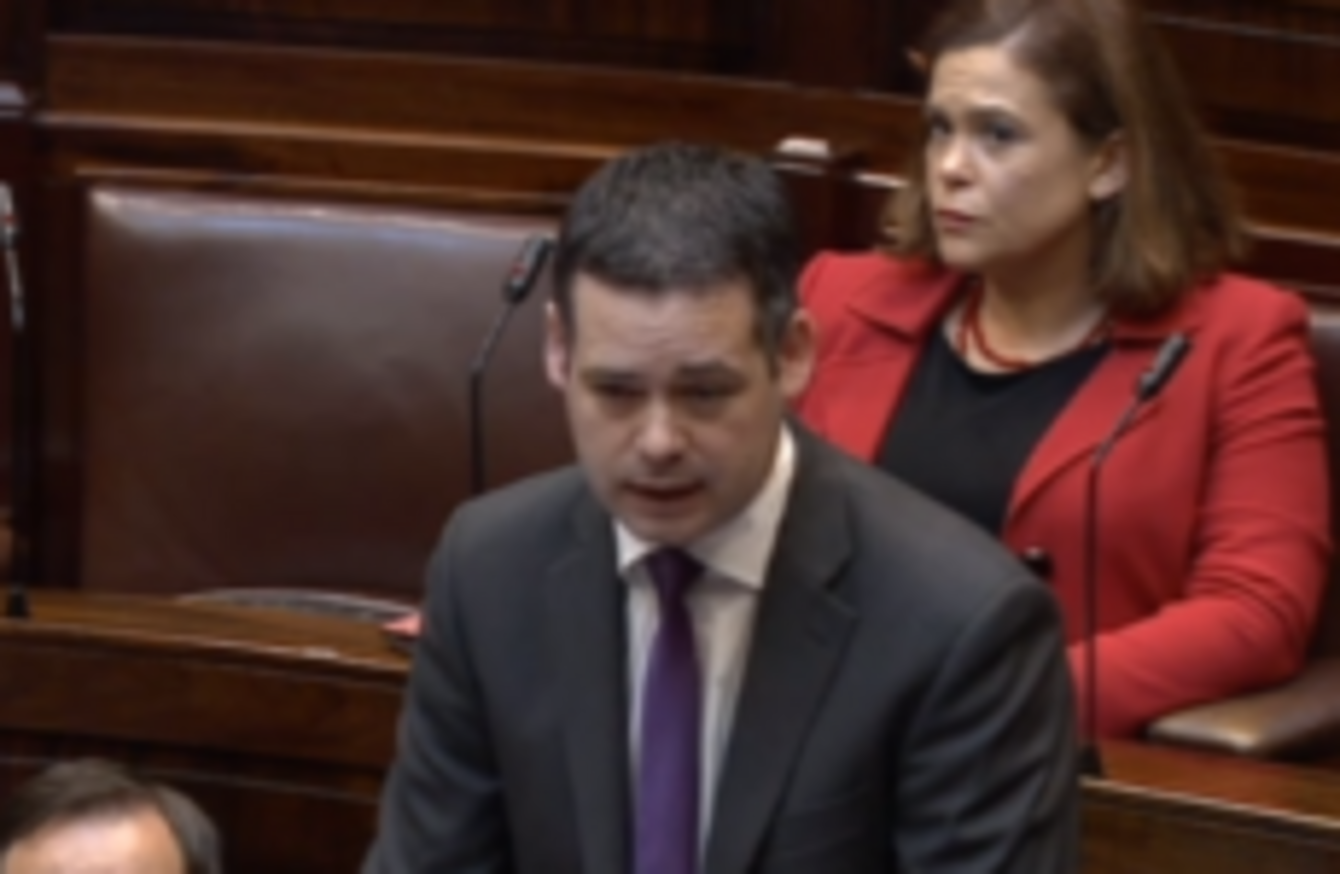 Updated 22.44
A NEW GARDA whistleblower has alleged he was "maliciously" targeted by management after he arrested a member of the Athlone drugs unit for drunk driving, Sinn Féin's Pearse Doherty said today.
Speaking in the Dáil today about the Guerin report, Doherty said he had been in frequent contact with the whistleblower, Garda Keith Harrison, and on the day former Justice Minister Alan Shatter resigned, he told the TD that he now "had more faith in the confidential recipient process and was going to arrange to meet with him".
"That meeting took place today," he told the Dáil.
Garda Keith Harrison claims that as a result of arresting a member of a drugs unit in Athlone for drunk driving, that garda management maliciously set about targeting him while the arrested garda was afforded protection by garda management. He claims that a managerial review of his high work return and practices was investigated and person who had past interactions with him were invited by gardaí to make complaints against him.
Doherty said the garda also claims he was office-bound from Septempher 2009 to March 2011 while the garda he arrested was still driving official vehicles and was in possession of an official firearm. Furthermore, he alleges that the case was struck out of court on dubious grounds and that a senior officer in Westmeath has prevented the prosecution of individuals on a number of cases.
On deaf ears
The Sinn Féin TD said he met on Monday with Harrison and Garda Nicky Kehoe, who made allegations last week about fake heroin dealing in his division, as well as retired garda John Wilson.
According to Doherty, Harrison said he had suspicions about a member of the force he was working with in the drugs unit who may have been allowing the sale and supply of drugs within the Athlone district and that it "fell on deaf hears" when he raised it with management.
He said he was provided with a written record of a meeting between Kehoe and a civilian who has come forward in recent days and who backs up claims he made in relation to heroin dealing and a member of the gardaí.
Doherty read out part of an affidavit written by Garda Harrison in which the garda said he was once a "well respected, ambitious and unblemished" member of the force but his good name and that of his family had been tarnished.
He said he felt before now that he had no one to turn to as he did not think anyone would believe him over garda management.
"Never in my life have I felt so alone, tortured and disappointed" the garda wrote, according to Doherty.
TD Mick Wallace said his office had also been "snowed in" with stories alleging garda misconduct and pointed out that he and his colleagues on the opposition benches were ignored two years ago when they tried to shine a light on them.
"Minister, I don't know how it's going to be dealt with – there are just hundreds and they are very sad to listen to, he said, addressing the new Justice Minister Frances Fitzgerald. "I don't know how they should be handled but something is going to have to be done."
Speaking earlier in the Dáil about the Guerin report, Fitzgerald said it had found warrant for further inquiry, not only in the individual allegations made, but also the "wider systemic and historic problems".
When I say significant reform I mean that the oversight and governance of the Garda Síochána will be transformed with the establishment of an independent Garda authority. The highest levels of legal support and protection will be given to garda whistleblowers.
Fitzgerald detailed the process that former Justice Minsiter Alan Shatter had gone through in assessing the allegations made by Sergeant Maurice McCabe, pointing out that concluded there was no evidence to support further action by him in February 2012.
She went on to praise Sergeant Maurice McCabe and say that she fully supports the remarks made by the Taoiseach yesterday about how his complaints were handled.
First published 2.45pm