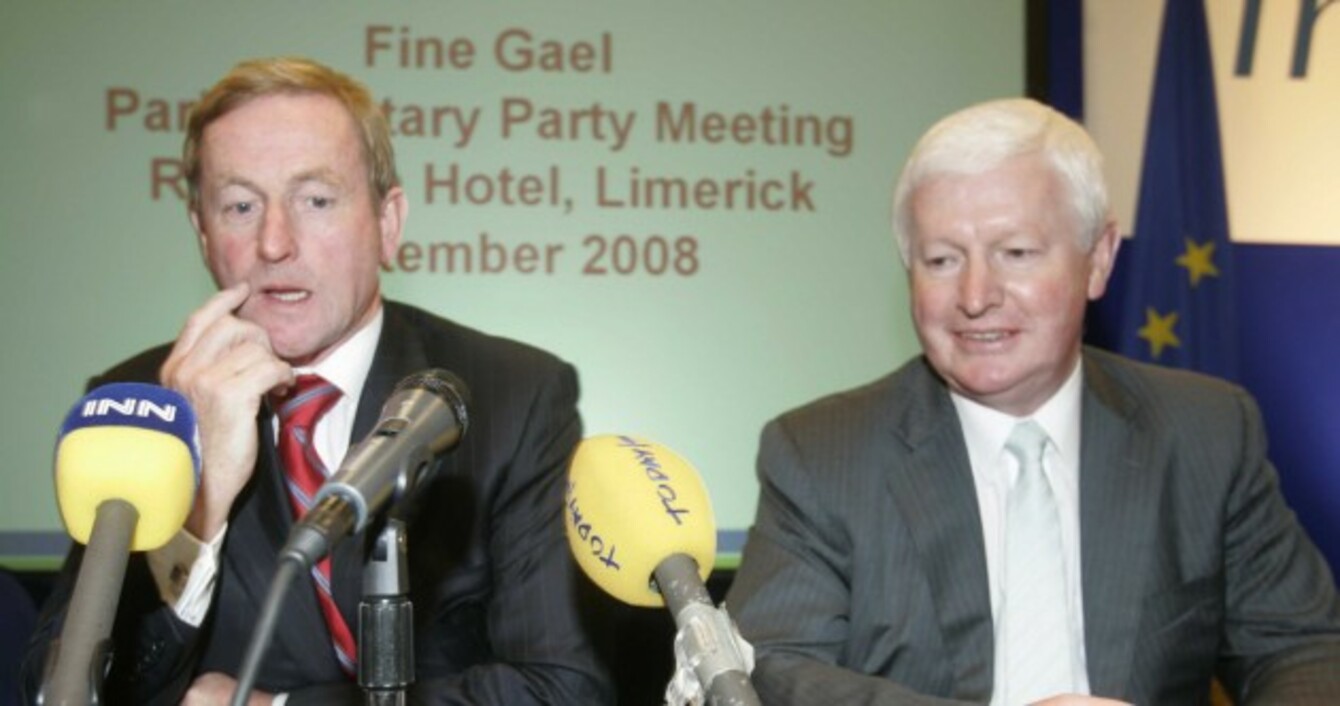 Enda Kenny and Frank Flannery at a Fine Gael parliamentary party meeting in 2008.
Image: Photocall Ireland
Enda Kenny and Frank Flannery at a Fine Gael parliamentary party meeting in 2008.
Image: Photocall Ireland
Updated 22.40pm
"I AM BAD enough of a bastard and tough enough to make really unpopular decisions," Frank Flannery said of himself in late 2009, just a few months after he had been demoted by Fine Gael for suggesting it could go into coalition with Sinn Féin.
His point at the time may have been that despite earning a rebuke from his party for such a suggestion – and those comments still rankle with some in Fine Gael – he was relentlessly focussed on helping it get into government.
By 2011, Fine Gael was such a well-oiled machine that it could not fail at the ballot box, almost achieving what would have been an unlikely overall majority. A significant amount of the credit for this can go to Flannery, a native of Galway, who has been engulfed in a political storm in recent days.
Just before 5pm yesterday, he distributed a statement to media organisations informing them that he had stepped down from roles with the Rehab Group and Fine Gael. His departure followed days of controversy surrounding how tenable it was for him to combine being a Rehab director and sometime consultant with his role as director of elections/organisation and a trustee of Fine Gael – both voluntary roles, according to the party.
But who is Frank Flannery?
He is not widely-known amongst the general public, but is renowned in political circles. A former president of the Union of Students in Ireland in the early '70s, Flannery began working for Rehab in 1973 after graduating from University College Galway, eventually becoming its CEO in 1981, a position he would serve in until 2006.
During that time he also became deeply involved in politics and Fine Gael, emerging as a close confidante of party leader Garret FitzGerald during those tumultuous years of 1981 and 1982 when there were three general elections.
While close to FitzGerald, Flannery was largely sidelined during the leaderships of Alan Dukes (above, with Flannery), John Bruton and Michael Noonan from the late '80s to the early '00s.
He only re-emerged after the disastrous 2002 general election when Michael Noonan's Fine Gael lost 23 of its 54 seats and a number of high-profile TDs. The disastrous result would lead to Noonan's departure from the top spot and the eventual installation of Enda Kenny as party leader on his long and remarkable rise to the office of Taoiseach.
The Flannery Report
Flannery's role during the nine years preceding the historic 2011 general election cannot be underestimated. He is credited with authoring the 'Flannery Report' which bluntly stated that unless Fine Gael brought itself into the 21st century, it faced ruin. This was at the time when the Progressive Democrats was seen as a credible alternative on the centre-right of Irish politics and, perhaps more importantly, was in government with Fianna Fáil – getting things done.
Of course it wasn't all Flannery, but Fine Gael underwent an overhaul as a political organisation after 2002 with better regional organisation, focus-group research, strong campaign strategies,a building-up grassroots support, particularly in Dublin where the party had been hammered almost out of existence in 2002, and flashier websites with an early entrance into social media.
Remember Enda Kenny's 'Contract for a Better Ireland' in 2007? Some scoffed (and we'd certainly scoff at it now when we look at all those promises) but it typified the party's strategy of hammering home a message, a tactic repeated in 2011 with the famous 'Five Point Plan'.
(via Irish Election Literature)
In 2007, under Flannery's direction and Kenny's leadership, Fine Gael regained 19 Dáil seats. Though not strong enough to oust Fianna Fáil and Taoiseach Bertie Ahern with the economy still booming, Flannery had helped to put in place the organisation which was ready in 2011 when the country's economic collapse meant Fianna Fáil was a toxic political brand.
Sinn Féin
Not that there weren't hiccups along the way. Most notably in 2009 when Flannery suggested in the run-up to the local and European elections – where Fine Gael became the largest party of local government for the first time – that his resurgent party would be prepared to "do business" with Sinn Féin if it meant putting Fianna Fáil out of government.
This earned a sharp rebuke from Kenny and temporary demotion from his role as director of elections. He was not nearly as prominent at the 2011 election as he had been in 2007, but Fine Gael entered government nonetheless. In addition Flannery, as Education Minister Ruairí Quinn perhaps mischievously pointed out yesterday, was and has remained close to Fine Gael advisors in government.
He is also the chairman of the Forum on Philanthropy and Fundraising – an organisation which aims to get wealthy individuals to give more to charity. In this role he has also courted controversy, once proposing that the number of days a non-tax resident could stay in Ireland each year be increased in return for a €5 million one-off payment to a good cause and €1 million a year payment to the exchequer for 10 years.
A loyal Fine Gael member, he was at the party's Ard Fheis in the RDS earlier this month and the European People's Party congress in the Convention Centre last week, but he had declined to comment on the controversy in recent weeks.
Rehab
That controversy has centred on Rehab, where he has remained on the board since resigning as CEO in 2006 and has carried out consultancy and lobbying work – the details of which remain unclear and which the Public Accounts Committee is seeking clarity on.
Rehab has been in the headlines in recent weeks after Flannery's successor as CEO, Angela Kerins, declined to disclose her salary despite being asked three times on RTÉ Radio. She relented last month following a special board meeting, revealing she now earns €240,000 or €6,000 more than she did in 2011.
Questions have also arisen about Rehab's low profits on its lottery scratch cards. The disability charity and training organisation argues that the National Lottery has an unfair advantage and, as the Irish Times has reported, Flannery has lobbied the Department of Justice on this issue, on Rehab's behalf, about the winding down of the government's charitable lotteries scheme.
Only yesterday, Quinn said yesterday that Flannery had discussed the compensation scheme with him, though not, the minister claimed, "in any kind of lobbying way".
The uncertainty over Flannery's role with Rehab and how that may have crossed over with his obvious political connections has contributed to the current situation.
PAC seeks answers
All this uncertainty is despite Kerins and other board members spending some seven hours before the Public Accounts Committee last month.
Flannery's absence from that hearing (he was belatedly invited, but Rehab decided not to bring him as part of its delegation) and one report stating that he was in Leinster House at the time of the hearing, added to the controversy.
Two specific events in recent days appear to have led to Flannery's decision to part ways with Rehab and Fine Gael. First, the Irish Times reported on Saturday that Flannery was paid thousands of euro for work on behalf of Rehab to lobby several government departments.
Second, during the course of that aforementioned interview on RTÉ Radio, Ruairí Quinn pointed out that he would occasionally see Flannery with Fine Gael advisors prior to Cabinet meetings. A political veteran, Quinn was no doubt aware of the importance his words carried.
Now, Flannery's departure leaves outstanding questions that the PAC will seek answers to, something the committee has become particularly good at in recent months. It's worth noting that PAC, which has been divided along party lines on certain issues in recent months, is united on the need for the now ex-Fine Gael strategist to come before it.
Flannery has not responded to an interview request from this website, but will face calls to respond to the PAC in the coming days.
All pics: Photocall Ireland