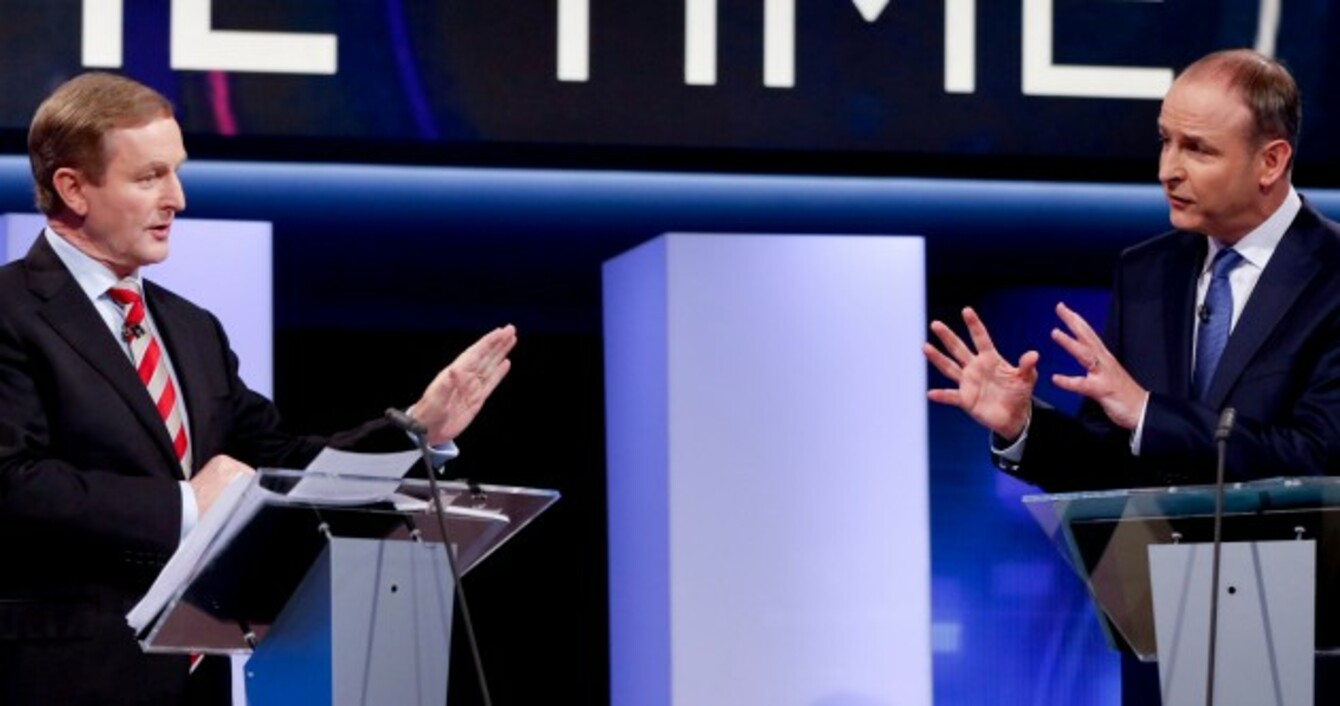 Enda Kenny and Micheál Martin may actually have to sit down and talk in the coming weeks.
Image: RollingNews.ie
Enda Kenny and Micheál Martin may actually have to sit down and talk in the coming weeks.
Image: RollingNews.ie
IT'S NEARLY THREE weeks since the people spoke but politicians are still trying to figure out what they said.
Ireland currently has a caretaker government with its caretaker Taoiseach in Washington today to meet President Barack Obama, hand over the bowl of shamrock and do all the usual St Patrick's Day duties. He'll be back home tomorrow to check in on his chances of continuing in government.
His senior ministers and, ironically, his potential future successors – Frances Fitzgerald, Simon Coveney and Leo Varadkar – are all involved in talks with smaller parties and independents about securing their support. Junior minister Simon Harris and backbencher Eoghan Murphy, have also participated.
Small parties and independents are talking separately to Fine Gael and Fianna Fáil. Very little has been said publicly about those talks to date and they have not, as yet, yielded any tangible outcome.
This is why many in political circles believe they are a mere warm-up for the main event: When Fine Gael and Fianna Fail eventually sit down to talk about governing together.
But there's no immediate prospect of it happening, despite the expectation it would take place after the Dáil met for the first time last Thursday.
Fine Gael's not-so-subtle approaches to Fianna Fáil through the media last week were largely rebuffed. One senior Fine Gael figure said the selective leaks about an equal split of cabinet posts and rotating Taoiseach had been a mistake, coming "too early" in the process.
It is now thought that any substantial talks between the two parties – if they even reach that point – will not take place until after 6 April when the Dáil tries again to elect a Taoiseach. Fine Gael and Fianna Fáil are putting forward Enda Kenny and Micheál Martin, while Sinn Féin hasn't yet decided if it will propose Gerry Adams again.
One Fine Gael figure characterised Fianna Fáil's position on the grand coalition as "a vitriolic no, nay, never".
Yet, on Saturday, the Irish Examiner reported a number of Fianna Fáil TDs were coming around to to the idea, with 10 declaring that either a grand coalition or support for a Fine Gael minority cannot be ruled out.
But the biggest problem within Fianna Fáil is that any deal will have to go to the membership at a special ard fheis. There remains huge resistance among the grassroots to doing business with Fine Gael judging from the feedback TDs were getting when some of them met with their local cumanns last week.
Returning Fine Gael and Enda Kenny to government in whatever form is anathema to many ordinary Fianna Fáil members. It's also unpalatable for some TDs, one of whom told us this evening:
The onus is on us to get this government out.
The same senior TD insisted that the verdict of the electorate wasn't necessarily that Fine Gael and Fianna Fail needed to bury the hatchet just because the Dáil seat numbers add up. If it's a case of numbers then Fine Gael, Sinn Féin and Labour could just as easily get to 80 seats, they observed.
Fianna Fáil does believe it can govern in the minority. At the moment its four-man negotiating team of TDs Barry Cowen, Michael McGrath, Charlie McConalogue and Jim O'Callaghan are meeting with independents and smaller parties to try and hammer out a deal.
But it's very hard to see how it can get the numbers with just 43 of its own TDs – seven less than Fine Gael. Even with the support of a dozen or so independents, the SocDems and the Greens, it leaves them well short of the 79 needed for a Dáil majority or anything close to it.
Leo Varadkar has put on record that there is "no way" his party will support a Fianna Fáil minority. Other senior Fine Gael colleagues agree with him and, contrary to what was reported yesterday, Simon Coveney didn't refuse to rule it out, he just never acknowledged the question.
The "no, nay, never" reluctance in Fianna Fáil has led Fine Gael to believe that if it isn't going to budge – at least for now – then they must press ahead with securing as much support as possible to govern in the minority.
This is despite it being far from the stable government Enda Kenny keeps saying he wants to deliver for the country. Even with the support of, for example, 10 independents, the SocDems and the Greens, Fine Gael is at 65 in terms of Dáil votes.
Like a Fianna Fáil minority, it's far short of anything remotely stable in terms of a government and Fine Gael knows it. One senior party figure described it today as "very, very vulnerable".
The party may have to try for a minority government first just to "help Micheál Martin", as one Fine Gael TD put it last week. The implication being that Fine Gael's protracted failure to put together a minority government would make it easier for Fianna Fáil to at least starting talking to Kenny and co.
As for the smaller parties and independents, some involved in the talks believe this is all shadowboxing. Ahead of further talks today one said that it all "feels like we're going through the motions".
Another TD who participated in a meeting with Fine Gael last week described how no one on the other side of the table seemed to be taking notes. Fine Gael sources counter this by insisting that when the Taoiseach is in the room for three hours, it means you're being taken seriously.
There are two things everyone is agreed on: This can't go on forever and no TD wants a second election.
Right now both Fine Gael and Fianna Fáil are forging ahead with plans to try and govern in the minority. That will likely continue up until the Dáil sits on 6 April and tries to elect a Taoiseach.
Failure there would make it even more of an imperative for Fine Gael and Fianna Fáil to talk in the two or three weeks that follow. If there is still no government by the end of April then there's probably going to be a second election or, as one cabinet minister said ominously last week: "Keep May free."